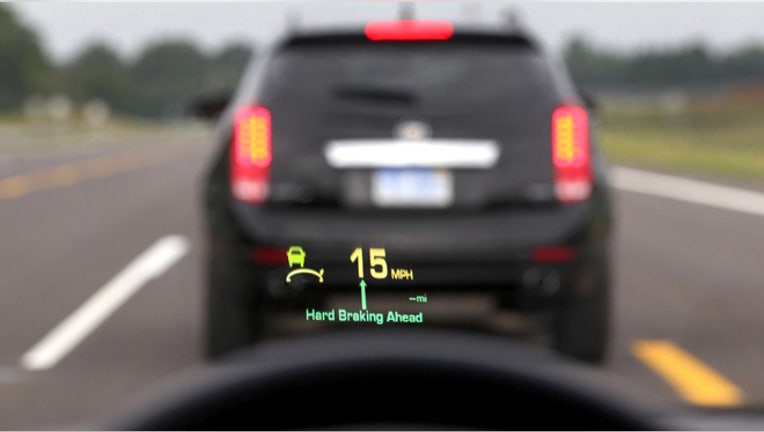 Solidifying its position in the race to develop autonomous cars, General Motors (NYSE:GM) plans to launch a new Cadillac that will use an advanced cruise control to practically drive itself on highways.
The nation's top seller of cars and trucks will offer Super Cruise, a hands-free cruise control, on an unnamed Cadillac in 2016. Through automatic braking and speed control, Super Cruise will allow drivers to ride on a highway without controlling the steering wheel.
Cadillac also said certain 2017 models will be enabled with vehicle-to-vehicle communication. The technology allows cars to share information such as speed and location.
Regulators are working on a plan that would require automakers to include V2V in new cars and trucks, saying crash avoidance features can cut accidents that don't involve drunk drivers or mechanical issues by about 80%.
Chief executive Mary Barra announced the plans during a speech at the annual Intelligent Transport System World Congress in Detroit.
Analysts believe fully autonomous vehicles are still years away. On Monday, GM officials said they forecast that most new cars will have automated functions and vehicle-to-vehicle communication technology by 2025.
But features that put the car in charge, from parking assist to automatic braking, are already here.
Manufacturers like Mercedes have already embraced hands-free features. The German automaker's S-class sedan is the closest thing to autopilot on the market today. The S-Class can follow traffic, brake automatically and keep itself from drifting out of its lane.
Kelley Blue Book senior analyst Karl Brauer said current technologies that provide some degree of autonomous driving will help the industry buy time until vehicle-to-vehicle, or V2V, communication becomes widely adopted. In other words, it wouldn't do much good if only Cadillacs can talk to each other.
And without V2V, driver assists must be self-sufficient, relying solely on cameras and other equipment.
"GM is definitely reaching out to the industry to say, 'Let's work together on this,'" said Thilo Koslowski, an auto analyst at technology research firm Gartner. "Vehicle-to-vehicle communication can make self-driving cars more reliable. GM seems focused on consumer safety and making sure these forward-looking technologies can be deployed by the industry as a whole."
Like Mercedes, Cadillac currently offers an array of optional driver assists, including automatic parking assist, adaptive cruise control and automatic braking, for a combined total of nearly $3,000. GM didn't disclose how much Super Cruise will cost.
While GM has yet to identify the car that will be the first to offer Super Cruise, Barra said the new Cadillac will "enter a segment where we don't compete today." The car is widely expected to be based on the Elmiraj concept that Cadillac first unveiled in 2013.
Brauer said Cadillac has lost some ground against its high-end competitors, making the brand an obvious choice to showcase GM's hands-free driving technology. Other GM brands like Chevrolet will likely follow suit.
"GM is 100% committed to elevating Cadillac's premier status in the world. They want to show that Cadillac is on the leading edge of technology and transportation capabilities," he added.
New Era for Cars?
Car companies have been fighting for the top position among the industry's leaders in autonomous driving, all while Google (NASDAQ:GOOGL) and other Silicon Valley giants jump into the mix.
Early last year, Nissan CEO Carlos Ghosn projected that driverless cars would arrive in showrooms by 2020. The announcement was later matched by rival automakers like Toyota, which unveiled driver assists that would launch around 2018.
Ghosn recently provided more details on Nissan's plans. The company expects to have fully automated parking in about two years, while hands-free lane changing is scheduled for a 2018 rollout.
According to Koslowski, the pending introduction of Super Cruise further illustrates why cars that can drive themselves are well on their way to commercialization.
"It's not that much science fiction anymore," Koslowski said. "[The GM announcement] shows that the automotive industry is willing to push the boundaries of what's autonomous driving. This will get the industry further down the road in autonomous driving."
Brauer said he's "curious to hear what announcements will follow" the one by Cadillac. "Other manufacturers probably want to say, 'Hey, we're cool, too.'"
Consumer Acceptance
The timeline from GM could help assuage consumer worries over hands-free driving, a radical change for most drivers.
"This sounds like it's definitely more than what were used to seeing in cruise control and lane departure," Koslowski said of Super Cruise. "Consumer acceptance is a huge issue. The GM announcement helps consumers understand what these technologies can do for them."
Koslowski also noted that consumers want choice, but when autonomous driving becomes more sophisticated, drivers may not have an alternative. Asking consumers to give up control of their vehicles will be a big obstacle, he said.
GM has focused heavily on the safety of its vehicles this year, initiating a company-wide safety review after a recall for defective ignition switches that were known to be faulty a decade earlier.
The Detroit-based manufacturer recalled millions of additional vehicles and booked $2.5 billion in repair expenses. The cost of a compensation fund for victims of accidents connected to the defective ignition switches has yet to be determined.
In her remarks that unveiled GM's new technology initiative, Barra said the company is "so convinced of the safety and other benefits of connected cars, and so impatient for the future to arrive, that we are acting now."
Brauer said GM continues to turn the page from its pre-bankruptcy days. Its current product portfolio is "far more competitive" with rival automakers, and GM revamped its safety procedures after the ignition-switch recall.
With the addition of Super Cruise and V2V communication, GM is signaling that it won't get left behind as the industry moves closer to self-driving cars.
"Every car company has to make those kind of plans. You'll stand out more for not doing it," Brauer said.