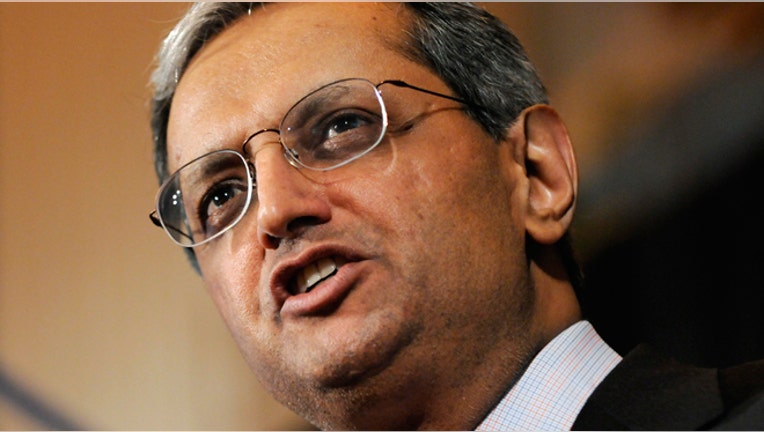 The Securities and Exchange Commission has launched a probe into the messy departure of Vikram Pandit as chief executive of Citigroup (NYSE:C) and whether the board of directors of the big bank properly disclosed his ouster, the FOX Business Network has learned.
One person familiar with the matter says the SEC's inquiry is informal and has not reached the level of a full-blown investigation. But it is a sign the SEC is clearly interested in the circumstances surrounding   Pandit's official "resignation" from the big bank. Those details have been in dispute since the October 16 announcement. Both Pandit and Citigroup chairman Michael O'Neill have said in interviews and during conference calls with analysts that the decision was Pandit's to leave the firm.
"Vikram chose to submit his resignation and the board accepted it," O'Neill told analysts that day.
But the FOX Business Network was first to report that just after the market closed the previous day, Pandit was alerted by the board that they wanted him out, having lost confidence in his ability to run the bank, and that he should submit his resignation immediately.
The move by Citigroup chairman O'Neill came just hours after the firm released its third-quarter earnings, which included no mention that the board had already planned to oust Pandit later that afternoon.
Pandit's ouster came after months of disagreements with the board and O'Neill, and picked up recently when the bank overstated the value of the remaining portion of its Smith Barney brokerage operation that it is in the process of selling to Morgan Stanley (NYSE:MS). As a result, Citigroup was forced to take a $3 billion writedown to reflect the improper valuation.
A Citigroup spokeswoman had no comment, but did not deny the SEC's interest in the matter. A spokesman for the SEC had no comment. When asked by Cheryl Casone of the FOX Business Network about the SEC's interest in Pandit's departure, chairwoman Mary Schapiro said: "You know… I'm sorry Cheryl, that's something I can't comment on."
The potential regulatory problem for Citigroup involves not just the failure to mention the board's intentions during the earnings conference call, but also O'Neill's statement after the announcement that Pandit left on his own accord, said former SEC chairman Harvey Pitt.
"If the board pushed Pandit out, then Citigroup issued a false statement," Pitt said. "The reason for the CEO's departure is material, and Citigroup had an obligation to disclose any information necessary to render its statements fair, accurate and complete. If the board forced Pandit out, Citigroup didn't do that."
Shares of Citigroup rose 1.61% to $37.25 just after the bank announced that Pandit would be replaced by Michael Corbat, who had run CitiHoldings, which housed many of the bank's assets it was looking to unload in the aftermath of the financial crisis.