SeaWorld creates homeless shelter for manatees exposed to deadly red tide
SeaWorld has set up a homeless shelter of sorts for manatees endangered by the deadly red tide toxic algae bloom that's already killed swaths of sea life along the southwestern Florida coast this summer.
So far, SeaWorld's rehabilitation center has taken in 11 manatees exposed to the algae for treatment. Nine have survived, according to the company.
When the manatees first arrive at SeaWorld, rescuers flush out the toxins in the animals with fluids before placing them in shallow water with foam under their heads so they can breathe fresh air. If the animals are found quickly, it only takes 24 to 48 hours of care before the red tide effects begin to dissipate, according to the company.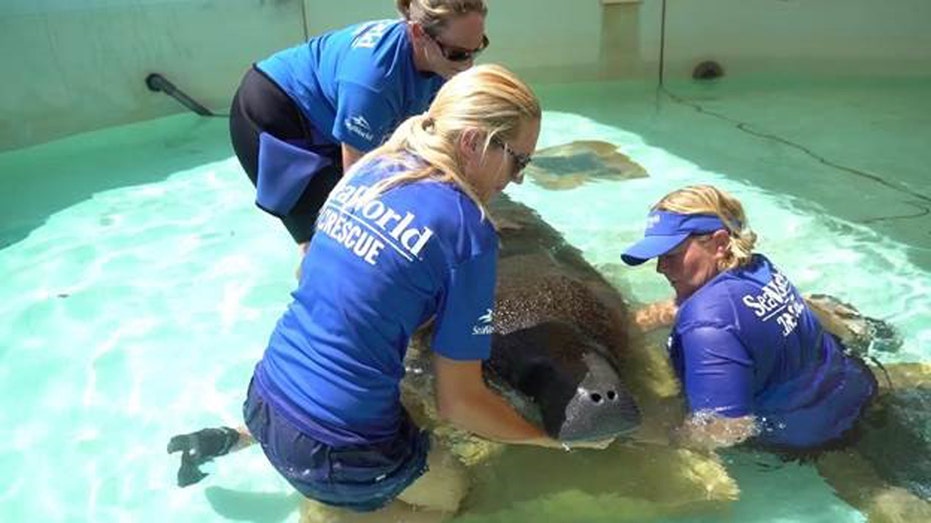 SeaWorld partners with the Florida Fish and Wildlife Conservation Commission, which finds the injured animals along the coast, and the Manatee Rescue, Rehabilitation and Release Program, which helps SeaWorld to resettle the sea cows across the country (including in some zoos).
The algae bloom, which can last longer than a year, produces toxins that can kill fish, manatees, sea turtles, dolphins and birds.
This year's bloom first started last October, according to the National Ocean Service, and is unusually persistent, stretching along more than 150 miles of beaches. In early August, Florida Gov. Rick Scott declared a state of emergency in seven counties.
Already in 2018, more than 540 of the slow-moving herbivores have died (17 percent of which have been attributed to red tide), compared to the 538 that died in all of 2017.