Schools Getting High Marks for Social Consciousness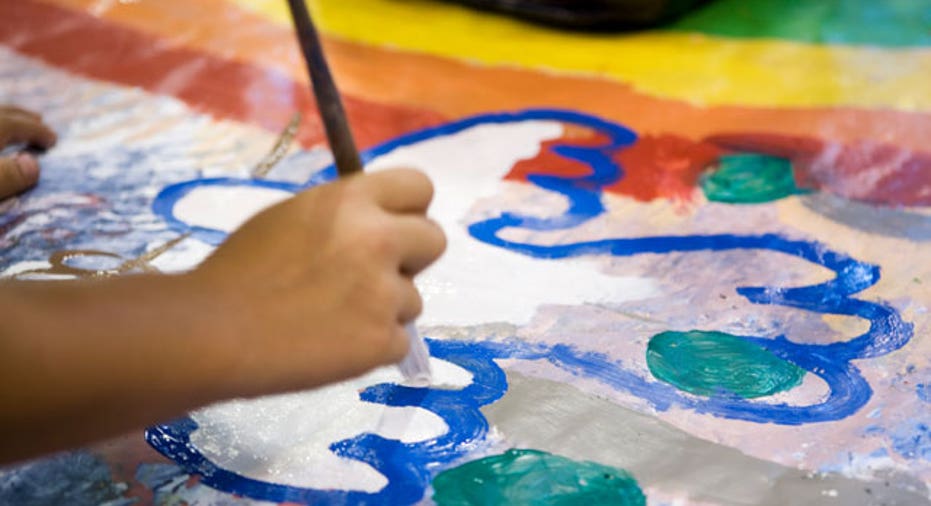 Socially-conscious adults helping to create global citizens in our youth. Yes, I'll take a dose of that this holiday season.
Check it out.
Students at Central Cabarrus High School in Concord, N.C., created a chain reaction of kindness. It's chronicled in a video that shows their chain reaction team and plan -- visiting assisted living centers, being taught by the residents there to knit and crochet, using the panels they were creating to beautify a park for special needs children, and then throwing a party for those children.
Meanwhile, second graders at Mary Queen of the Holy Rosary in Lexington, Ky., were enthusiastically collecting pull tabs from beverage cans for Ronald McDonald House. And Arrowhead Elementary School in Broken Arrow, Okla., executed "Operation Get Connected, Honoring Our Heroes" by assembling care packages for men and women in the military and creating a blog about it.
Those schools and five more were just awarded $25,000 each for technology through a program called Classroom Connections-- part of SchoolsWIN -- courtesy of Windstream, one of the largest providers of telecommunications services in rural communities in the U.S.
The idea of SchoolsWIN was to give away $250,000 to schools, so a challenge was issued in the beginning of the school year. Skadaddle Media, a Sausalito-based creative development studio, created a campaign with two key elements. The first suggested that schools in Windstream areas use email, Twitter and Facebook to request that the Classroom Caravan visit their school; those picked received $1,000 cash, delivered in person.
The second component stemmed from a Classroom Connections program that was already in place, but was tweaked by Skadaddle. Originally, schools posted videos asking for $25,000 in tech upgrades. The new model called for a community service piece and a video about how they executed it.
"We wanted them to own it and come up with it instead of it being, 'OK kids, we're going to the food bank,'" said Skadaddle Media co-founder Jon Wank in our recent interview. "This is theirs."
That ownership is the compelling thread running through the eight videos that distinguished themselves from the pack of over 200 entrants. A team at Windstream narrowed it to 30, but from there the finalists came down to voting. In addition to the three mentioned above, these schools earned a $25,000 tech upgrade through their creative giving: George Walton Academy in Monroe, Ga.; Irving Middle in Lincoln, Neb.; Lakeside Intermediate in Ashtabula, Ohio; Newton Christian in Newton, Iowa; and West Fork Middle in West Fork, Ark.
What's striking is not just the community service provided by the students, but the planning of that service and the camaraderie that came with it. In addition, one can't help but be reminded of, and appreciative of, quality teachers as they shepherded the students and participated themselves.
"We added community service for a higher level of impact," Wank said. "We wanted them to show us what's important to them."
For example, the aforementioned chain reaction of kindness was important to students at Central Cabarrus High. It was part of Rachel's Challenge, a program named for Rachel Scott, the first student killed at Columbine High on April 20, 1999; its mission is to "inspire, equip and empower every person to create a permanent positive culture change in their school, business and community by starting a chain reaction of kindness and compassion." It is a nationwide, ongoing program.
The spirit of that melded perfectly with the Classroom Connections challenge for community service.
"To me, it was amazing how much emotion was in the videos, how much personality," Wank said, noting that about 170 of them were submitted in the last month. "These are the lessons we are teaching our kids. I was a lot more touched than I anticipated."
So touched, in fact, that he's engaged his 6-year-old twin daughters in the idea of coming up with a way to give back in the community. Who would they want to help? How can they do it?
"We had a meeting the other day about it," he said. "We came up with helping animals."
That would be a fine addition to a list that already includes helping the elderly, special needs children, servicemen and women, the Special Olympics, Ronald McDonald House, disabled adults, and cleanup at parks and beaches.
"It's amazing, the diversity of projects," Wank said.
Nice way to kick start a holiday season. Or any season, for that matter.
Nancy Colasurdo is a practicing life coach and freelance writer. Her Web site is www.nancola.com and you can follow her on Twitter @nancola. Please direct all questions/comments to FOXGamePlan@gmail.com.