Say Goodbye to the Standard Receipt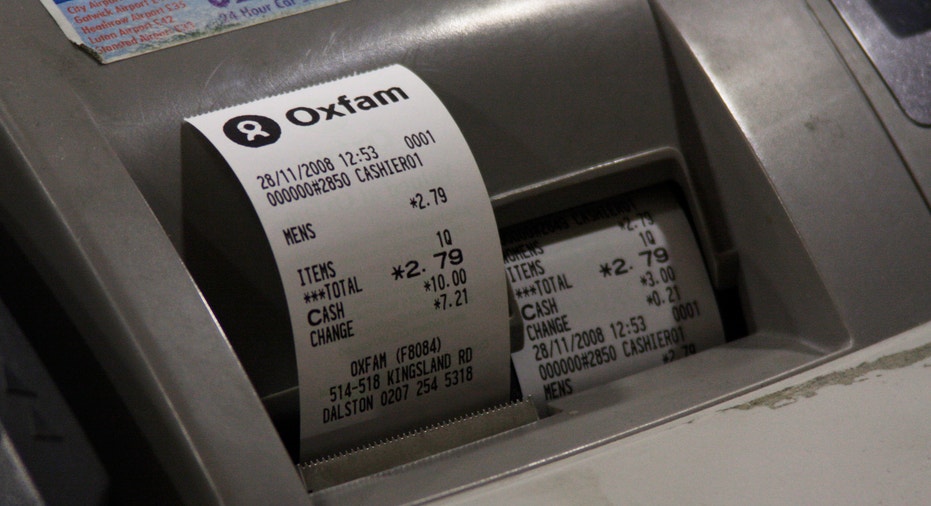 The boring old receipt is getting a makeover.
SmartReceipt has turned the standard receipt that usually only shows the name and price of the item purchased into engaging slips of paper.
The Santa Barbara, Calif.,-based company created software that businesses can use to transform their receipts to include graphics, nutritional details, and a host of other information ensuring customers take a peek before tossing it in the trash.
"Typically people don't look at today's receipts," said Jay Ferro , chief executive of SmartReceipt, who added his receipts have a 90% engagement compared to existing receipts.
We're not talking generic coupons being tacked on to the end a receipt. SmartReceipt is popular in the food industry because establishments can add the nutritional value at the end of a receipt and even make suggestions for future purchases.
For instance, a customer may buy a fried chicken sandwich with cheese and mayo; the receipt will display the calories, fat content and other nutritional information. It can also suggest other healthier options like a grilled  chicken sandwich for less calories and offer coupon for it.
Ferro said the added nutritional information has not resulted in a behavior changes by consumers. "No one is eating healthier. There's no personalization, no education, no motivation." He also noted that some restaurants in hospitals and on worksites are using smart receipts to promote healthier eating.
Small businesses of all types can use the technology to personalize and target specific customers. For example, a clothing boutique could offer consumers that purchase a sweater a deal on a scarf if they come back within two weeks. The dry cleaner may offer discounted service charges to repeat customers.
According to Ferro, SmartReceipt can also save small businesses money because the receipts pull double duty as a promotional tool, freeing up some marketing dollars. Instead of running a generic promotion that expires in a set period of time, and requires the business to continually run the ad, a SmartReceipt lets them offer quick promotions. The business can also quickly move on to the next promotional deal if the current one isn't bringing back customers.
SmartReceipt software costs anywhere from $50 to $75 a month and   works with existing point-of-sale systems and doesn't require any new hardware.  Merchants can either download the software directly, or use one of the company's installation packages.
The software is equipped with a drag-and-drop interface for designing the layout of the receipt and for adding content. Each receipt is then assigned a set of rules to where and when it prints. Merchants can control which locations get which receipts, and can change promotions based on type of day, customer or brand.
SmartReceipt has more than a thousand customers using its software with another 2,000 expected to be installed in the next three months, according to Ferro. He added the product is ideal for small businesses looking for a "very inexpensive way" to reach everyone. "It's literally the last impression you give them."