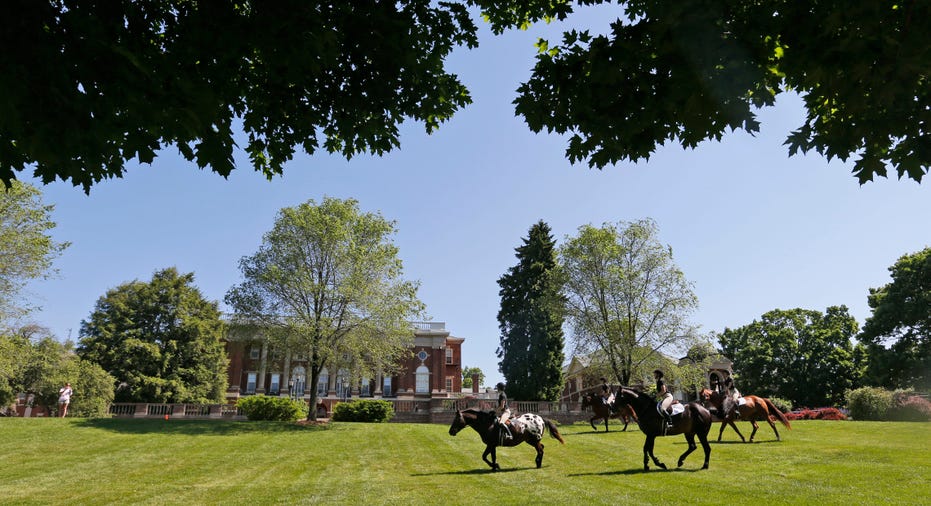 Poor leadership is the reason why Sweet Briar College got into trouble. A deep dive into the decision to shut the 114-year-old college shows its wounds are self-inflicted. Sweet Briar can be saved with new management and vision, a restructuring, and a stepped-up focus on its brand.
Nestled on 3,250 acres in the foothills of the Blue Ridge Mountains in Virginia, about 50 miles south of Charlottesville, Sweet Briar is known for its rich tradition and high academic standards. Its former students include Jacqueline Kennedy Onassis's mother Janet Lee Bouvier. Sweet Briar president James F. Jones stunned the world of academia when he announced in March that the all-women's school would abruptly close in August, citing "insurmountable financial challenges," even though the Virginia bastion is not out of money and has not defaulted on its debt.
Students cried, and parents, alumnae, and faculty demanded answers. Believing the board was railroading Sweet Briar into a bankruptcy filing, alumnae and their associates went on the counterattack.
They hired a legal squad to file suit, launched a website called savingsweetbriar.com, got nonprofit status for the organization behind the Internet site, and raised a war chest, more than $16 million to date. Four dozen faculty members also sued to stop the closing, and the board has faced multiple demands for resignations.
The state Supreme Court of Virginia recently extended a temporary injunction to stop the board's use of the school's operating funds to close Sweet Briar, sending the case back to a trial court. The board is expected to then be scrutinized over what opponents say is mismanagement, shrouded in secrecy, to shut Sweet Briar.
For example, school officials were accused of destroying documents via shredding; possibly putting in jeopardy crucial evidence, but that activity was apparently stopped after objections by Amherst County attorney Ellen Bowyer.
Sweet Briar officials said in an emailed statement that the board voted to close the college due to "enrollment and retention challenges; decreasing net tuition revenue and an underfunded endowment; and bond debt and maintenance issues that surpassed the amount of unrestricted funds available to the college."
The school's statement added that "the board felt it would be irresponsible to press forward into a new academic year with a high probability the college would be forced to close mid-year. There  has been no change in Sweet Briar's financial situation to alter the board's belief that closure was the correct decision."
But opponents of the closing plan to present evidence next week of Sweet Briar's viability, to show its finances are not in the parlous state the board has painted. Leadership is an issue, the credit rating agency Standard & Poor's notes, attributing Sweet Briar's problems to "recent turnover in key senior management positions" under the administration of former president Jo Ellen Parker.
Parker, now the president of Carnegie Museums in Pittsburgh, emailed a statement to FOX Business: "I, like so many are deeply saddened to see one more fine institution succumbing to fundamental challenges. Sweet Briar has offered public statements clearly explaining the circumstances and considerations that led to its decision to close; I have nothing to add to those explanations."
But Teresa Tomlinson, mayor of Columbus, GA, and a class of 1987 alumna, said: "This decision to shut the school cannot be justified by any logical analysis of the facts about Sweet Briar's finances. Sweet Briar is going to survive. The problem is, a number of people on the board stated they didn't believe women's colleges were relevant anymore."
Oddly, two weeks before the announcement to close Sweet Briar, Mayor Tomlinson had informed the college that she and her husband planned to leave $1 million to the school in their will. School president "Jimmy Jones wrote in the margins of his personal letter to me, 'what a wonderful thing you've done!' But then 14 days later, he announced the closure of the college. I think that's duplicitous at least, it's such a breach of faith," Tomlinson says.
School officials like Dan Gottlieb, chair of Sweet Briar's psychology department, and former board member Richard Leslie believe Sweet Briar can be saved, that the board is painting an untrue doom and gloom scenario.
Sweet Briar's Finances
Sweet Briar last year won an "A" grade for financial health from Forbes Magazine in its annual ranking of "America's Top Colleges." The Dept. of Education has also given Sweet Briar a top score for financial health, based on the school's filings as of June 2013.
Although S&P recently downgraded Sweet Briar, it said it did so because the college's board announced it would close. S&P actually had positive things to say about Sweet Briar's financial health.
Sweet Briar has $163.9 million in assets versus $29.6 million in debt, about $25.7 million of which is bond debt, down from $42.8 million in 2010, documents and its tax returns show. Three years ago the college refinanced its series 2008 bonds with reserve funds and a $10 million bank loan that comes due a long time from now, in 25 years, says S&P. Sweet Briar now has a debt service burden at "a more manageable" and "moderate" 4.6% of operating expenses, S&P says.
"We believe the college's balance-sheet ratios are strong" and it has "sufficient resources" on hand "to pay [its] debt service," S&P says in a report, noting again later that Sweet Briar has "strong financial resources." It cites immediate "expendable" funds, which range anywhere from $38.4 million to $40 million, and its cash and investments are fairly solid, growing 12% since 2009.
Sweet Briar also has a healthy $95.9 million endowment, up from $86 million in 2011, documents show. Its endowment sits right up there with the average $110.7 million endowment for 36 other women's colleges, according to analysis from Moody's Investors Service. Sweet Briar also has "no unfunded pension or other post employment benefit obligations," notes S&P.
However, the college has been forced to cover operating deficits by spending about 9% of its $95.9 million endowment last year, S&P says, versus the typical 5% schools draw down to spend on operations. S&P adds, though, that Sweet Briar has a "history of successful fundraising."
Questions Unanswered Alumnae and former board members say questions still need to be addressed. For one, they ask who benefits from shutting Sweet Briar, to, say, sell it for another purpose, since the college sits near an economic development zone and a major highway?
And although the board claims financial peril, what has it done to rework its bond debt, given that a restructuring lawyer at the law firm White & Case apparently volunteered pro bono to overhaul it? "The board refused" that help, says Leslie.
Also, alumnae ask, why did Sweet Briar's board suddenly decide to shut the college without faculty participation, in disregard of governance standards put forth by the American Association of University Professors? When the faculty has delivered a unanimous vote of no confidence in the board and filed a motion in court to keep Sweet Briar open?
In other words, why let the board bolt the doors and throw away the key, when instead new leadership could give Sweet Briar a shot at survival, insiders ask?
The fight over Sweet Briar is a vivid example of how the U.S. college system is an unchecked, unaccountable mess. Colleges enjoy a gushing waterfall of government subsidies in the form of tax-exempt status, grants and student aid, while they steadily hit families with costly tuition and squander resources via haphazard decision-making, often done in secret.
College boards routinely rely on a small coterie of insiders to make decisions without any checks and balances, while obtusely blaming their troubles on, say, their schools' distant location or academic direction.
For example, people close to the matter have blamed Sweet Briar's problems on its all-women student focus and its rural setting. But there are some 42 women's colleges in the U.S, such as Wellesley College and Smith College, that continue to thrive, and many others operate in rural locations, including Hollins University in Virginia. Dartmouth College and Colgate University sit in rural areas, too.
"Are all women's colleges and rural or suburban colleges as doomed as the dodo bird? I think not," says Leslie, the former Sweet Briar board member. "After a period of declining enrollment, after the economic disaster of 2008 to 2009, many are now thriving."
"They Haven't Run it Right"
Arguing in court, Calvin W. "Woody" Fowler, who is representing Sweet Briar College's president and board of trustees, said that the board has "a right to cease operations." He argued Sweet Briar risks insolvency if control of the school is taken away from its current leaders, and that delays would only make matters worse.
"You're being asked to allow for an orderly wind-down or allow a crash-and-burn," Fowler said in court. Board officials have argued they can instead preserve the school's assets in, say, a scholarship fund, people close to the matter said.
But Justice William C. Mims asked in court, wasn't Fowler ignoring the fact that a delay could buy time to figure out a way to keep the college open? Justice Arthur Kelsey also asked Fowler why he was so strongly contesting a temporary injunction.
"The problem is, they haven't run it right," argued William H. Hurd, an attorney working with Amherst county attorney Bowyer to stop the closing of Sweet Briar. Hurd said to the justices: "We're asking you for a chance to save Sweet Briar College," adding, "This is not a college that is doomed to failure." Hurd also said the board presented no evidence to support the "crash and burn" scenario.
Sweet Briar alumna Amy Simmons says: "I just cannot understand why our board members are so determined to fail at what they were entrusted to do as stewards of the college, and how they can be so content to be remembered as having been on the wrong side of history."
Kitchen Sink Line Items
Former board members and school officials have blasted the board, blaming mismanagement--in particular for allowing a flying turnstile in the executive suites--on former president Parker, who served from 2009 to 2014. S&P apparently agrees: "We believe the continued turnover in senior management amid the current economic climate has created some instability."
Parker was paid $275,867 annually to run Sweet Briar, with $57,000 more in retirement and "other" undescribed benefits, compensation that's in line with what the school paid other presidents.
In an affidavit filed in court in the spring, Parker said this about the school's troubles: "All of these circumstances were apparent to me during my presidency. Subsequently, when Sweet Briar announced it was closing I was deeply saddened, but not surprised."
However, that runs counter to comments Parker made in her farewell statement a year prior. "I leave knowing that Sweet Briar is poised to take another strong step into a distinguished future," Parker had said.
In a Washington Post essay, Sweet Briar board member Diane Dalton says the characterizations about the board are "misguided," contending Parker displayed "notably strong leadership at a time when a perfect storm of external forces beyond her control was brewing."
What was also brewing were expenses, symptomatic of turmoil. The board's pious quotes about standards in its financial statements amount to bureaucratic flannel in the face of big kitchen sink line items submarined in the school's tax returns. Despite claiming financial trouble, Sweet Briar's management increasingly spent money on its expenses, to a flabby $47 million in fiscal 2012, the latest data available, from $45.7 million in fiscal 2008, the bubble-era period right before the financial collapse.
For example, Sweet Briar's board barely cut the school's costs in the mysterious "other expenses" line items, booking $17.2 million in this hodge-podge entry in 2012 versus $18.6 million in 2008. It includes costs like $1.97 million in unexplained "administrative expenses" and $588,672 spent on unexplained travel expenses for school employees.
Since the board has claimed financial straits, it would be reasonable to expect it to be tighter than two coats of paint when it comes to such costs. But expenses stayed stuck at nearly the same levels they were in 2008, for example, $2.2 million in unexplained administrative costs back then, and $612,410 spent on travel.
Though Sweet Briar did reduce it's spending on undescribed "conferences and conventions" from more than $948,600 in 2008 to nearly $574,000, this is a line item notorious for abusive junkets, where school bureaucrats mistake jetting for achievement. Sources close to the matter say the school has enacted job cuts, which likely helped lower compensation expenses, to $14.1 million from $19.3 million in fiscal 2008.
Management Turnover  
Former board members also say that, rather than inheriting a college in trouble, Parker took over a college that had turned the corner on admissions and had actually cut the draw on its endowment to 6.5%, reports show.
To fill desks, Sweet Briar has been dramatically cutting its tuition, the credit ratings agencies note. Tuition, room, and board amount to just over $47,000. Freshman applications had increased in the past six years, up two-thirds between 2009 and 2015, and were at "historically high levels," Mayor Tomlinson says. S&P says student retention rates have averaged a decent 74% since the fall of 2010, and says "management expects future trends to remain stable," while graduation rates, as high as 69%, "generally remain above the rating category median."
But former board members say that, upon Parker's arrival, admissions dropped while the board kicked the can further down a shortened road. Enrollment is down 8.2% since 2009 to about 561 students. Problematic, since 71% of Sweet Briar's budget comes from student tuition and charges. On Parker's watch, the endowment draw grew to about 9%, S&P estimates, while costs per student remained high at $41,000, in a high-wire, budget balancing act.
Former board members like Richard Leslie says instead of ramping up school branding, Parker launched moves to set up a "governing board largely created and certainly dominated by the president."
Although it blames the school's problems on declining enrollment, the board somehow let Sweet Briar not only go without a full-time dean of enrollment (three in three years); it also went without a marketing director and development director for long periods of time. In the age of social media, it appears its stab at college branding seems more apropos of the era of rotary phones and sewing machines.
In addition, the board swapped in interim officials for important posts, including at various times even the presidency of the school, as well as the dean of enrollment and the vice president for development.
Turnover in other key positions was also chronic, notably in the faculty dean and finance positions. "Every senior staff position was replaced, some twice, in a five-year period," says former board member Leslie, citing his "frustration at the ham-handed, myopic and dictatorial way board affairs were conducted." Sweet Briar's problems "were all internal and not external," he says.
Former board member Maggie Saylor Patrick adds that "board governance changed dramatically on Parker's watch from 2009 to 2014"  from "one of inclusiveness and active participation by all board members, to one where those who asked questions were silenced," and where all critical decisions were only handled by the president and a tight coterie on the board's executive committee.
"There is concrete evidence of a systematic attempt to purge the board--as well as senior staff--and to change its method of governance to put the real power in the hands of a few," says Georgene Vairo, Sweet Briar College alumna, noting former board members continue to step forward, describing a "pattern of stifling dissent and consolidation of power."
Mayor Tomlinson agrees: "I genuinely believe, because of the board's insular decision making, it became frightened about trends instead of implementing real solutions to deal with those trends. They began to not believe in the mission they were charged with."
Corrective Surgery, Not Plastic Surgery
As "interim" officials were put in place and the former president and board circled the wagons, it resorted to an easy crutch: Ringing its defenses with a small army of outside consultants, nearly a dozen in all, insiders say, who started charging fees buried somewhere in Sweet Briar's tax returns.
Sweet Briar needs corrective surgery, not plastic surgery. But Parker "was consultant happy," says former board member Jo Ann Soderquist Kramer, a retired aerospace engineer.
Leslie says at one point he was the "lone vote against spending $1 million" of Sweet Briar's funds "on yet another new strategic plan at a time when" the school's "very survival" was in question. Leslie says Parker's heavy use of consultants forced him to cut Sweet Briar out of his will to the tune of $5 million.
When Leslie tried to find out what was going on, he says he "received no answers to queries about who at the college" was "in day-to-day charge of this massive and expensive effort" to fix the school. Leslie was stunned to find that, at one point, even an outside consultant was in charge of the outside consultants conducting a "million-dollar study" of the school.
"Really! An outside consultant managing the work of an outside consultant she recommended?!!?" Leslie said. This constant reliance on consultants, insiders wonder, is the equivalent of asking this:  If the house is on fire, why were the president and board still smoking in bed?   As consultants lined up, the school effectively paid for more changes in Sweet Briar's direction than a weathervane in a tornado, leaving them confused and paralyzed, according to Tomlinson and former officials. For instance, senior officials, with the consultants behind them, cooked up three strategic plans in seven years, Leslie says. Exasperated board members at one point "were just happy to not hear any more platitudinous fluff replete with unrealistic numbers," he adds.
Smothering Pillow of Bureaucracy
Another problem: The smothering pillow of bureaucracy. After Parker got the top job, "all board members were specifically instructed not to contact a member of the senior staff without first obtaining permission of the relevant committee chair and the president," Leslie says.
He explains: "So if you're on the finance committee, and you had a question about the budget, you couldn't call the head of finance. You were supposed to first talk to the other chairs of the finance committee, and then the president."
There was more cranking up of the fog machine, insiders say. "To reinforce this stifling of involvement," the board "even brought in a coach from the Association of Governing Boards (AGB), an organization solely funded by the presidential budgets of our nation's colleges" to tell them what to do, Leslie says.
And yet somehow, the basic measures colleges and corporate America have in place to get some kind of performance out of its top executives went AWOL at Sweet Briar.
Leslie cites "the absence of any performance goals and incentives for the president" as "one of the reasons for the many sad failures in admissions, retention and fiscal restraint." He adds: "There was "no plan or even discussion of a plan to focus on presidential accountability."
Outside Fiduciary
For now, Bowyer, the Amherst County attorney, has asked the court to appoint lawyer Phillip C. Stone to serve as a special fiduciary to administer Sweet Briar's assets and operate the college while the litigation continues. Bowyer is also asking that the fiduciary "investigate" the school's financial situation and report back to the court, not the college president or board of trustees.
The credit ratings agencies hold out some hope. S&P says Sweet Briar College's financial resources "remain strong for the rating category," and notes that Sweet Briar's cash and investments rose to $87 million in fiscal 2013 from $83 million in fiscal 2012, again, "strong, in our view." The college owns about $57 million in land, buildings and equipment.
S&P says that more than half, 58%, of Sweet Briar's total investments "are highly liquid, redeemable on a daily basis, with 26% redeemable on a monthly basis," reiterating that the college has "a highly liquid portfolio."
A solid capital campaign, rebranding and marketing effort could save the school, along with paring back tenured positions and course offerings, even selling students online courses. "Sweet Briar College raised $111 million in a comprehensive capital campaign in 2006, exceeding its $100-million goal," S&P notes, but adds that for some reason, since then, the college instead "focused on smaller project-based, donor-funded campaigns for facility renewal needs."
For now, saving Sweet Briar is a marathon, not a sprint. What could rescue the beloved school is a "mission change over a multi-year period," but that's a "high-cost, high-risk strategy that usually takes many years to execute," Moody's advises.