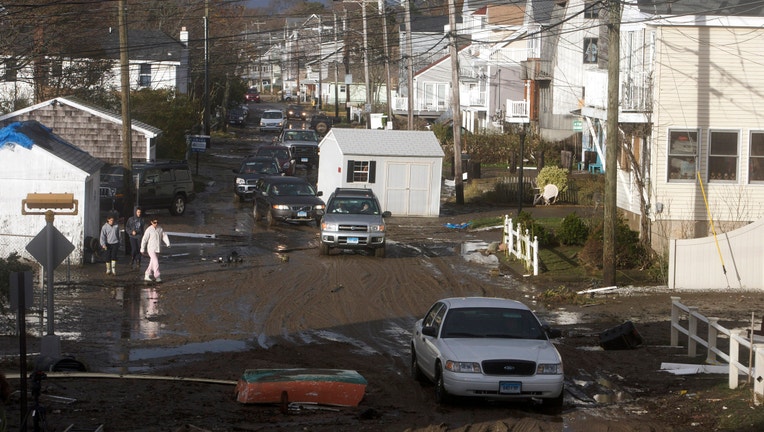 While the East Coast attempts to clean up from Hurricane Sandy, the super storm is already proving to be a boon for the stock prices of companies that could benefit from the massive rebuilding efforts.
Shares of construction and home-improvement stocks like Owens Corning (NYSE:OC) and Home Depot (NYSE:HD) were among the early winners on Wednesday, while insurers such as Travelers (NYSE:TRV) and Chubb (NYSE:CB) suffered modest selling.
It's not clear just how much damage Hurricane Sandy has caused in hard-hit areas like New Jersey and New York, but IHS Global Insight (NYSE:IHS) forecasted potential infrastructure insured damages of about $10 billion and total damage of about $20 billion.
Others believe those figures could more than double due to severe flooding and wind damage, especially on the Jersey Shore.
Howard Altschule of Forensic Weather Consultants told FOX Business he believes total damages will be "much higher than $20 billion" and $40 billion is "certainly possible."
With that in mind, analysts at J.P. Morgan Chase (NYSE:JPM) have estimated housing and construction could receive a $36 billion boost from Sandy.
Those forecasts help explain the strong demand on Wednesday for shares of companies that could participate in the eventual recovery effort.
Shares of electric generator maker Generac Holdings (NASDAQ:GNRC) surged 17% to new 52-week highs once trading resumed on Wednesday, while sheetrock and wallboard maker Eagle Materials (NYSE:EXP) rallied almost 8%.
Other companies like Lumber Liquidators Holdings (NYSE:LL) and Leggett & Platt (NYSE:LEG), which makes bed and furniture springs, also ticked solidly higher.
Likewise, hopes for increased spending due to the storm drove shares of home-improvement retailers Home Depot and Lowe's (NYSE:LOW) about 5% higher at the opening bell. The rallies moderated and both stocks were up just over 2% in recent trading.
On the other hand, insurers that may be expected to pick up the tab from Hurricane Sandy lost ground.
Travelers dropped just over 1%, while rival property insurers Allstate (NYSE:ALL), Hartford Financial (NYSE:HIG) and Chubb all dipped less than 1%. Berkshire Hathaway, the holding company Warren Buffett controls that owns auto and home insurers, saw its Class B shares slip 0.20%.
Meanwhile, the Department of Energy estimates 6.2 million customers are still without power in 18 states, an improvement from peak outages of about 8.2 million.
The DOE said about 2.04 million customers are without power in New Jersey, representing 51% of the customers and making it the hardest-hit state. Almost 600,000 residents have had their service restored.
Shares of Con Edison (NYSE:ED), which delivers electricity to some residents in New York City and Westchester, actually rose 0.60% to $60.33. Con Ed said about 786,000 of its customers remain without power.