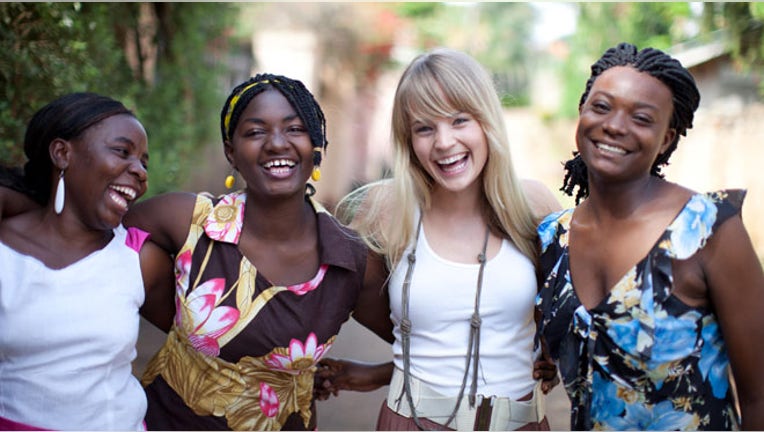 March marks Women's History Month, and on Saturday, women and men around the world celebrated International Women's Day.
"As the international community is discussing a global development blueprint beyond 2015, there is growing awareness that women's empowerment is critically important for progress in all societies," says Nanette Braun, communications and advocacy chief at UN Women.
One international startup that is working to lift women out of poverty and equip them with artisanal and textile skills and funds for higher education is U.S. and Uganda-based Sseko Designs. Liz Forkin Bohannon launched the company in 2010. After working for the company, 36 women in Uganda have gone on to college and the first class of three have all graduated.
Enseko, the inspiration for the for-profit company's name, is the Luganda word for "laughter." The lifestyle brand has expanded out of its original sandal-business space into handbags, totes, scarves and jewelry. The company hires recent high school graduates in Uganda to live and work together making products for a nine-month period, while earning money that will go directly towards college.
"There is so much need and opportunity to provide employment to vulnerable groups of women and the impact is undeniable," Bohannon says.
While living in East Africa after college, Bohannon says she realized the women there needed more opportunities. After trying out several ideas to generate revenue – including a chicken farm – she was reminded of a pair of strappy sandals she'd cobbled together in college. Bohannon spent weeks scouring the country for material and consuming everything she could about how to make footwear. She hired three young women (Mary, Mercy and Rebecca) and shortly after, the "company" sold its first pair of sandals. Today, the signature strappy footwear sells typically in the $50 to $70 range.
This month, to coincide with the Women's History Month festivities, Sseko is launching a leather t-strap sandal – the "big sister" to the original cloth-wrap sandal.
"As we continue to grow our brand and distribution, our potential for impact in each community becomes greater and that is very exciting to us," says Bohannon.
Taking Progress in Stride
Seventy percent of women in Uganda live below the poverty line, according to Bohannon. Only 17% will go to high school and less than 2% make it to college. Ugandans traditionally seek ways to earn enough money for college during a nine-month period between high school and college, but in a developing society, oftentimes it is a struggle to secure jobs.
According to UN Women, Fortune 500 companies with the highest representation of women in management deliver a 34% higher return than those with the lowest number of women in leadership positions. If paid employment rates for women were raised to the same level as men's, the United States' GDP would be an estimated 9% higher, Braun says.
Still, on average women made about 81% of the median earnings of male workers in 2012, according to the U.S. Bureau of Labor Statistics. In that same year, a U.S. Department of Labor report showed that women's participation in the labor force accounted for 57.7% of the working age population, compared to 70.2% participation rate for men.
"This year's theme ["Equality for Women is Progress for All"] for International Women's Day is a testament to what evidence shows us: when more women have a say, when more women work, economies grow," Braun says.
What Progress Means for Sseko
For Sseko Designs, which recently won the Social Impact category of the 2013 SXSW Eco Startup Showcase, the long-term goal is to have the company eventually managed entirely by its Ugandan partners. Bohannon says she'd also like to take Sseko's business model into new countries.
But she is OK with taking things slowly, and recognizes that "great things never happen overnight."
One of the biggest challenges Sseko has encountered is that the infrastructure for production and logistics in East Africa is still limited. She says they are tackling these challenges through ongoing training, by identifying partners on the ground and introducing new technologies.
Her hope is not simply to make Sseko successful, but to contribute to the business in East Africa.
"We have hopes of not just impacting our immediate community of women, but also being a positive contributor to the regional economy and industry development," she says.