San Francisco 49ers Homegrown App Hits Paydirt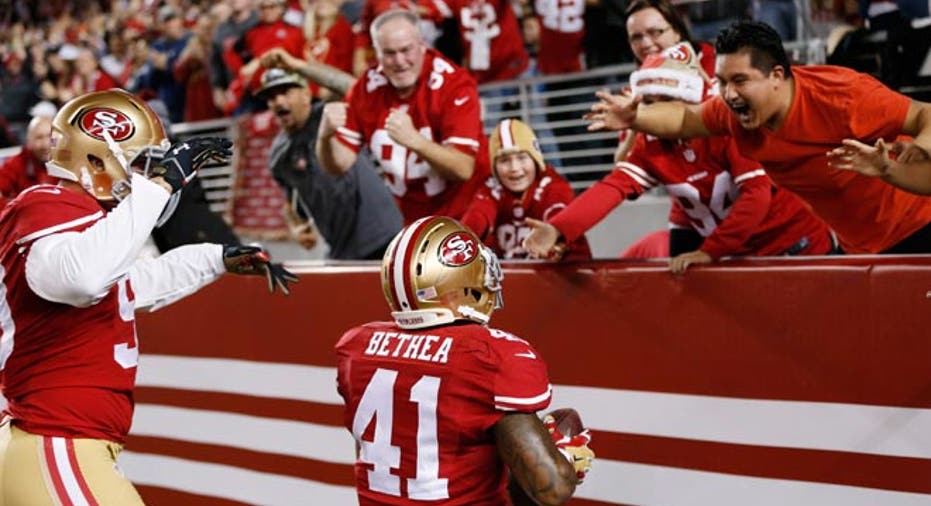 A tech startup spun off by the San Francisco 49ers ownership has hit venture capital pay dirt.
VenueNext, which uses mobile technology to enhance the fan live event experience in the team's state-of-the-art Levi's Stadium, has scored $9 million in financing from companies including Live Nation Entertainment (NYSE:LYV), Twitter (NYSE:TWTR), and Aruba Networks (NYSE:HPQ).
"We had folks reaching out," says 49ers CEO Jed York, who is also chairman of the VenueNext board. "It was easy to bring them in and let them use the product and as they used it, they reached out to us to ask if it was something they could invest in…It wasn't a hard sell to someone who understands sports and uses the product." York adds the app gives venue operators a deeper dive into who's there and how tickets are being used. "We have 17,000 season ticket holder accounts. I didn't know if you were coming with your family to use your four tickets. We went from knowing 17,000 names to over 200,000 people coming through the stadium. That's a huge benefit."
VenueNext's caliber of public company investors also suggests the app technology may expand beyond the 49ers family. "In the context of what they need with lead investors, they've got it all covered," says Tim Bajarin, president of tech consulting firm Creative Strategies. He adds, "Live Nation (investing) suggests they see this as a potential enhancement to their own service offerings and Twitter coming in realizes this is the social networking layer. They would not make this investment unless they saw it as strategic."
It's a strong opening drive for a company whose app is probably known at this point mostly only to San Francisco 49ers fans, that is if they paid attention to the company's name behind the Levi's Stadium app. The company was incubated in-house by the 49ers to help the high-tech local fan base better enjoy the experience of attending home games in the stadium which opened last season.
"We get rid of pain points at live events," explains VenueNext founder/CEO John Paul. "Driving directions, where to park, getting food and drink delivered to your seat, wayfinding to your seat (and home with mass transit and Uber links), buying and transferring tickets… We're using the smartphone and network to integrate with services and take away that pain." The app also delivers instant replays.
Plus, the app is a money maker, ringing up $1.25 million in revenue at Levi's Stadium last year, according to Paul.  The startup CEO says outside of tickets and concessions there are other ways the app can boost the bottom line. "We charge (customers) an annual license fee and let the team or venue operator monetize our app and platform. The 49ers believe that number was $3 million last year (in revenue and cost savings) and eSurance paid $750,000 to advertise on our app. That's how a venue can get a return on the investment."
The 49ers are banking on VenueNext's mobile ticketing to save another million bucks as the team goes paperless for tickets to home games for the upcoming season.
Creative Strategies' Bajarin says there are some competitors but none as far along as VenueNext and stadiums that try to do it in-house may find it more difficult than outsourcing. "It's transferable to any venue and any event," he says, adding, "It's ideal for sports but it could be used for concerts or the National Republican or Democratic Conventions….it solves a very big problem. It's easily hundreds of millions of dollars in opportunity."
Causeway Media Partners is leading this round of financing and managing partner Mark Wan, who owns a piece of the NFL's San Francisco 49ers and the NBA's Boston Celtics, is joining the VenueNext board which is backed by Aurum Partners and other funds affiliated with the NFL team.
VenueNext executives would not comment on future deals except to say this round of funding allows the company to scale up in size with plans to double from 40 employees to 80 by next year.
"When those deals are announced, it will show the world we're not just at Levi's Stadium and not just at sports events," asserts Paul.