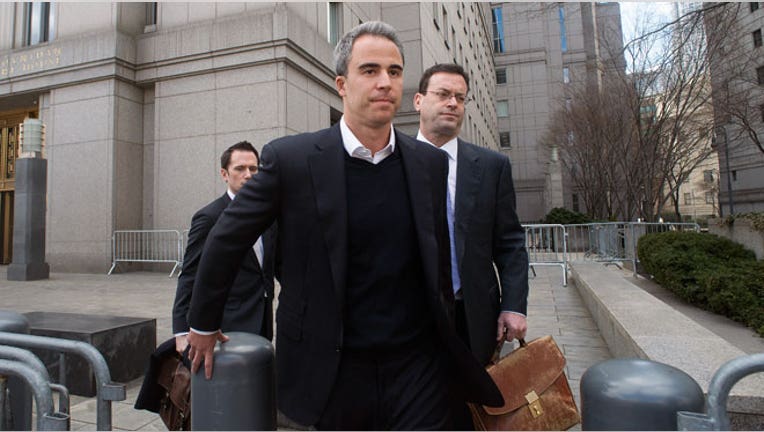 Developing: Michael Steinberg, a longtime portfolio manager at Steve Cohen's SAC Capital, was arrested and charged with several counts of conspiracy and insider trading Friday in the latest blow to the hedge-fund giant.
Steinberg was indicted in Manhattan federal court with four counts of securities fraud and one count of conspiracy to commit securities fraud. The charges stem from alleged insider trades in NVidia (NASDAQ:NVDA) starting in late 2007 and going through 2009 and ones in Dell (NASDAQ:DELL) in 2008 through 2009. He pleaded not guilty and was released on $3 million bond, according to a report by The Wall Street Journal.
Click here to read the full indictment. 
Barry Berke, Steinberg's attorney and a partner at Kramer Levin Naftalis & Frankel LLP, told FOX Business Steinberg's "trading decisions were based on detailed analysis as well as information that he understood had been properly obtained through the types of channels that institutional investors rely upon on a daily basis." Berke also said his client did "absolutely nothing wrong."
The U.S. government alleges Steinberg obtained material non-public information about Dell and NVidia through a complex network of consultants and other sources. In one such example from 2008, the government alleges Steinberg, through the network, received information that Dell's gross margins would be "materially lower than market expectations." Steinberg allegedly executed a large short position in the PC-maker -- a bet that the stock will fall -- based on that information.
"Steinberg was at the center of an elite criminal club, where cheating and corruption were rewarded," FBI Assistant Director George Venizelos said in a statement. "Research was nothing more than well-timed tips from an extensive network of well-sourced analysts."
However, SAC pushed back at those allegations, telling FOX Business, "Mike (Steinberg) has conducted himself professionally and ethically during his long tenure at the firm."  The company added that it believes him to be a "man of integrity."
A spokesperson for the Federal Bureau of Investigation New York field office told FOX Business Steinberg was arrested at 6 a.m. ET "without incident."
Steinberg: A Longtime SAC Manager
Steinberg has worked as a portfolio manager at SAC Capital since 1997, working at times in the Sigma Capital Management unit that focused on the technology sector, according to court documents and media accounts. He also worked for the CR Intrinsic division, according to FOX Business' Charlie Gasparino. He is currently still at the firm, but on leave, according to an official with knowledge of the matter.
Steinberg was a close associate of SAC's founder, Steve Cohen – a titan in the hedge fund industry. Stamford, Connecticut-based SAC manages some $14 billion in assets, but has come under fire in recent months amid allegations portfolio managers were pushed hard to gain a trading edge – sometimes stepping over the line into insider trading. Cohen has not been accused of wrongdoing.
Indeed, earlier this month, Sigma and CR Intrinsic settled a civil insider trading case with the Securities and Exchange Commission for $614 million in the biggest such settlement in history.  This follows the November arrest of Mathew Martoma, a former SAC portfolio manager who allegedly gleaned insider information on a key Alzheimer's drug via an expert consulting network and then traded on it for SAC. He is accused of making $216 million in profits and dodged losses for the fund, and pleaded not guilty in January.