Ryan Lochte's Brand Value Sinks Amid Rio Scandal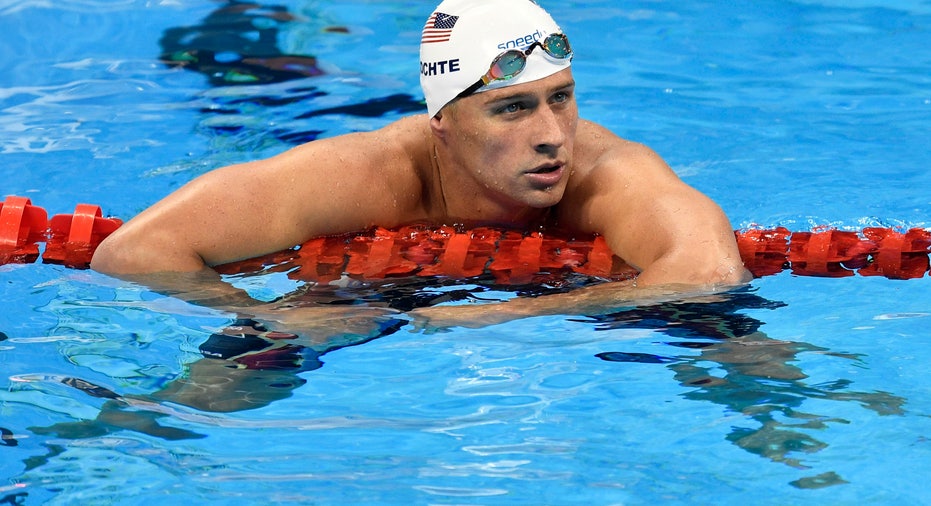 U.S. swimmer and six-time gold medalist Ryan Lochte was set to receive a hero's welcome after a strong performance at the 2016 Olympics in Brazil. Instead, the 32-year-old may have permanently damaged his value as a corporate endorser amid accusations that he lied about being robbed at gunpoint in Rio.
Lochte's endorsement deals with sponsors Ralph Lauren, Speedo and Airweave are worth an estimated $1 million annually, according to ESPN. At 32, Lochte is likely nearing the end of his international swimming career. His involvement in an embarrassing international incident raises serious questions as to whether he'll continue to compete for USA Swimming – and whether major corporate brands will risk associating with a declining, disgraced athlete.
"Ryan Lochte has done absolutely irreparable damage to his reputation and marketability regardless of what the final investigation in Rio reveals about whether he embellished or lied, in addition to his reprehensible personal behavior as an 'ugly American,'" Ray Katz, managing partner of ROI Sports Marketing Group and a professor at Columbia University in New York, told FOXBusiness.com. "Corporations are more risk averse than ever, because while they can terminate contracts, and extricate themselves from payments moving forward, the previously "paid-in equity" is demolished."
At the peak of his popularity during the 2012 Olympics in London, Lochte held endorsement deals with companies like Gatorade, Mutual of Omaha and Nissan, earning an estimated $2 million annually, according to Forbes. Among male American swimmers, his public profile is surpassed only by teammate Michael Phelps, the most decorated Olympian in history. Lochte briefly starred in the E! reality show "What Would Ryan Lochte Do?" in 2013.
Aside from sponsorships, many successful former Olympians parlay their fame into a lifetime of lucrative public appearances. For Lochte, that option may now be off the table.
"This will cost him millions over the course of his future life, in ad deals, speaking engagements [and] appearance fees," said Bob Dorfman, a sports sponsorship expert and creative director at Baker Street Advertising. "Maybe he can turn this into a learning experience for future athletes, writing a "how not-to" book. His apology has come too late; he didn't own up immediately, when he most definitely should have."
Initially, Lochte claimed that he and teammates Jack Conger, Gunnar Bentz and Jimmy Feigen were robbed at gunpoint by criminals posing as Rio police officers. Upon further questioning by Brazilian police, Bentz and Conger admitted that no robbery occurred and confirmed that Lochte caused damage to a local gas station and had a confrontation with security guards.
Lochte apologized on Friday for "not being more careful and candid in how I described the events of that early morning and for my role in taking focus away from the many athletes fulfilling their dreams of participating in the Olympics."
"It's traumatic to be out late with your friends in a foreign country – with a language barrier – and have a stranger point a gun at you and demand money to let you leave, but regardless of the behavior of anyone else that night, I should have been much more responsible in how I handled myself and for that I am sorry to my teammates, my fans, my fellow competitors, my sponsors, and the hosts of this great event," Lochte wrote on Instagram. "I am very proud to represent my country in Olympic competition and this was a situation that could and should have been avoided."
Motokuni Takaoka, the founder of the Airweave mattress brand, told ESPN that Lochte will remain a brand ambassador "as long as he is a respectable athlete."
Polo Ralph Lauren, which maintains an entire page dedicated to Lochte on its website, said the situation is under review. The brand did not immediately respond to FOXBusiness.com's request for comment on Lochte's apology.
Lochte's deal with Speedo is set to expire at the end of 2016. So far, the brand has declined to comment, citing the ongoing investigation.
Lochte's actions drew a rare rebuke from the U.S. Olympic Committee. Earlier in the week, the organization had issued a statement supporting Lochte's account.
"The behavior of these athletes is not acceptable, nor does it represent the values of Team USA or the conduct of the vast majority of its members," the USOC said in a statement on Thursday. "We will further review the matter, and any potential consequences for the athletes, when we return to the United States."