Russia faces Winter Olympics ban, IOC risks provoking Putin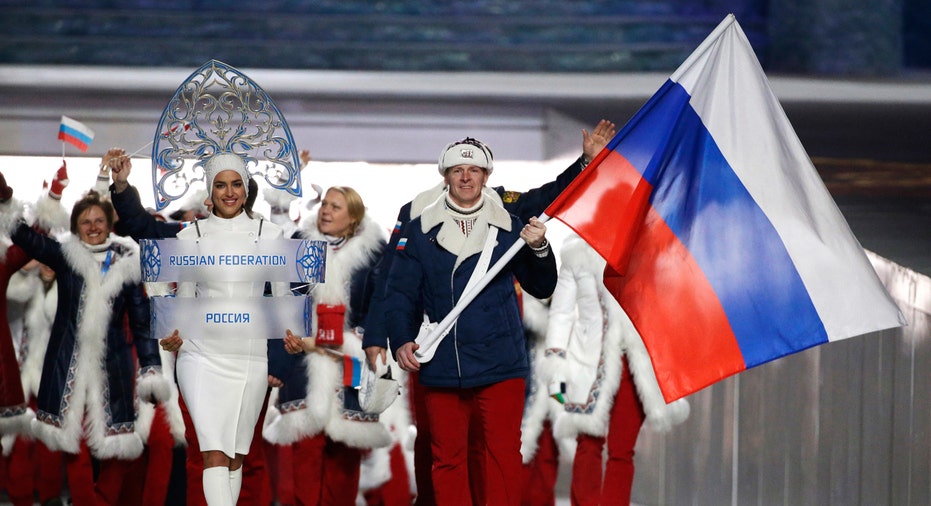 Russia faces a possible ban from the 2018 Winter Olympics in Pyeongchang, South Korea next February over the country's widespread doping program during the 2014 games, even as Russian leaders, including Vladimir Putin, have warned that harsh discipline would trigger a boycott.
The decision will come on Tuesday when the International Olympic Committee executive board meets in Lausanne, less than nine weeks before the games open on Feb. 9 in South Korea.
The 14-member board, which includes two Americans, has received a so-far confidential report from an IOC-appointed panel. That panel was asked to assess if Russian state agencies did organize the doping program used at the 2014 Sochi Olympics.
IOC President Thomas Bach, a German lawyer long seen as an ally of Russia, is scheduled to announce the decision at 7:30 p.m. (1830 GMT). Russia faces a variety of potential penalties, including possible fines, case-by-case approval of individual Russian athletes, or a total ban from the event.
IOC member Richard Peterkin said the board will make its decision irrespective of whether Russia calls for a boycott of the games.
"I don't think it's helping the cause, but I don't think it's going to be a factor," Peterkin said, according to USA Today. "It's not going to make people angry on the (executive board) to make an emotional decision. I think it'll just be totally ignored."
It might not be the last word, however. Russia can challenge any IOC sanction by appealing to the Court of Arbitration for Sport.
Here is a look at the case, and the possible results:
___
PUNISHMENT OPTIONS
— A total ban on Russia competing in Pyeongchang.
— Some Russian athletes compete, if judged to be clean under long-term doping controls operating to international standards. They would be classed as neutral athletes competing under the Olympic flag, and would be denied hearing the Russian anthem if they win Olympic gold. Those rules were imposed on Russian athletes at the athletics world championships in August.
Putin has said either of those outcomes would be humiliating, and could provoke a Russian boycott.
— The IOC board could ask the seven governing bodies for Winter Olympic sports to decide on individual athlete eligibility. That compromise applied to the 2016 Rio de Janeiro Olympics.
— Impose a fine on the Russian Olympic committee. Tens of millions of dollars could go toward anti-doping work worldwide.
A financial penalty would be "grossly inappropriate," according to Joseph de Pencier, chief executive of iNADO, a global group of national anti-doping agencies.
"It would send exactly the wrong message," de Pencier said. "It's pay to play."
___
TIMELINE
A big red flag regarding Russian doping went up in July 2013, weeks before Moscow hosted the athletics worlds. British newspaper the Mail on Sunday reported wrongdoing by Grigory Rodchenkov and the Moscow laboratory he directed, but its claims were mostly ignored.
In December 2014, 10 months after the Sochi Olympics, German network ARD broadcast a film by journalist Hajo Seppelt about extensive doping in Russian athletics using footage secretly filmed by whistleblowers.
The World Anti-Doping Agency later appointed an investigation panel chaired by Richard Pound, a long-serving IOC member. That panel included Richard McLaren. Their reports in November 2015 and January 2016 led to the suspension of Russia's athletics federation, anti-doping agency, and the Moscow lab.
The Pound team interviewed Rodchenkov and concluded he was a key part of a conspiracy of supplying banned drugs, covering up doping cases, and extorting athletes.
Rodchenkov fled to the United States and detailed in a May 2016 interview with the New York Times how, as lab director for the Sochi Games, he helped Russian athletes cheat. He said 15 of Russia's 33 medals were tainted.
WADA appointed McLaren to verify the fresh allegations. Within two months, he delivered an interim report before the Rio Olympics which upheld Rodchenkov's evidence.
"It can't possibly be done by a couple of rogue individuals, or even a rogue department of an organization," McLaren said last week of Russia's doping program.
The IOC then set up two commissions. One chaired by IOC member Denis Oswald verified McLaren's evidence to prosecute cases of Russian athletes from Sochi. A second, now chaired by a former president of Switzerland, Samuel Schmid, was to assess if an "institutional conspiracy" existed.
The Oswald judging panel began giving verdicts last month. By Monday, 25 Russians had been disqualified from Sochi and banned from the Olympics for life, and 11 medals were stripped. One Russian was cleared.
Schmid has received a 50-page sworn affidavit from Rodchenkov for his report. It was set to be delivered to IOC board members on Monday.
___
SOCHI PROGRAM
Rodchenkov said some Russian athletes at the Sochi Olympics used a fast-acting "Duchess" cocktail of performance-enhancing steroids dissolved in alcohol.
During the games, the athletes were protected by a urine-swapping scheme to replace dirty samples with clean urine stored months earlier.
The late-night swaps went via a "mouse hole" into a secured room at the Sochi testing laboratory.
Secret service agents found a way to break into tamper-proof sample bottles and return them with clean urine, Rodchenkov claimed.
Cleaned-up samples could further be tampered with by adding salt to make them more credible. In cases of some players in Russia's women's ice hockey team who did not have stored urine, male DNA was found in retesting of samples that are routinely stored by the IOC for 10 years in Lausanne.
___
RUSSIAN DENIALS
Russia denies a state-sponsored doping program existed. It blames Rodchenkov, calling him a rogue employee, and wants the scientist extradited from the United States, where he is a protected witness.
"There has never been and will never be any state programs related to doping," Russian Deputy Prime Minister Vitaly Mutko said on Friday before the soccer World Cup draw in Moscow.
Mutko, as sports minister in 2014, was implicated in the Pound and McLaren investigations, and also in Rodchenkov's hand-written diaries which were made available to the IOC. Oswald's panel called them "significant" evidence before The New York Times published extracts last week.
Mutko said on Friday he met "a number of times" with IOC commissions, and risks being banned from the Olympics. The IOC board blocked his accreditation for Rio last year.
Still, Mutko remains president of Russia's soccer federation and head of the World Cup organizing committee.
___
RIO PRECEDENT?
Bach's executive board did not impose a blanket ban on Russia before the Rio Olympics, passing on decision-making power to sports governing bodies. More than 100 Russian athletes were removed from a nearly 400-strong team.
Then, Bach was seen as an ally of Russia and a personal friend of Putin.
The "important difference" this time, Bach said last month, was that accused Russian athletes have now had due legal process and a fair hearing from the IOC.
___
WHO WILL DECIDE
The IOC board will meet at its temporary headquarters in Lausanne. It is chaired by Bach and includes two members of the Oswald Commission — Oswald himself and Juan Antonio Samaranch Jr.
The board also includes a member of the Schmid Commission, Robin Mitchell, and two Americans: Anita De Frantz and Angela Ruggiero, a four-time Olympic hockey medalist.
International Ski Federation president Gian Franco Kasper represents the winter sports, which mostly oppose a blanket ban.
They will meet with world figure skating champion Evgenia Medvedeva, who has joined a Russian delegation that will argue for a lighter sanction.
Rodchenkov's lawyer, Jim Walden, told The Associated Press his client hopes "Russia would recognize the severity and confess, and work itself quickly back into the world sports community."
The Associated Press contributed to this report.