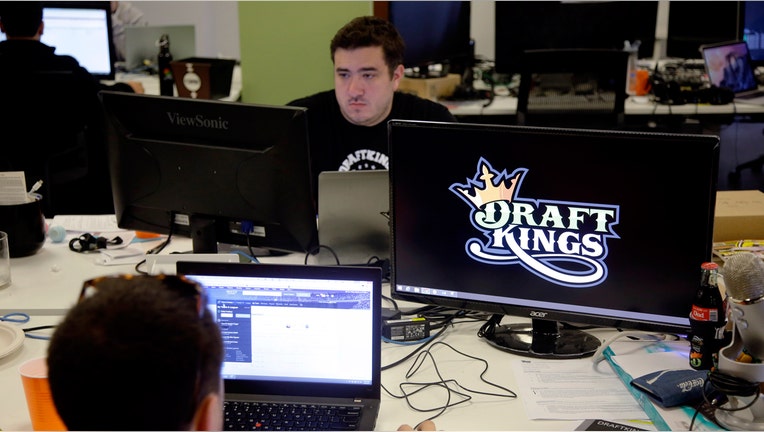 The U.S. Justice Department and the Federal Bureau of Investigation are probing whether the business model of daily fantasy sports operators violates federal law, according to people familiar with the matter.
FBI agents from the Boston office have been contacting customers of DraftKings to ask them about their experiences with the Boston-based company, one person familiar with the matter said.
The probe is in the preliminary stage, two people said. It is part of an ongoing discussion within the Justice Department about the legality of daily fantasy sites, in which customers pay entry fees to draft virtual sports teams that compete against each other for prize money based on the real-world performances of athletes. Congress in 2006 prohibited financial companies from transferring money to online gambling sites and several were shut down. But so-called games of skill were exempted. Fantasy sports sites have since operated under that exemption. So-called daily fantasy sites like DraftKings and FanDuel, didn't become popular until after the law was enacted.
The Justice Department is trying to determine whether daily fantasy games are a form of gambling that falls outside the purview of the exemption. No decision on the matter has been reached, these people said.
Hundreds of millions of dollars in venture capital and player money are flowing into the booming fantasy-sports industry, which counts sports leagues, Google's investing arm, and major media companies such as Comcast and 21st Century Fox among its investors. Wall Street Journal-owner News Corp and 21st Century Fox were part of the same company until 2013. Walt Disney earlier this year scuttled a planned investment in DraftKings, though the companies maintain a marketing relationship.
Daily fantasy came under scrutiny last week after a DraftKings employee admitted on a fantasy-sports message board last week that he had prematurely released sensitive data about the site's biggest contest. The same week, he won $350,000 on FanDuel, something both companies acknowledge. DraftKings said the leak was an accident, and both companies said he didn't benefit from having early access to data.
FanDuel has hired an outside investigator to conduct an internal review and make recommendations on how to strengthen controls on sensitive information. DraftKings has hired an investigator to look into unspecified allegations against an employee.
"It is entirely predictable that the government would follow up on the misleading reports about our industry," a DraftKings spokeswoman said in a statement. "We have no knowledge of the specifics of any federal investigation but strongly disagree with any notion that our company has engaged in any illegal activities."
FanDuel has said daily fantasy is a game of skill, not luck, and is therefore exempt under the 2006 law.
The New York Attorney General's office has asked both companies for a raft of internal data including the win/loss records of players, algorithms that determine the fantasy pricing for athletes and details on their policies to prevent fraud. The companies have until Thursday to respond.
The Massachusetts Attorney General's office is in talks with both companies over putting in place proper consumer protections, according to a person familiar with the discussions.
Sharon Terlep contributed to this article
Write to Devlin Barrett at devlin.barrett@wsj.com