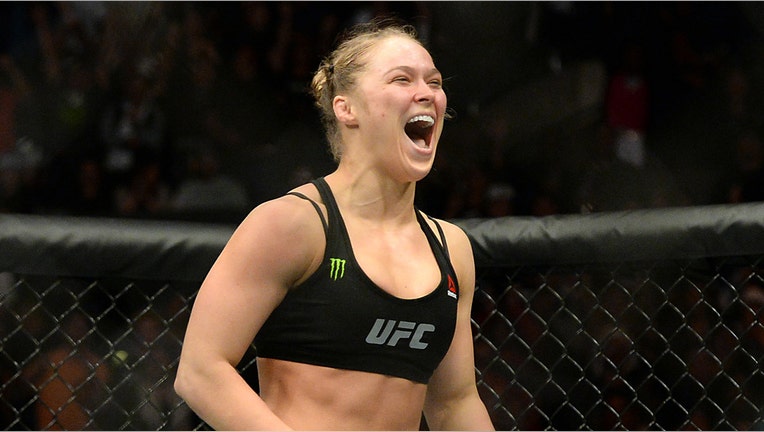 UFC star Ronda Rousey initially relied on her fighting skills to gain a fan following, but the 29-year-old's appearance on the cover of this year's Sports Illustrated (NYSE:TIME) "Swimsuit Issue" proves that her brand has transcended her win-loss record. Marketers and movie executives are clamoring to work with Rousey, even after her undefeated streak came to an abrupt end last November.
Rousey is one of three women to appear on an individual cover this year for Sports Illustrated's famed "Swimsuit Issue," joining models Hailey Clauson and Ashley Graham. She's the first athlete in the magazine's history to be exclusively featured on the front page, though other athletes – including soccer star Alex Morgan and tennis legend Serena Williams – have also posed for the publication.
Rousey ranked eight among all female athletes with $6.5 million in earnings in 2015, according to Forbes. Her income included $3.5 million from endorsement deals with the likes of Reebok, Monster headphones, Carl's Jr. and MetroPCS. With a prestigious "SI" cover in hand, a budding film career and growing portfolio of sponsorship deals, Rousey has solidified her status as a crossover star.
"The SI cover reinforces her marketability is greater than the UFC fan base," David Schwab, a senior vice president at Octagon who specializes in matching brand clients with celebrity endorsers, told FOXBusiness.com. "And because of that, the interest from brands will be more significant versus relying on UFC sponsors for income."
For the first few years of her mixed martial arts career, Rousey seemed utterly invincible. A former Olympic bronze medalist in judo, she first rose to national prominence after dominating a series of opponents in UFC's women's bantamweight division. Her most impressive victory came last August, when she knocked out archrival Bethe Correia in just 34 seconds.
Rousey is reportedly one of UFC's highest-paid performers, and one of the few fighters to receive an individual sponsorship deal from Reebok, UFC's exclusive apparel provider. She's also established a reputation as a positive role model for young women.
"It's a real honor being part of such a historic issue that really pays homage to different body types of women and not promoting just one cookie cutter image for every woman, but showing that the healthiest version of every body type is the sexiest version out there," Rousey said in a press release after being selected for the "Swimsuit Issue" cover.
After starting her professional fighting career with 12 straight victories, Rousey lost to former boxing champion Holly Holm by knockout last November in one of the most stunning upsets in the sport's history. The loss led some to suggest that Rousey's marketability would suffer without the aura of invincibility that had initially intrigued sponsors, even though it was the most-watched fight in UFC history.
"I can't think of any current athlete outside of Floyd Mayweather who has never lost. Certainly not [NBA star LeBron James] or any other of the top names in any other sport," said VFD Marketing's Managing Partner Elie Deshe, who has worked with Rousey on sponsorship deals. "Ronda is still one of the most dominant athletes the sport has ever seen, and her recent loss will only serve to make her next fight more exciting to fans of the sport, which in turn will attract more sponsors and business opportunities."
Rousey has rebounded nicely in recent months, adding a turn as host of "Saturday Night Live" in January and landing a starring role in an upcoming remake of the classic action movie "Road House." She's also made appearances in "Furious 7" and "Entourage," and she's set to co-star with Tina Fey in a comedy film based on one of her catchphrases.
"She's nearing the end of her fighting career, and I'm sure her representatives are positioning her to hopefully have the kind of post-athletic career that [former WWE wrestler-turned movie star] Dwayne Johnson has had," said Jonathan Jensen, a sports marketing consultant and assistant professor at Merrimack College's Girard School of Business.
The UFC gave Rousey a mandatory six-month medical suspension after her knockout loss to Holm. It's unclear when Rousey will return to the octagon, though she has expressed interest in a rematch for the women's bantamweight title.
Even if Rousey loses again, an unsuccessful effort would have no impact "whatsoever" on her marketability, Jensen said. By diversifying her brand, Rousey has developed a fan base outside the UFC.
"The audience she is targeting in broadening her reach doesn't follow MMA and most likely has never even seen her fight," Jensen said.