Rio's Police Crisis Looms Over 2016 Olympics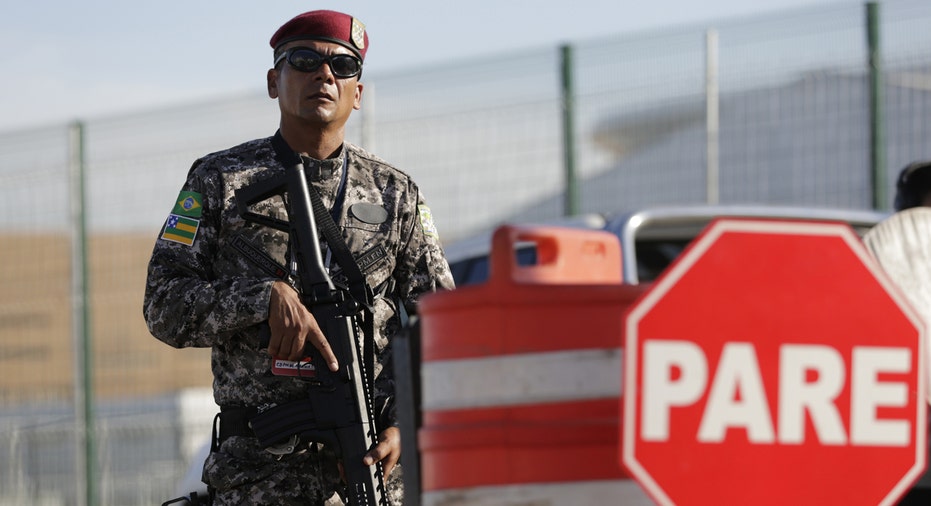 "Welcome to Hell" –  that's how one contingent of Brazil's striking civil police force greeted arrivals at Rio's international airport, just weeks before the 2016 Summer Olympic games begin.
Civil police officers are on strike to protest the withholding of their paychecks and Rio's governor declared a state of financial crisis last month.
Human rights advocates are also warning the region's troubling trend of police brutality, especially in poor neighborhoods, has worsened this year as cash-strapped security forces attempt to secure the city amid violent drug organizations.
The homicide rate in Rio is up 15% through the first four months of 2016, while street robbery is up 24%.
Gripped by its worst economic recession in years, Rio's state government has dramatically reduced police budgets in recent months, even as the region deals with rising crime in neighborhoods near Olympic venues.
About 85,000 underfunded civil and military police officers are expected to be dispatched in Rio to secure Olympic venues and protect tourists – officers that advocacy groups say are poorly trained and predisposed to excessive violence, without fear of consequences.
After waves of officer-involved deaths and the forced eviction of more than 600 families in smaller neighborhoods in the buildup to the Summer Olympics, Amnesty International and other organizations are calling on Brazil to review its security policies.    
"In the area of public security, there has not really been any improvement," Marselha Gonçalves Margerin, Amnesty International USA's Advocacy Director for the Americas, told FOXBusiness.com. "Actually, what we have been documenting is that [the situation] is getting worse. The so-called police operations to get inside these so-called 'favelas' [slums] to fight organized crime just really get poor people in those marginalized areas in the crossfire."
Police officers have killed more than 2,500 people in Rio since 2009, when Brazil earned the right to host the 2016 Summer Olympics, according to an Amnesty International briefing. Killings during police operations in Rio rose 40% in 2014 – the year Brazil hosted the FIFA World Cup. The toll rose another 11% to 645 deaths in 2015, according to the organization's research. On-duty police officers are purportedly involved in one out of every five homicides in Rio.
This isn't first time alleged human rights violations have tainted the Olympic Games in recent years. Prior to the 2008 Summer Olympics in Beijing, Chinese officials were accused of various abuses, including the forcible evictions of residents living on planned Olympic sites, mistreatment of laborers and suppression of political dissidents. The Russian government drew widespread criticism before the 2014 Winter Olympics after officials passed a law that made it illegal for LGBT individuals to circulate "gay propaganda."
In December 2014, the International Olympic Committee approved the "Olympic Agenda 2020," which mandated that host cities adhere to certain standards designed to prevent human rights violations, including press freedom and rights for LGBT individuals.
As of publication, the International Olympic Committee's press office had not responded to multiple requests for comment on this story.
Along with Amnesty International, Human Rights Watch, on Thursday issued a report citing concerns about undue force and abuses by Rio's security forces.  
Dozens of protestors were arrested or injured during clashes with police ahead of the 2014 World Cup in Rio. Officers regularly used batons, tear gas and rubber bullets to disperse demonstrations.
Margerin said that Amnesty International will be "observing" how police respond to protestors before and during this summer's Olympics, adding that the organization is "prepared to raise concerns and urgent appeals if something happens."
"Amnesty is certainly concerned, particularly with the unregulated use of small arms or the so-called 'less lethal' weapons," Margerin said. "There's not regulation in Brazil in regards to that. There's also concern with the criminalization of protestors."
More than 300,000 people are expected to travel to Brazil for the 2016 Olympics.
While the country's police brutality epidemic began long before the state earned the right to host the games, Margerin and other advocates see Brazil's month-long stretch in the international spotlight as a chance to educate the world about the issue.
"Amnesty is not against the Games. Amnesty is not calling to boycott the Games," Margerin said. "We're just concerned – and the numbers are showing – that [the police brutality crisis] is exacerbated by the upcoming Olympics. We're using this as an opportunity to call attention to this issue and continue asking for accountability."