RIM's PlayBook to Take on iPad From April 19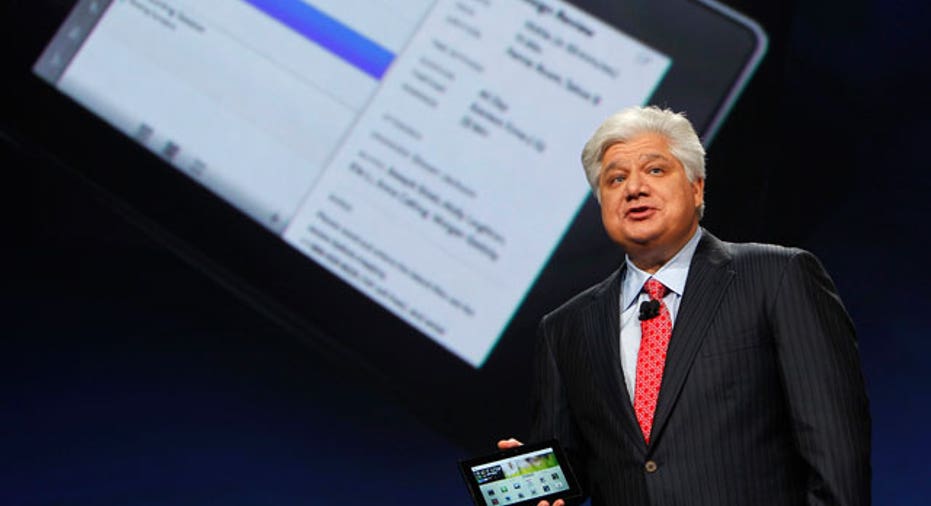 Research In Motion's long-awaited tablet, the BlackBerry PlayBook, will go on sale in North America on April 19 at a base price of $499, matching the pricing for Apple's latest iPad.
RIM, which releases quarterly results on Thursday, said it will sell the PlayBook through retailers and wireless carriers in the United States and Canada, and Best Buy said it was already accepting pre-orders.
The Wi-Fi-enabled PlayBook will compete against the iPad and other devices. It will come in 16 gigabyte, 32 gigabyte and 64 gigabyte versions priced at $499, $599 and $699 respectively.
RIM said the PlayBook will be sold in 20,000 retail outlets, including AT&T, Verizon, Radioshack, Sears Canada and Wal-Mart, as well as Best Buy. That's much more than the number of North American stores stocking Apple's device.
But with no word on distribution plans outside North America, RIM will still be chasing Apple, said James Cordwell, an analyst at Atlantic Equities in London.
"Everywhere else in the world there is pretty much no other choice but the iPad 2, as of this Friday. Half of the tablet market is overseas," he said.
RIM unveiled the seven-inch tablet computer in September. It will be able to stream a high-definition video to a television screen via a HDMI cable, while allowing users to run other applications at the same time.
The first version of the PlayBook pairs with a BlackBerry smartphone for added features and connectivity rather than having its own cellular connection. It can also share connectivity with other smartphones.
"The price may be high but RIM have a unique advantage in the Playbook's positioning as a companion device that addresses an existing customer base," said CCS Insight's Geoff Blaber.
"The big question is the Playbook's appeal to those not already part of the BlackBerry world."
Versions that connect directly to cellular networks are due later in the year.
Shares in Research In Motion, based in Waterloo, Ontario, were 0.4 percent higher at $61.95 on the Nasdaq.
RIM's tablet will also compete with tablets from Samsung, Motorola Mobility and Hewlett-Packard.
SALES NUMBERS ARE KEY
Apple sold nearly 15 million iPads in nine months of 2010, two or three times as many as analysts had predicted. It is expected to sell 30 million or more this year, which would generate close to $20 billion.
Expectations for the PlayBook are lower, with between 1 million and 4 million sales seen this year.
Scotia Capital analyst Gus Papageorgiou, who expects sales at the high end of that range, said the expansive distribution network could boost PlayBook 2011 sales to more than 7.3 million in North America alone.
RIM is due to announce its fourth quarter earnings after markets close on Thursday. Analysts expect earnings and revenue to both jump some 38 percent as the company extends deeper into emerging markets with lower-cost smartphones.