RIM's Hopes Riding on BlackBerry 10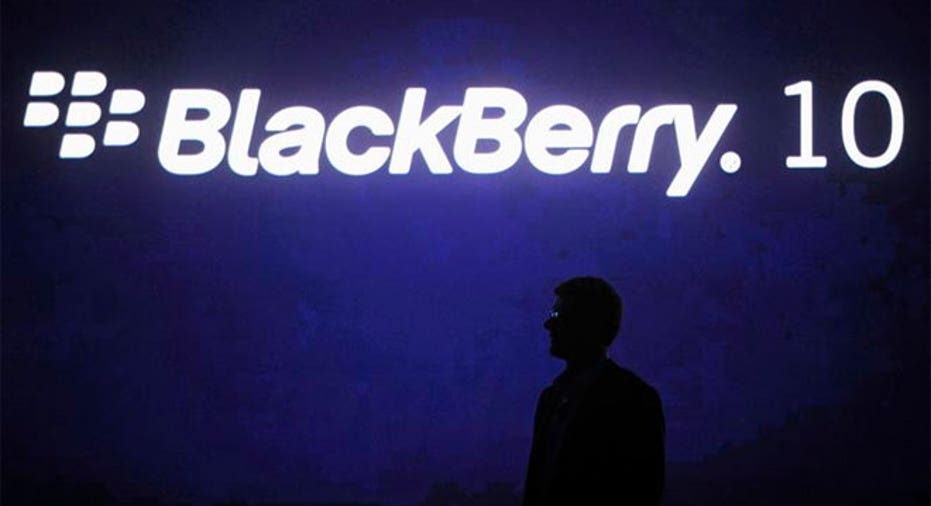 The innovative line of BlackBerry smartphones that Research In Motion Ltd (NASDAQ:RIMM) will formally unveil on Wednesday has already succeeded on one crucial count - getting RIM back in the conversation.
The new BlackBerry 10 has created a buzz among technology watchers and financial analysts, thanks to nifty features that may set it apart in an overcrowded smartphone market. RIM stock has almost tripled over the past four months on hopes the devices can restore RIM to sustained prosperity.
Reviewers like the browser speed and the intuitive keyboard on RIM's new touchscreen. A feature called BlackBerry Balance, which keeps corporate and personal data separate, could help RIM rebuild its traditional base of big business customers.
It's a welcome start for RIM, the smartphone pioneer that has teetered on the brink of irrelevance. But success will come only if consumer and business customers embrace the new technology in the weeks and months after CEO Thorsten Heins takes the wraps off the phone at a glitzy New York launch.
RIM is gambling its survival on the much-delayed BlackBerry 10, hoping to claw its way back into an industry now dominated by Apple Inc's iPhone and Samsung Electronics Co Ltd's Galaxy.
The timing may be just right. The new phone hits the market just as the iPhone's remarkable run is showing some signs of slowing.
"I really do believe that the consumer market as a whole is ready for something new," said Kevin Burden, head of mobility at Strategy Analytics, an industry consulting firm.
"I have to believe that there is some level of user fatigue that plays into the longevity of some of these platforms," he added, referring to Google Inc's Android and Apple's iOS, which are both more than five years old. "RIM is probably timing it right."
U.S. BATTLEGROUND
To be sure, RIM shares are about 90 percent below a 2008 peak near $150 a share and the company still has a tough fight ahead. It may take investors some time to determine whether RIM's big gamble on an untested technology has paid off.
RIM's market share collapsed in the three years ahead of the launch. Strategy Analytics data shows RIM's global share of the smartphone market was about 3.4 percent in the fourth quarter, down from around 20 percent just three years ago.
Will the BlackBerry 10 be able to save RIM? Tell us in the Comment section below.
While RIM has done well in developing markets, it has hemorrhaged customers in the United States, a market that sets technology trends. RIM's fourth-quarter North American market share fell to 2 percent from more than 40 percent three years ago.
Acknowledging that it is crucial to win back U.S. customers, RIM will hold its main BlackBerry 10 launch in New York, although there are simultaneous events in six cities across the globe.
Underscoring the point, RIM is splurging on a costly Super Bowl ad to tout its new devices and attempt to brighten its faded image in the U.S. market.
BIG QUESTIONS
Over 150 carriers already have tested the new devices and RIM has said the launch will be the largest ever global rollout of a new platform.
The two big questions the market expects RIM to answer on Wednesday are when the phones - a full touch-screen device and one with a traditional physical keyboard - will hit store shelves, and how much they will cost.
The company is expected to unveil specifics on pricing and availability in different regions at the launch.
"The Street is expecting mid-February for a launch. Anything earlier than that is a positive, anything later will be viewed as negative," said RBC Dominion Securities analyst Paul Treiber.
That said, there are few mysteries to be cleared up on Wednesday. Leaked photos and specifications of the devices have been splashed across the tech world.
"We've had the beta devices for a few weeks and in terms of the devices, they are right up there with the competition," said Andy Ambrozic, head of IT Infrastructure at Ricoh Canada. "The Balance feature is crucial for corporations that are becoming increasingly concerned about data security."
Scotiabank analyst Gus Papageorgiou feels RIM has a good chance of a comeback. He says the new BB10 operating system outpaces Apple's iOS platform and Google's market-leading Android system in every category except app selection and content.
"There is, we believe, huge potential for the platform and devices to bring people back to BlackBerry or draw entirely new users into the platform," said Papageorgiou, who has a "sector outperform" rating on the stock.
BlackBerry 10 will not be able to compete on the number of apps, but RIM says its operating system will have the largest application library for any new platform at launch, with more than 70,000 apps available.
It has already gathered big-name music and video partners for its BlackBerry 10 storefront, including Walt Disney Studios and Sony Pictures, Universal Music and Warner Music Group.
Wireless carriers already report strong demand for the new devices. Rogers Communications Inc, Canada's top wireless carrier and the first globally to take pre-orders for the new devices, said orders are already in the thousands.
"Our customers are excited," said John Boynton, Rogers' head of marketing, adding that some users are holding off on upgrades in anticipation of the BB10 launch.
(Additional reporting by Alastair Sharp and Allison Martell in Toronto; Editing by Frank McGurty, Janet Guttsman and Andre Grenon)