RF Micro to Buy TriQuint in $1.6B All-Stock Deal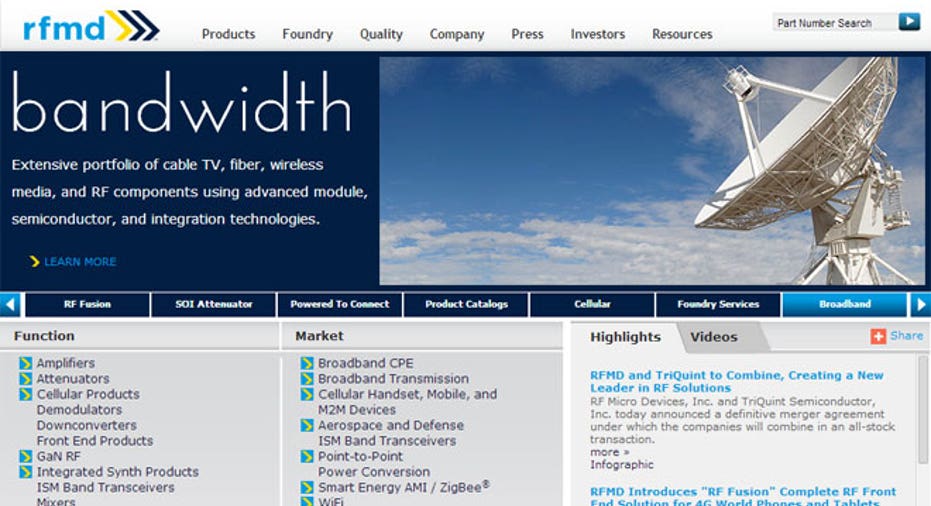 RF Micro Devices (NASDAQ:RFMD) inked an agreement on Monday to acquire rival chip maker TriQuint (NASDAQ:TQNT) for $1.6 billion in stock.
The two companies billed the transaction as a "merger of equals" and said the new company will have a new name and shared leadership team.
By joining forces, RF Micro Devices and TriQuint are creating a radio frequency chip maker that has combined revenue of more than $2 billion a year.
"With this merger of equals, we will bring under one roof all of the critical RF building blocks necessary to innovate at the heart of what makes mobile mobile - the crucial back-and-forth data flow between the mobile device and the network," RFMD CEO Bob Bruggeworth said in a statement.
The transaction values TriQuint at $9.73 per share, representing a 5.4% premium on the company's closing price of $9.23 on Friday.
The combination is expected to generate at least $150 million in cost synergies, including $75 million in the first year after closing. The deal is also set to boost non-GAAP EPS in the first full fiscal year.
"Through this combination of RFMD and TriQuint we form a diversified market leader with a highly compatible combination of products and technologies and a world class team focused on innovation and superior financial results," said TriQuint CEO Ralph Quinsey.
The companies said Quinsey will serve as non-executive chair, while Bruggeworth will keep his CEO title. The combined company's board will be made up of ten directors, five from each company.
Steve Buhaly, currently chief financial officer of TriQuint, will hold the same position at the new company.
The transaction is expected to close during the second half of 2014 subject to shareholder and regulatory approval.
As has been the case in recent M&A, shares of both companies rallied on the announcement. Shares of TriQuint surged 24.05% to $11.45 in premarket trading on Monday, while RFMD soared 18.76% to $6.90.
Bank of America Merrill Lynch (NYSE:BAC) served as RFMD's financial advisor, while Goldman Sachs (NYSE:GS) advised TriQuint.