Research in... Play? Suitors May Start Circling Struggling RIM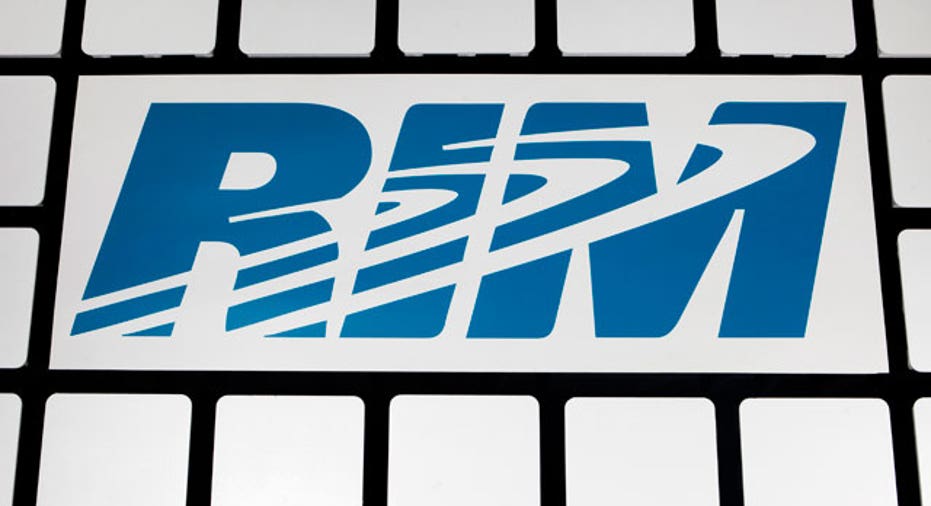 Its hard to believe just three years ago Research in Motion (NASDAQ:RIMM) was worth a whopping $80 billion, making it Canadas most lucrative public company.
After falling badly behind the curve in the newly consumer-oriented smartphone market, the BlackBerry maker is struggling to maintain relevance in a world now dominated by tech titans Google (NASDAQ:GOOG) and Apple (NASDAQ:AAPL).
Things have gotten so bad for RIM, which essentially invented the nearly-ubiquitous smartphone, that some believe it may be unable to survive as an independent company.
The deck is stacked against them right now. Upcoming products are not breaking through or even touching up with competitors, said Stephen Beck, founder of boutique management consultancy cg42. Its hard to see a path out.
RIMs downfall is so shocking because its blockbuster device has been such a mainstay in the corporate world. Dubbed the CrackBerry for its addictive qualities, the BlackBerry allows professionals to quickly communicate through email and the instant messages.
To be sure, RIM still has a subscriber pool of more than 65 million people and maintains an enviable presence in the business world with its BlackBerry Enterprise Server and client access software. And the company may still discover a way to turn things around, such as by drawing demand for its new PlayBook tablet device.
But how did RIM get from leading the mobile revolution to fighting just to hold on to third place?
Resting on Their Laurels
Under the leadership of co-CEOs Michael Lazardis and Jim Balsillie, RIM made a number of missteps, highlighted by a tendency to be reactive to the changing industry dynamics rather than proactive.
If you went through a checklist of what a mobile company shouldnt do, RIM would have hit all of them, said Jon Rettinger, president of tech blog TechnoBuffalo.com. They run the risk of going the Nokia route: a company that had really strong market share but began faltering and failing
After dominating in the smartphone market for much of last decade, the tide began to change when Apple (NASDAQ:AAPL) unleashed its revolutionary iPhone. The device, which specifically catered to consumers and was among the first to emphasize a touch screen in lieu of a keyboard, drew mass appeal and led millions of customers to switch to its then-exclusive carrier, AT&T (NYSE:T).
The iPhone launch changed the mobile landscape. That was really the start of RIMs downfall, said Rettinger.
RIM mostly just offered a series of incremental upgrades to its standard device as it appeared to be blindsided by the rapidly-evolving market dynamics. The company didnt adopt a modern Web browser until recently and has lagged behind its peers in the crucial app market.
They left themselves open instead of pushing into the consumer market, said Beck. They just rested on their laurels.
According to a recent report from Nielsen, RIMs BlackBerry represents just 23% of smart phone consumers, compared with 36% for Googles Android and 26% for Apple.
I dont think they will be able to stay independent mainly because they just didnt make the corner when the smartphone market changed its character, said Roger Kay, president of Endpoint Technologies. If you did really well with something, its hard to get away from it.
Now RIM, which drew 83% of its 2011 revenue from handsets, is even being challenged on the corporate side as IT departments begin to support Apple and Android.
Will Rivals Be Tempted by RIMs Tumbling Stock?
RIM hit a new low last week when it disclosed dreary quarterly results, severely slashed its financial guidance and announced plans to cut jobs. A crush of analysts downgraded the companys stock the next morning and Citigroup predicted more bad news, writing, Can things get worse for RIM and its...supply chain? We think so.
RIM saw its stock plummet 21% to nearly five-year lows in response and the companys current market cap of just under $15 billion is a shadow of its old self.
Yet RIM mysteriously bounced back a bit on Tuesday, climbing 10% as Wall Street bet that a rival may be enticed enough by the beaten-down stock price to make a run at acquiring the company a feat that would have been nearly impossible just three years ago.
A number of companies have been floated as potential suitors for RIM, but industry insiders specifically point to Samsung, HTC, LG and Sony Ericsson. Kay said Samung is a likely target because it has a big pile of money sitting on its balance sheet.
PC maker Dell (NASDAQ:DELL), which has been trying to get into the mobile market, has also been frequently mentioned.  But much like RIM, Dell is seen as a relic of the old tech world.
Thinking about a Dell-RIM combination is like thinking about dinosaurs mating, said Beck.
Microsoft (NASDAQ:MSFT), which had a whopping $43 billion sitting on its balance sheet as of the end of March, could also be interested, although it already has a joint venture with Nokia (NYSE:NOK).
Some believe a surprise candidate could emerge for RIM, much like last year when Hewlett-Packard (NYSE:HPQ) inked a $1.2 billion deal to scoop up fledgling Palm.
However, a RIM buyout may face a number of hurdles, including from Canadian regulators, who may deem RIM, which employs 17,500 people, too much of a strategic asset to lose. Last year Canada used that thinking to reject BHP Billitons (NYSE:BHP) $40 billion bid for Saskatchewan-based Potash (NYSE:POT).
They might be protective of some of their flagship companies, said Kay. On the other hand, if RIMs going down, the Canadian government could see it as a lesser evil.
Additionally, the price tag on RIM is still too high for many companies to swallow, even at these relatively low levels. Assuming a 20% premium, a buyout may need to be valued at roughly $18 billion.
RIM Survival Strategies
Because of those concerns, some believe RIM is more likely to be broken apart than sold outright.
Unless youre buying it to break it up, or unless youre buying just one part of it, said Beck. Im hard-pressed to see what the long-term value is.
H-P or another company may be persuaded to buy RIMs operating system and a number of companies could be interested in QNX, the new software division powering the PlayBook. Some analysts have estimated QNX is worth between $1 billion to $2 billion, up from the $200 million RIM bought it for in 2010.
Rettinger, who calls the QNX operating system fantastic and modern, believes the division holds the key to turning around RIMs sinking ship.
In order for RIM to remain as a standalone company, they need to push all of their resources to get the QNX platform on mobile devices, he said.
Mark McKechnie, who covers RIM at ThinkEquity, believes theres another way out. He believes RIM should charge rivals like Apple and Google a fee to use its enterprise network operation center, or NOC, which drives the recurring $5 per month subscriber fee from users.
This is your secret sauce, said McKechnie. Theres no question RIMs reliability, security and efficiency is superior to anything out there on the market.
McKechnie estimates the NOC will already account for $4.25 of his estimated fiscal 2013 EPS of $6.
If they do this then we could see stability, if not growth in that services business, he said. If not, we view it as a declining asset.