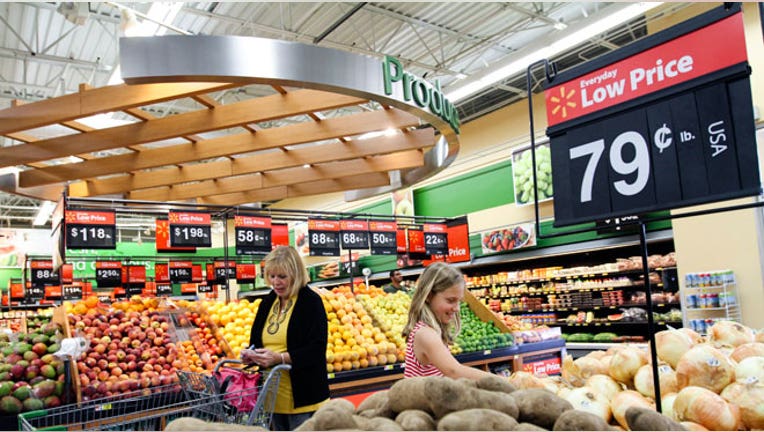 Slammed by the payroll-tax hike, February same-store sales at Wal-Mart Stores (NYSE:WMT) have reportedly been a "total disaster," marking the worst start to any month in about seven years.
The report, from Bloomberg News, sent shares of the world's largest retailer dropping more than 3% and pushed the S&P 500 to session lows.
"In case you haven't seen a sales report these days, February MTD sales are a total disaster," Jerry Murray, a vice president of finance and logistics at Wal-Mart, said in an email to other executives on February 12, according to Bloomberg. "The worst start to a month I have seen in my ~7 years with the company."
In response to the report, a Wal-Mart spokesman said: "As with any organization, we often see internal communications that are not entirely accurate, that lack the proper context and represent individual opinions."
Wal-Mart no longer discloses monthly sales results, but the company is scheduled to report full quarterly results on February 21.
Like other discount retailers, Wal-Mart may be hit hard by the increase in payroll taxes that have hit millions of Americans' paychecks this year, eating into discretionary spending.
Economists have warned the tax hike may hurt household income by a total of $125 billion in 2013 alone, curbing gross domestic product growth.
Internal documents from Bloomberg reveal Wal-Mart stumbled in January as well.
"Have you ever had one of those weeks where your best-prepared plans weren't good enough to accomplish everything you set out to do?" Cameron Geiger, another Wal-Mart exec asked in a Feb. 1 email. "Well, we just had one of those weeks here at Walmart U.S. Where are all the customers? And where's their money?"
Both Wal-Mart executives cited the increased payroll taxes as well as delayed tax returns, with Geiger calling it a "potent one-two punch," Bloomberg reported.
The retail giant pointed to an internal study that estimated about $19.7 billion more in tax refunds had been sent to shoppers by the same period of 2012, Bloomberg said.
Shares of Wal-Mart dropped 2.68% to $68.92 Friday afternoon, trimming their 2013 gain to just 1%.
The news appeared to weigh on shares of other retailers, including Family Dollar (NYSE:FDO), Target (NYSE:TGT) and Macy's (NYSE:M).