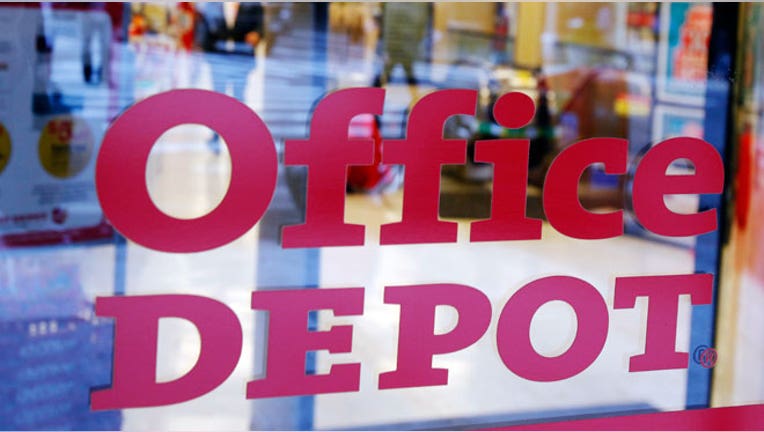 OfficeMax (NYSE:OMX) and Office Depot (NYSE:ODP) are in advanced talks to merge in a stock-for-stock deal, The Wall Street Journal reported Monday.
Citing sources familiar with the matter, the report indicated that talks between the two office supply retailers are fluid and could still fall apart, but an announcement may come as early as this week.
Spokespeople for OfficeMax and Office Depot each told FOX Business that their companies do not comment on rumors or speculation.
Competition from rival Staples (NASDAQ:SPLS) and online retail giant Amazon.com (NASDAQ:AMZN) have weighed on both OfficeMax and Office Depot.
In 1997, Staples and Office Depot attempted to merge but were blocked by the Federal Trade Commission, which cited diminished competition and the threat of higher prices.
Now office supply retailers face competition from rival chains like Wal-Mart Stores (NYSE:WMT) and online merchants, putting pressure on OfficeMax and Office Depot to cut costs. A merger would provide a cost-cutting opportunity through synergies, although the merger itself will likely prove costly.
"Combining the two companies can be a challenge," said David Strasser, an analyst with Janney Montgomery Scott. "All their stores are big. They need to be shrunk down. And their subsystems are totally different, so integration will be challenging."
Given competition from online retailers, Strasser added, it remains to be seen whether a merger can prove successful. "The Internet is the Internet," he said.
"I know the market will have a love affair with this. On paper, it will look great. Time will tell if it makes sense."
While shares of OfficeMax are up nearly 91.6% over the last 52 weeks, as of Friday's market close, its market value is just $932.5 million. Office Depot's stock has risen about 46.6% in the last year, and its market value is $1.3 billion.
OfficeMax has around 900 stores in the U.S. and Mexico and records approximately $7 billion in annual sales. The Illinois-based company is scheduled to release its fourth-quarter and annual results Thursday.
Florida-based Office Depot has 1,675 stores world-wide, posting about $11.5 billion in annual sales. The company said in November that it expects sales declines to ease over the next couple years.
Office Depot's largest shareholder, activist hedge fund Starboard Value, has pushed the company to slim down. Office Depot adopted a "poison pill" that is meant to deter hostile takeovers and kicks in when a shareholder that holds at least a 15% stake tries to buy the company. Starboard disclosed a 14.8% stake in September.
Strasser said Staples, which is valued at more than $8.7 billion, would benefit from a merger of its two rivals and the subsequent closure of Office Depot or OfficeMax locations.
"Staples is the winner," he said.