Report: Frustrated Ford Board to Press Mulally on Future Plans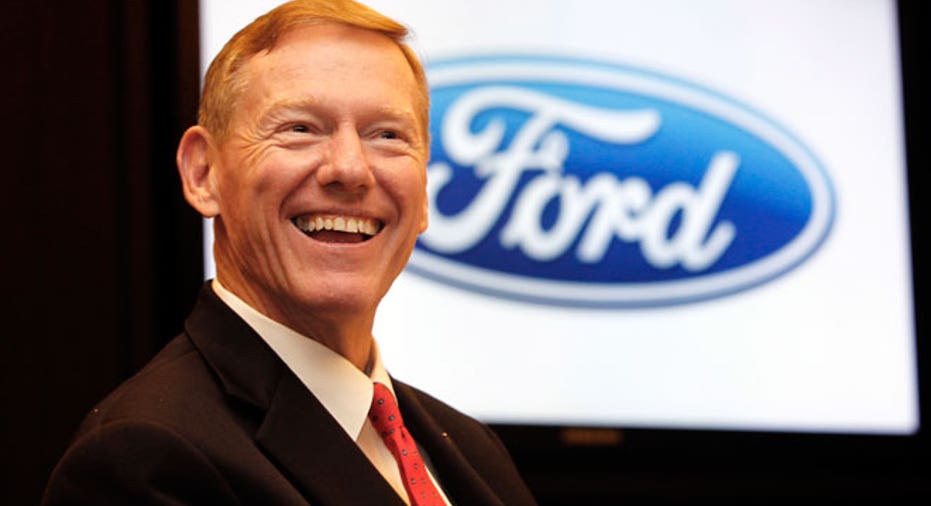 As speculation swirls about Ford's (NYSE:F) Alan Mulally jumping to Microsoft (NASDAQ:MSFT), the auto maker's board of directors reportedly plans to press its CEO for a decision on his future.
Mulally is seen as a leading contender to replace Steve Ballmer at Microsoft, but no decision has been announced and the Ford exec hasn't dispelled the speculation that he's interested in the job.
The matter has begun to vex some on Ford's board, which is looking for clarity and plans to discuss the matter at a meeting on Thursday, Reuters reported.
"It's drowning out the rest of the story," said one source close to Ford's board told Reuters. "People don't write about Mustang, they don't write about earnings, they write about Mulally."
Even if Mulally doesn't end up at Microsoft, it's unlikely the 68-year-old will stay at Ford through the end of next year, the wire service reported.
Mulally has already begun handing off power to younger executives, including Mark Fields, his chief operating officer and heir apparent.
Dearborn, Mich.-based Ford didn't immediately respond to a request for comment. Shares of Ford were recently up 0.24% to $16.45 in premarket trading Thursday morning.
Mulally is seen as an intriguing fit to turn around Microsoft because of his success at Ford, which he joined in 2006 after a stint at Boeing (NYSE:BA). The CEO is credited with helping Ford avoid the bankruptcy fates of chief rivals General Motors (NYSE:GM) and Chrysler.
Earlier this week, GM named products chief Mary Barra as the car industry's first female CEO.
However, Microsoft directors have cooled towards Mulally amid concerns they need a more tech-experienced executive, All Things Digital reported.
Last week, a Ford director reportedly said Mulally is staying at Ford through the end of 2014, driving Microsoft's stock lower.
Internal candidates to replace Ballmer include former Nokia (NYSE:NOK) CEO Stephen Elop, strategy exec Tony Bates, enterprise chief Satya Nadella and Kevin Turner, the    company's chief operating officer.
There's also a chance Microsoft goes with an external dark horse candidate, such as VMware (NYSE:VMW) CEO Patrick Gelsinger, All Things Digital reported.