Report: Facebook Offers Millions for Live Video Uploads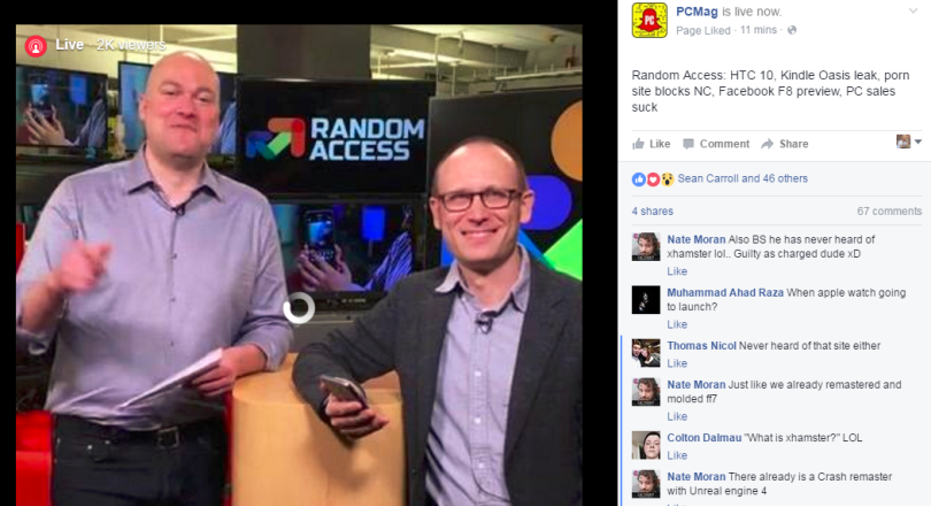 Like most activities Facebook users engage in, posting live videos rakes in advertising revenue. To keep 140 of their most valuable live streamers happy, Facebook reportedly will pay them $50 million for continuing to upload their videos, according to the Wall Street Journal.
The contracts were listed in a document the Journal reviewed, and they run the gamut from large media companies, like BuzzFeed and the New York Times, to soccer teams like FC Barcelona and Real Madrid, to celebrities including Kevin Hart and Russell Wilson.
The most money goes to BuzzFeed, which will receive $3.1 million for uploading videos, according to the Journal. Many of the individual celebrities are paid much less, around $200,000.
Facebook did not immediately respond to a request for comment on the list of contracts, but the company confirmed in April that it is paying for some live videos.
"We're working with a few partners, and in some of the cases that includes a financial incentive," Fidji Simo, the product director in charge of Facebook's Live video push, told Recode.
The company recently beefed up its live video options by adding the ability to go live in Facebook groups and events, add filters, and post varied reactions as a viewer. Last month, reports tipped more upcoming changes, including the option to skip ahead to the good parts of recorded videos and live stream for hours on end.
Facebook is already seeing a year-over-year decline on text and an increase in pictures and video, an executive said last week. VP Nicola Mendelsohn told Fortune that the platform will soon be "definitely mobile," and "probably all video."
"So, I think, yeah, if I was having a bet, I would say: video, video, video," she said.
This article originally appeared on PCMag.com.