Report: BofA Speeds Up Layoff Plans; Targets 16K in Job Cuts by Year-End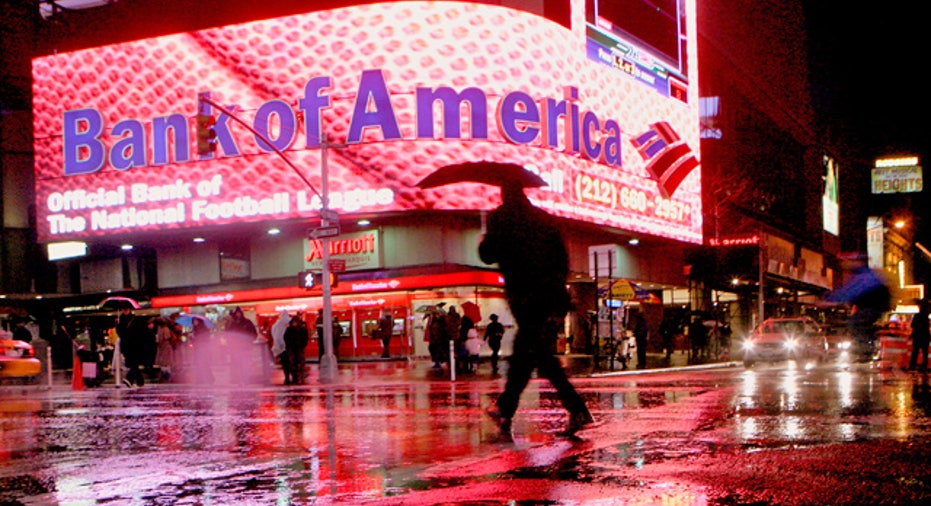 Bank of America (NYSE:BAC) is reportedly aiming to axe 16,000 jobs by the end of the year as part of a stepped-up effort to shrink what had been until recently the largest U.S. bank by assets.
If it reaches the job-cut targets, BofA would hit a previously-announced goal to cut 30,000 jobs a year early and give the Charlotte-based bank a workforce of about 260,000 – its lowest since 2008.
According to The Wall Street Journal, the accelerated headcount reduction figures were outlined in a document given to top management, though a final year-end number could still fluctuate based on business volume.
The document shows BofA plans to shutter 200 branches this year and cut 5,300 consumer-banking positions and 3,200 jobs in its new mortgage operations, the Journal reported.
While BofA's global wealth and investment management is expected to keep its workforce levels flat, the unit that handles troubled loans could slip to 50,000 from 55,000 in mid-2012, the paper said.
Hit by turbulent markets and the lackluster economic recovery, BofA has been trying to slim down to a more efficient business while simultaneously reducing its risk profile.
Last year BofA lost its title as the largest U.S. bank by assets to J.P. Morgan Chase (NYSE:JPM) and the latest job cutting efforts could knock BofA off its perch as the financial industry's largest employer as well.
The overall restructuring effort, known as Project New BAC, is expected to generate $8 billion in annual savings by 2015.
Shares of BofA dropped 1.87% to $9.11 Thursday morning, cutting its 2012 rally to 64%.