Report: Amazon to Launch House Brand for Food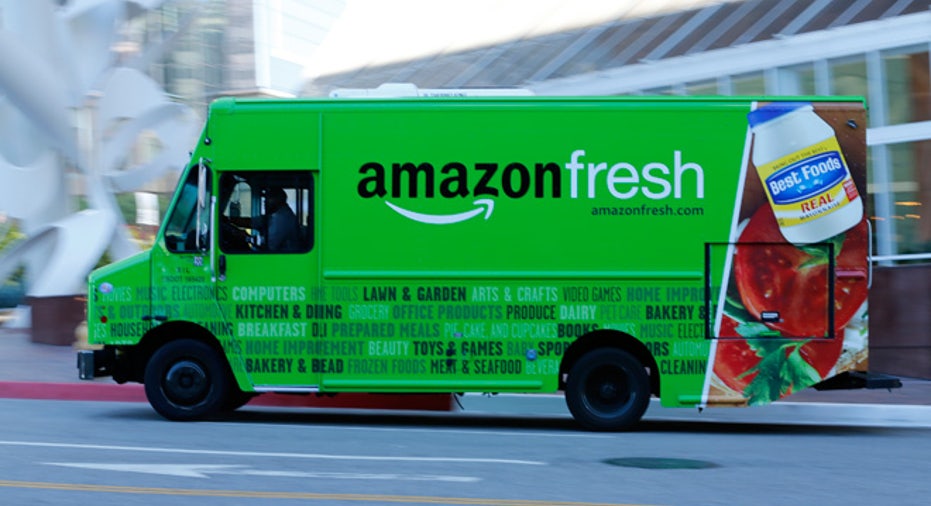 Amazon.com (NASDAQ:AMZN) is reportedly laying plans to expand its lineup of private-label products, adding a wide range of food and household items.
According to The Wall Street Journal, Amazon has initiated talks with manufacturers such as TreeHouse Foods (NYSE:THS), which supplies retailers with their own line of food products.
The e-commerce giant also filed for trademark protection for over two dozen categories under the Elements brand. In a filing with the U.S. Patent and Trademark Office, Amazon listed water, coffee, cereals, snacks and vitamins, as well as pet food, razors and cleaning products.
The first Elements products included baby diapers and wipes, which were offered to Amazon Prime subscribers. With Prime, customers get unlimited shipping and other perks for $99 a year.
The Journal said it remains unclear if Amazon's new Elements products will be available to all customers, or when the launch will occur. An Amazon spokesperson declined to comment on the report.
Amazon shares rose 1% to $430.72 Friday morning. The stock has gained 39% so far this year, handily beating the broader S&P 500.
House brands are a common practice in the retail industry. They generate stronger profits for stores compared to name brands, even though private-label goods typically carry lower prices.
Many of Amazon's brick-and-mortar competitors, from Costco (NASDAQ:COST) to Target (NYSE:TGT), sell merchandise under their own brands. Wal-Mart Stores' (NYSE:WMT) house brands include Great Value and Sam's Choice. Walgreens Boost Alliance (NYSE:WAG) sells products under the Nice brand at the company's namesake U.S. stores.
"This is something that will most certainly shake up the industry, as Amazon has historically shown that they are willing to take risks in order to dominate the market," Traci Gregorski, vice president of marketing at industry researcher Market Track, said in an email.
Amazon has seen mixed results from previous ventures in private labels.
The company currently sells a variety of house-branded merchandise. Under the Basics label, Amazon offers low-priced batteries and tech accessories. Customers also can find Pinzon bed sheets and Strathwood outdoor furniture on Amazon.
Other private-label products on Amazon have been scrapped. Just a month after launching its Elements diapers in December, Amazon halted sales due to a design flaw. Elements baby wipes remained on the website.
Amazon's discontinued items also include a line of cookware and tools.
Analysts have signaled that food could be an area of growth for Amazon. The reported addition of lower-priced house brands could bolster Amazon's Fresh grocery delivery business, which is available in select markets.
Amazon reported $89 billion in revenue last year, but it booked a loss of $241 million.
This week, Amazon detailed plans to launch free same-day delivery for Prime customers in 14 cities. The service previously cost $5.99. Orders of at least $35 will arrive by 9 p.m. if ordered by noon, Amazon said.