Renting a Car? Beware of Phantom Toll Fee Charges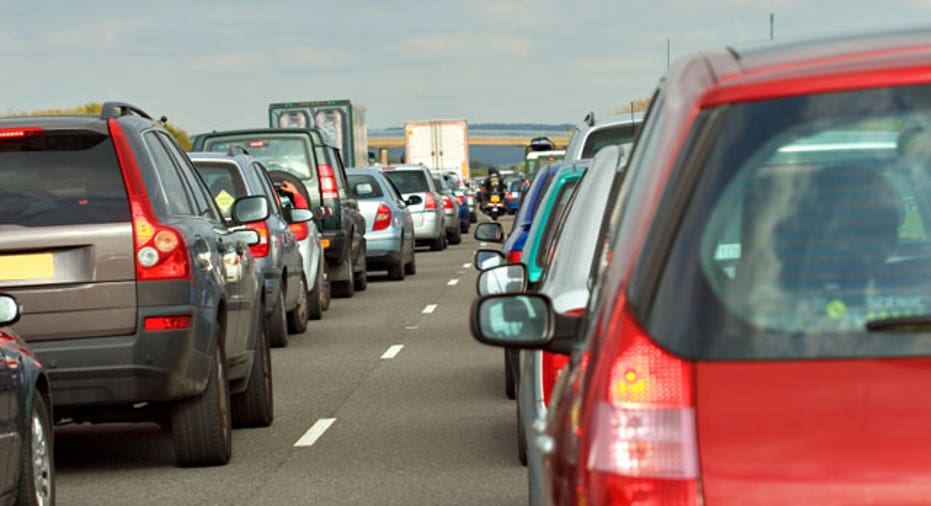 When young Milo drove through "The Phantom Tollbooth" in the children's classic, he entered a magical parallel universe filled with beautiful princesses, a lovable watch dog and terrible puns.
But when you drive your rental car onto a modern boothless electronic-toll highway, the only magic you're likely to encounter is the sudden appearance of a toll charge on your credit card statement and a nasty administrative fee from the rental company for its trouble.
The phantom toll charges have been nickel-and-diming travelers a lot, lately, as states, counties, cities and even airports opt for cost-saving e-toll systems. The charges are vaguely disclosed in the fine print of the rental car agreement, but that hasn't stopped the consumer outrage. It's one thing, critics say, to be dinged for a toll you accidentally sped past while on vacation, but quite another to be whammed with huge fees when there was no tollbooth or negotiable means to pay the toll in the first place.
One CreditCards.com reader was charged $2.50 in tolls and $50 in administrative fees for two toll violations while another was dinged $5 total for seven violations and $175 in administrative fees --  $25 per infraction.
Last year, Seattle attorney Averil Rothrock launched a class-action suit against Fox Rent A Car and Violation Management Services after she returned from a Denver trip to find a $106 charge on her credit card. The amount reflected two $3 tolls and two $50 "service fees."
"The 'service fee' is nothing other than an illegal scam to collect from customers amounts they do not owe," Rothrock says in the lawsuit. She contends that Fox gives customers no way to pay the tolls without incurring the egregious fee, and that the two companies "conspired to turn Fox customers' tolls into an illegal profit center for themselves."
Consumer outrage has spawned similar lawsuits and even captured the attention of Florida's attorney general, who ordered refunds for rental customers in settlements with Avis Budget and Hertz for failing to adequately disclose details of their automated toll collection programs.
Unmanned e-toll systems use one of two systems to charge tolls:
Radio signals, which electronically record and assess tolls on vehicles equipped with a pocket-sized transponder or mini sticker; or
Cameras that snap a shot of license plates then assess tolls on vehicles registered with the tolling authority.
If you're a local, you probably know your local toll road's system. You avoid the road if you don't have an account with the tolling agency or if that account is running on empty. And you know when to swing over to the exit for the cash-only lanes, where they exist.
If you're in a rental car, however, you're likely in unfamiliar territory -- both at the rental agency and on the road itself. (See "Tips: How to avoid 'phantom' toll charges.")
"It's been a perennial problem for both the rental car companies and the toll authorities," says Philip Underhill, vice president of PlatePass, an electronic toll payment system from Arizona-based American Traffic Solutions. "People who get into rental vehicles are typically unfamiliar with the location, not aware of tolls, and find themselves on a toll road with no cash or ability to pay, and they're stuck."
Vague details in rental agreements
The terms of use details regarding onboard electronic toll collection programs are often buried in fine print on rental car agreements.
Dollar Thrifty freely posts its service fee ($25 per toll violation), but most of the majors are less forthcoming; Avis Budget only lists a "reasonable administrative fee" and Hertz an "administrative fee." A customer service rep for National revealed that the company charges a flat $18 administrative fee for all tolls missed within a single municipality, but dodge one in the next city over and it's another $18 fee.
Rental car customers can always opt out of any e-tolling service offered by their rental company by choosing to pay tolls in cash via prepaid passes -- such as Florida's SunPass available at retail outlets -- or by avoiding toll roads altogether. But you have to know that before you hit the road.
Failure to opt out at the time of rental, however, can either automatically enroll you in the renter's e-toll program for a daily fee or leave you open to toll violation fines and administrative fees if you fail to pay as you go, an increasingly common scenario with the growth of e-toll highways.
Underhill says the service fees may seem punitive, but that they're not excessive considering the paperwork that must pass between the toll authority, the rental company, your card company and you to resolve the issue. "Every time you touch a piece of paper, you're talking dollars in cost, not cents in cost," he says.
Consultant Neil Abrams says the rental car companies, as registered owners of the vehicles, are required by statute to pay the "millions and millions of dollars in violations" they receive on their fleet every year in toll violations and parking tickets.
And no, the rental car company won't "take care of it" for you. If you don't pay up, late fees will accrue, and you may suffer points against your license. In extreme cases, you may even be subject to arrest the next time you're in town.
"Eventually, you gotta pay the piper," Abrams says. "A $150 parking ticket in New York that's thrown away by a rental customer quickly becomes a $500 violation that they have to chase the customer for."