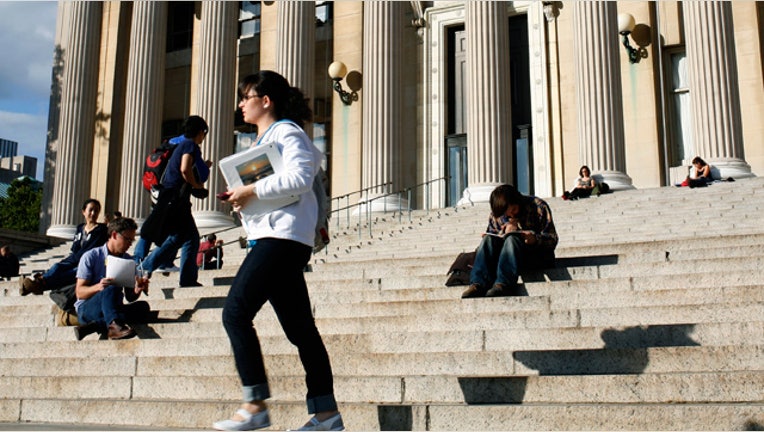 Growing up is tough enough without the worries of your financial future, so Money101  is here for you. E-mail us your questions and let us take off some of the pressure.
For many workers looking to advance their careers, taking a hiatus from the workplace or dedicating several years to get a higher degree isn't feasible, and many in turn, are turning to an Executive Master of Business Administration degree (EMBA).
These postgraduate degrees in business communication can be advantageous to individuals with careers in business and management—particularly those in executive and managerial positions.
According to a recent study by the Executive MBA Council, the salary and bonus packages of recent EMBA program graduates increased by 16.3 % this past year, with the average starting salary and bonus package at $135,323 and rising to $157,423 by the end of the program. Both salaries increased from those reported in the 2010 survey, with an 11.4% salary increase ($127,955 to $142,534).
Some schools are even offering students to get their EMBA remotely, including the  University of Pennsylvania's Wharton School of Business, which has a campus in San Francisco, and Northwestern University's Kellogg School of Management that hosts students in Miami.
The University of Michigan recently introduced its  remote EMBA program in Los Angeles, to attend class one weekend a month to earn their degree on the other side of the country.
"It's a more flexible format and in the world we're living in right now, I think it's just going to get more and more popular," says Tim Maxwell, CMO of University of Michigan's Ross School of Business.
Over the years, businesses have been turning to EMBA programs to create stronger and more productive managers while employees go to try and increase their marketability and pay grade. No matter the reasoning, here's what experts say prospective students should consider about remote EMBA programs.
Who should consider a remote EMBA program
At traditional MBA programs, companies tend to approach students to recruit post graduation. EMBA programs are more ideal for those who want to invest in their existing careers, says Scott Shrum, director of MBA Admissions Research at Veritas Prep.
"You absolutely can take these skills and pursue other careers, but it's just a less common path, and you will likely have to seek out these new opportunities on your own," he says.
Depending on their location, attendance at remote EMBA programs may require candidates to travel or relocate for the duration of the program. Maxwell explains that students juggling other obligations and commitments should have a good grasp on planning and time management skills.
"The successful executive who is in one of these programs is going to have a lot of things going on--work life, personal life, school life, so someone really has to have that plan and be committed, motivated, and eager to learn," says Maxwell.
Possible disadvantages of an EMBA program
Depending on the program, EMBA students may only meet as a group every few weeks, bucking the norm of most college classes. Students who need a more traditional campus environment might not do well in an EMBA format, says Aashna Patel, an applicant for the University of Michigan's Ross School of Business.
"Those who are not able to complete coursework outside a classroom setting should consider EMBA programs with classes every weekend, every other weekend or the conventional MBA programs," she says. "The EMBA program has to be the right fit for the student."
Although these programs offer more time flexibility, they are often more costly than traditional MBA programs. Schools in cities tend to be more expensive, and students should also take into consideration the cost and time of commuting.
"If you look at it on a cost-per-hour-in-the-classroom basis, EMBA programs are in fact much more expensive," says Shrum. "If you are an applicant who will pay for such a degree yourself, there are financial aid options, just as with any other graduate program."
Possible advantages of an EMBA program
Many companies will sponsor their employees to return to school for their EMBA, according to Shrum, which could mean students get to experience a different part of the country or world.
"If you can make the trip to another city once or twice per month, then theoretically just about any program in the country is within your reach," says Shrum. "With some EMBA programs that only meet in person once or twice per month, you can attend the school that fits you best, no matter where you are."
Patel explains that a big draw for her is that much of the coursework in a remote EMBA program can be done on your own time. Since class is only in session once or twice a month, you can choose your destination based on your ability to get back in time for work at the end of the weekend.
"[It] allows students to maintain full-time employment and all the benefits of that – salary, career trajectory – while developing their skills with an advanced degree program," says Patel.