Reduce Gas Pump Pain With Retailer Reward Cards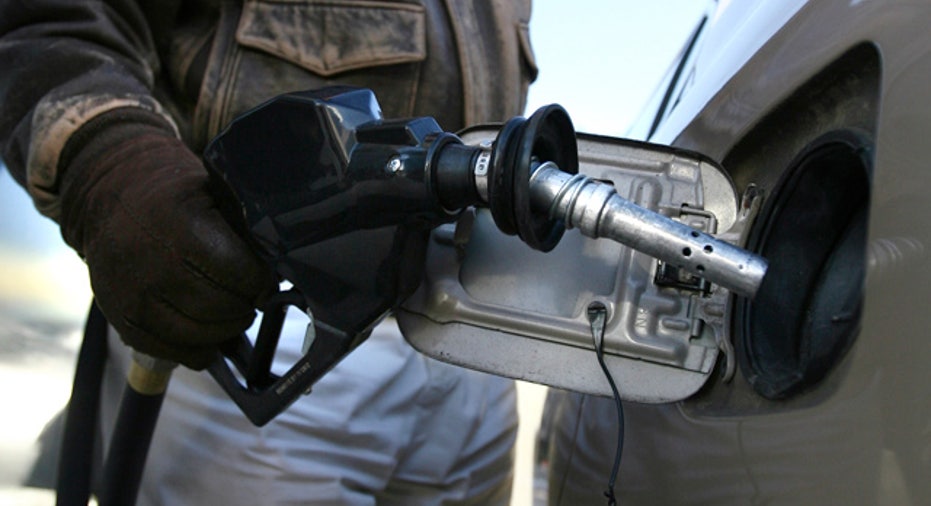 Consumers are now spending between 5% and 10% of their income at the gas pump, according to AAA's Fuel Gauge Report. To help offset that pain, retailers across the nation have stepped up to lend a hand by offering gas incentives programs, many of which can be a real deal for savvy shoppers.
What's the deal?
Unlike many credit card rewards programs that require cardholders to spend thousands of dollars before reaping rewards, several current gas discount programs allow customers to earn rewards without unnecessary spending. Gas incentive programs vary in terms, conditions and gas discounts, but most require customers to use grocery rewards cards when buying groceries, or pay for gas using retailer-issued credit, prepaid or gift cards, to reap discounted gas prices at affiliated stations.
Gas incentive programs are typically formed through alliances between a retailer or grocer and a gas company. When the grocer's customer shops, she presents her store loyalty or rewards card at checkout. Points based on the amount of purchase (and in some cases, the items purchased) automatically accrue on the card. When the card's points reach an established level, the customer is entitled to a discount at the affiliated gas station. The discount varies by program, but customers typically receive a 10-cent per-gallon reduction for 100 points.
In other programs, such as the ones offered by Kroger and King Soopers, grocery store loyalty card holders receive a small automatic discount on gas every time they scan their card at an affiliated gas station and a larger discount once a certain number of points have accrued.
When Denver author and yoga instructor Lynda Sandoval, 46, swipes her King Soopers rewards card at the pump, she saves a minimum of three cents per gallon with every gas purchase. "You save 10 cents per gallon for every $100 you spend on groceries. It's all loaded onto your rewards card," says Sandoval.
Accumulating points
Through its Club Card program, Safeway offers shoppers in 16 states and Washington, D.C., gas incentives ranging from 10 cents to a dollar per gallon discount, depending on the specific program and region. In Alaska, Montana and Delaware, for example, Safeway shoppers earn one reward point for every dollar spent on groceries, two points for every dollar spent on qualifying gift cards and 50 points for every prescription filled, according to Teena Massingill, director of corporate public affairs.
Safeway's program allows 100 points to earn a 10-cent discount per gallon of gas on a single fill-up, 200 points  for a 20-cent per gallon reduction and 500 points for a 50 cents per gallon savings. Shoppers who allow points to accumulate can reap up to a maximum reduction of $1 per gallon for 1,000 rewards points.
"You can either choose to use your rewards on a transaction or you can choose to save it for a larger gas purchase," says Massingill. "Points earned in the same store as the fuel location are able to be used immediately. If there is cross shopping from one store to another, it may take an hour or less for the points to reflect on the card."
At the California- and Nevada-based Safeways, however, shoppers earn a 10-cent reduction per gallon (also on a single fill-up) for simply spending $50 or more in a single Safeway transaction. Rewards do not accumulate, and the maximum discount in these states is 10 cents per gallon.
"We've had various fuel rewards programs over the years. They're quite popular with our customers," says Massingill.
Free gas?
Shell has national and regional alliances with several grocers, including Kroger, Winn-Dixie, Ralph's and Save Mart Supermarkets, says Jim Perkins, Shell's North American marketing alliance manager. "Consumers who buy their groceries at these stores earn rewards that are redeemable at Shell," says Perkins.
After a Kroger or Winn-Dixie rewards card holder swipes the card when buying groceries, he can take the card to Shell and insert it into the pump. Based on the accumulated rewards, the dispenser automatically rolls back to the discounted price.
"Depending on the program, this can be anywhere from saving 5 cents a gallon to basically the cost of a gallon of gas, with some limitations. Some dispensers will roll back the price to 10 cents a gallon, but for the most part, if gas is $3 a gallon, and they've accumulated $3 in rewards from the grocer, it would roll back all the way to 10 cents a gallon," says Perkins.
Walmart: Branded card savings Walmart shoppers can save 10 cents per gallon of gas by using a Walmart gift, credit or prepaid card at more than 800 Murphy's gas stations in nearly 20 states. "Our customers continue to tell us they are feeling squeezed by gas prices, and we're listening to them and responding with this Rollback on gas," says Walmart spokeswoman Tara Raddohl. "Saving 10 cents a gallon is an extra savings consumers need. Even if gas prices get lower, they are still high."
Raleigh, N.C., "mompreneur" and professional organizer Michelle Morton, 41, saved 10 cents per gallon of gas using a Walmart gift card over the past month. "I think this deal is especially great because Murphy's was already one of the lowest-priced gas stations in the area anyway, and with that 10-cent discount, it's even more valuable," she says.
Food for thought "Obviously in today's economic environment, consumers are looking for every way to stretch their dollar, and this is one of the best ways. Everybody needs food and everybody needs fuel, so to be rewarded for making purchases you would make every day makes consumers extremely happy," says Perkins.
Morton sums it up succinctly: "Anything that helps save money on gas is worth it."