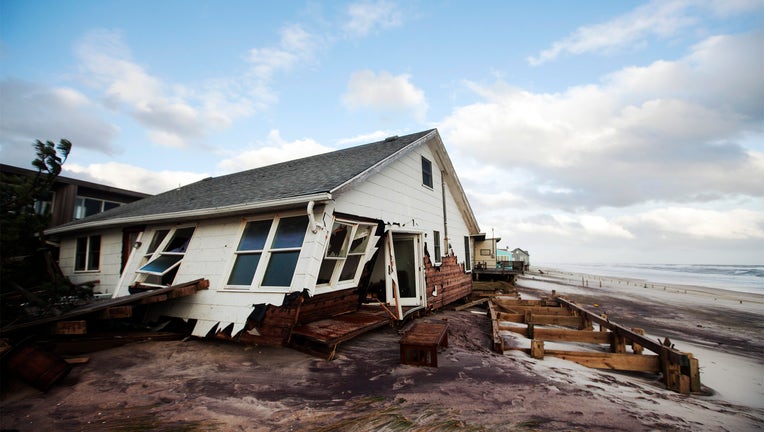 During the summer, Route 35, which connects the state's stretch of tightly-knit beach communities, becomes so congested it becomes more like a parking lot than a highway at times, as residents flock to the shore. The destination is every real estate investor's dream.
"The Jersey Shore has always drawn people because of its proximity to both Manhattan and Philadelphia and because it is at the head of the bay so you can enjoy both the bay and the ocean," says Walter Niebling, manager at Diane Turton Realtors in Bayhead. "[Properties] have always held their values based on that location; it's true ocean front."
When Superstorm Sandy hit last year, it destroyed billions of dollars worth of homes along the Jersey Shore and caused real estate prices to dip nearly 30% overall in the area, according to Michael Van Sciver, broker at his family's namesake agency, Van Sciver Realtors.
But now, local realtors are saying the Jersey Shore saying of "Jersey Strong" is more than just a slogan.
Van Sciver, whose agency works with buyers and sellers along 20 miles of seashore from Spring Lake North through Seaside Park South, describes that area as "ground zero" for Sandy's impact in the state.
But residents in even some of the hardest-hit communities of Mantoloking, Ortley Beach and Bayhead are looking to rebuild instead of relocating, Van Sciver says.
"People have owned here for generations," he says. "There are so many memories and traditions. I would say 95% want to rebuild. But then reality sets in."
Insurance costs, red tape and ordinance rules that vary from township to township, along with FEMA regulations that have yet to be solidified, make it difficult to rebuild, he says. What's more, residents likely won't have legally-defined FEMA regulations for rebuilding until next year. In total, the state received $3,290,520,000 in funding from the Department of Housing and Urban Development, according to the latest government reports.
Niebling says in both Bayhead and Mantoloking, homeowners are either rebuilding or renovating. Some are choosing to raise their homes high off the ground in hopes of meeting FEMA's regulations. Mantoloking lost one-fifth on its homes from the storm that made landfall on the area on Oct. 29, 2012.
"Many [homes] are in the process of being rebuilt or renovated," Niebling says. "FEMA [funding] is really a case-by-case basis, but I know a lot of people are frustrated with the process. The money that was distributed by FEMA was not nearly enough to cover what needed to be done."
New Buyer Interest
After the storm, Van Sciver says no one knew how buyer interest and tourism would be impacted.
The recovery has been uneven along the shore and the eagerness of new buyers to hop into the market and old homeowners to rebuild is still very much in transition.
Tourism and rental demand along the Jersey Shore shifted this past summer, with more rental interest in Monmouth County which was less impacted than other locations, over the previously popular hot spots of Seaside or Point Pleasant Beach. Those areas experienced a 30% drop in rentals this summer compared to previous years because many homes were too badly damaged to be ready for the season.
"It's like going to a supermarket with no inventory on the shelves because it's all been destroyed," Van Sciver says. "We lost up to 70% of the inventory we were able to rent."
Van Sciver says in the past 15 to 20 years, buyer interest waned from the day after Labor Day until spring. However, this year, new buyers began inquiring about properties in Point Pleasant Beach, Sea Girt, Spring Lake, Bayhead, Brick and Lavallette communities in January and February, with June seeing a major uptick in interest.
"Once the sun came out and roads reopened, people felt more comfortable coming back down," he says.
The recovery story isn't as good in Mantoloking, which was experience more destruction from the storm.  Niebling says there have been very few sales and decreased interest from potential homeowners.
Pricing Impacts
Among the biggest surprise for Niebling is that home prices haven't been as badly impacted as many feared.
Turton says that in some areas, such as Bayhead, are already back to normalcy. "A lot of the homes, if they were permanent homes are being rebuilt, but second homes are holding off. Pricing is within 20% of where we were pre storm."
Van Sciver says that while prices have gone down between 25% to 50% along the Jersey Shore, many factors impact a property value, including: how much of the home is left, its proximity to the water and the land versus water ratio.
Homes that were ocean-front property, he says, that were listed for more than $5 million are closer to $3 million today.
"It will take a few years," he says of getting back to pre-storm pricing, "but we are on our way."