Ray Lewis advises Colin Kaepernick to keep social activism private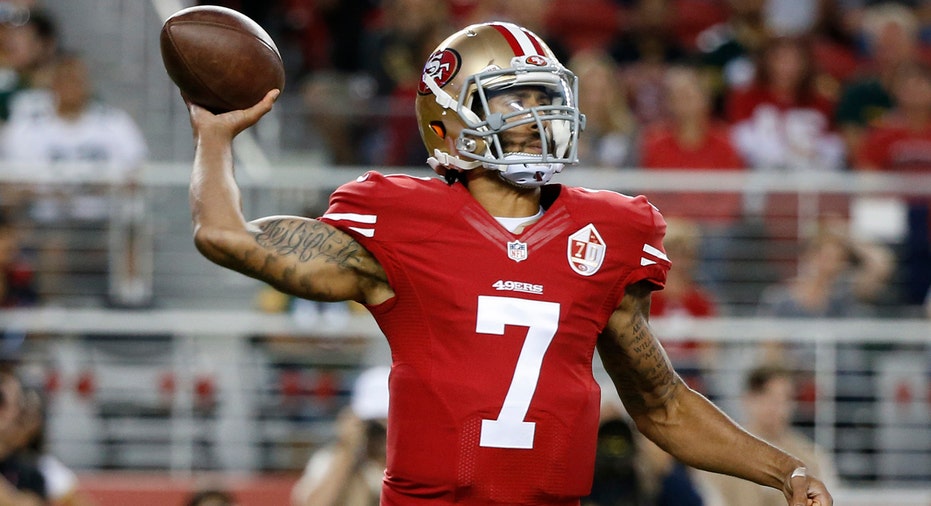 Former All-Pro linebacker Ray Lewis urged Colin Kaepernick Tuesday to tamp down his social activism amid reports that Lewis' former team, the Baltimore Ravens, are mulling whether to sign the free agent quarterback.
"The football field is our sanctuary. If you do nothing else, young man, get back on the football field and let your play speak for itself," Lewis said in a video posted to his Twitter account. "And what you do off the field, don't let too many people know, because they gonna judge you anyway, no matter what you do, no matter if it's good or bad."
Kaepernick, 29, generated a national debate last season after he repeatedly refused to stand for the National Anthem to protest social and racial injustice in America. Kaepernick cut ties with the San Francisco 49ers last March and has yet to sign with a new team.
"If people really want to help you, if they really want to help you, man, they'll pray for you, brother," Lewis said. "They'll lead you the right way and stop encouraging you to be caught up in some of this nonsense. The battles you fighting, brother, people way before us have been fighting these for many, many, many years."
Ravens owner Steve Bisciotti confirmed earlier this week that the franchise may sign Kaepernick, adding that it would consult with Lewis, as well as the public, to gauge whether it was the right decision.
"We're very sensitive to [the situation], and we're monitoring it and we're still, as [Ravens general manager Ozzie Newsome] says, we're scrimmaging it. We're trying to figure what's the right tact. Pray for us," Bisciotti said.
NFL Commissioner Roger Goodell denied this week that the league's teams are blackballing Kaepernick because of his social activism.
"He can't be [blackballed] because we're not," Goodell told reporters Sunday during a fan forum event at M&T Bank Stadium in Baltimore. "The clubs are making those individual evaluations to make the determination whether they think he can help them win, and that's true with any player. Obviously, everyone's aware of the fact of his protests last year, and that's something individual clubs will either weigh or not weigh."