Ravens Drop NFL Star Eugene Monroe Amid Medical Pot Push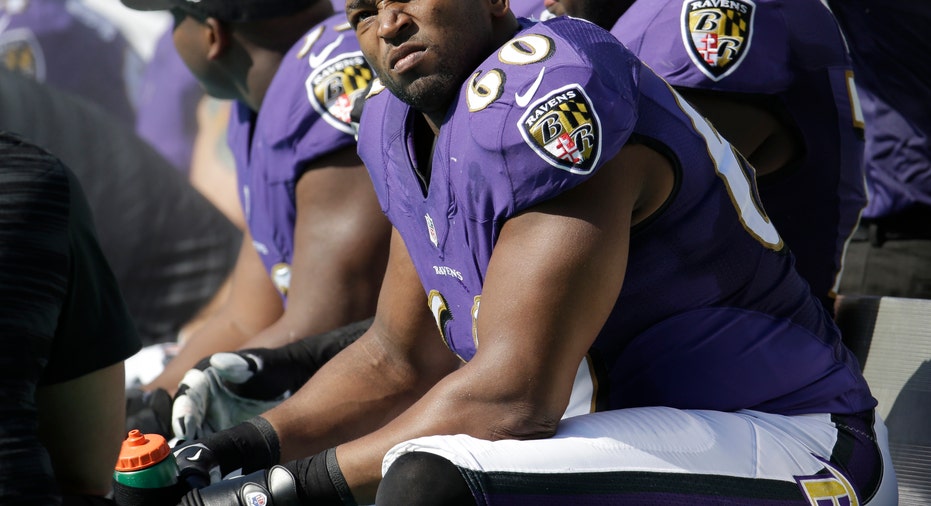 Months after Eugene Monroe became the first active NFL player to advocate for medical marijuana as a healthier alternative to prescription painkillers, the 29-year-old offensive lineman is unemployed. The Baltimore Ravens released Monroe from their roster on Wednesday, raising questions as to whether his public support of a substance the NFL still bans contributed to his departure.
The Ravens cut Monroe after trade talks broke down with the New York Giants, according to ESPN's Adam Schefter.  A post on Baltimore's team website noted that releasing Monroe, who has battled injuries since signing a five-year, $37.5 million contract, would save the Ravens $6.5 million on the salary cap. But the post also mentioned Monroe's marijuana advocacy and the fact that the franchise "did not rally to his cause," adding that Ravens head coach John Harbaugh said Monroe "does not speak for the organization."
Monroe isn't backing down from his open support of medical cannabis, despite the setback to his on-field career. In May, he donated $80,000 to researchers at the University of Pennsylvania and Johns Hopkins University to fund new studies on how cannabinoids may be able to treat concussions and other common health issues that current and former NFL players experience. Early research has shown that cannabis can have anti-inflammatory properties.
Monroe and his supporters are adamant that medical marijuana is safer than traditional painkillers, which can be addictive.
"I can't say for sure whether or not my stance on medical cannabis was the reason the Ravens released me," Monroe said in a statement to FOXBusiness.com. "However, as I've said in the past, they have distanced themselves from me and made it clear that they do not support my advocacy. I don't regret taking this stand and will continue to push for change. Having just been cleared to play, I'm looking forward to what my future holds and I'm ready to get back on the field and compete."
Dozens of former NFL players have spoken out in recent years about the dangers of prescription-strength painkillers and their availability in locker rooms. A 2011 ESPN-commissioned survey of 644 former NFL players by researchers at Washington University in St. Louis found that 52% used opioids during their careers, while 71% admitted to misuse.
"Once you understand how helpful [cannabis] has been to people and that it's a safer option than what we're currently doing, it's a no-brainer in terms of dropping our testing policies and punishing players for consuming cannabis," Monroe told FOXBusiness.com during an interview earlier this month, before his release. "Our doctors in the NFL should become educated on cannabis and become certified to prescribe it in states where marijuana programs exist."
The problem isn't limited to the NFL. Some 1.9 million Americans had a substance abuse problem involving prescription painkillers in 2014, according to the American Society of Addiction Medicine.
Monroe said his discovery that many American are battling addiction to some of the same painkillers prescribed to treat on-field injuries "raised an eyebrow." He's been prescribed prescription pain medication for a variety of injuries, including a concussion, and his experiences with the substances left him shaken. Monroe described his negative reaction to opioids in a first-person essay for "The Players Tribune" in May.
"I've been prescribed pharmaceuticals to deal with pain from injury and I've seen that, for myself, it's been very detrimental," Monroe said. "I was prescribed opioids to deal with post-surgical pain this past December and I had to stop taking them within a few days. They really made me feel horrible."
A growing number of states are changing their views on marijuana's legality, whether medicinal or recreational. More than 20 states have legalized marijuana for medical purposes so far.
At present, marijuana use in any form is prohibited under the NFL's collectively-bargained drug policy. Multiple positive tests for marijuana can lead to lengthy suspensions. An NFL spokesman said the policy is guided by discussions between NFL officials and the league's players union, the NFLPA.
"We are guided by medical advisors. They have not indicated a need to change," an NFL spokesman said in a statement to FOXBusiness.com. "If they advocated a change in the policy we would consider exploring."
Separately, NFL Commissioner Roger Goodell said in February that the league's medical advisors review the drug policy on a "regular basis." The NFLPA did not respond to a request for comment on this story.
For his part, Monroe remains unsatisfied with the league's progress on exploration of medical marijuana as an alternative medicine.
"I'm not satisfied with it and I won't be until the NFL changes its policies and stops punishing players for consuming cannabis," Monroe said. "While there's more research to be done, there's certainly research already suggesting this is a safer drug than what they're prescribing in our country. Doctors across the country are supporting this."
Monroe was considered one of the better left tackles in the NFL until a series of injuries derailed his career in recent years. The Giants, the Seattle Seahawks and the San Diego Chargers are rumored to be interested in signing him.
But for Monroe, raising awareness about medical marijuana takes precedence over potential risks to his football career.
"I'm not concerned. My health and access to healthier medicine is more important than being concerned about any ramifications this may bring."