Ranch for Sale: $725 Million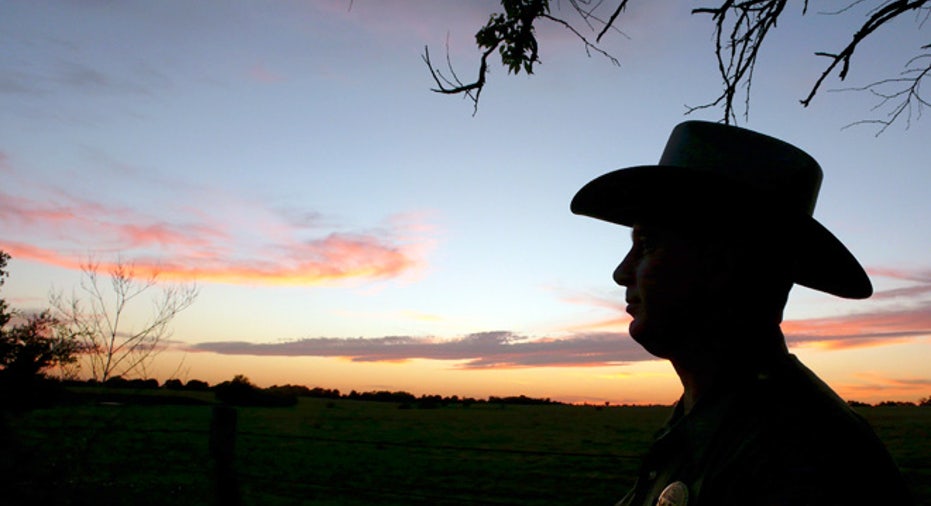 Do you have an extra $725 million burning a hole in your pocket? You can use it to buy a ranch in Texas that is approximately two-thirds of the size of Rhode Island. Start your own state and secede from the Union! That's a popular sentiment down Texas way.
In all seriousness, the asking price for the 798-square-mile ranch of the W.T. Waggoner estate is currently $725 million. The ranch, located in North Texas west of Wichita Falls and near the Oklahoma border, has been in limbo for two decades. Its fate has been mired in squabbles between branches of the Waggoner family who could not agree on splitting up the property or liquidating it. Since 1989, two descendants have been co-directors of the ranch's operations while barely speaking to each other.
The massive ranch covers parts of six counties and contains four lakes and approximately 30,000 acres of cropland. It is well known for its quarter horses and approximately 500 of them are included in the sale, along with 6,800 head of cattle. Oil and gas operations are a significant part of the empire, with over 1,000 oil wells leased out to various operators — and around 90% of the property is unexplored for energy uses. Its iconic reverse-triple-D cattle brand has been in continuous use since 1849.
Buyers certainly will not lack for housing options. There are two main compounds that include a total of 58 houses. The Santa Rosa compound was the home of Electra Waggoner Biggs, a noted sculptor, socialite, and the namesake of the General Motors Buick Electra from 1959. She was also known as Electra II, to distinguish her from W.T. Waggoner's daughter, Electra Waggoner Wharton.
The listing of included items covers 183 pages and includes things ranging from an IBM selector typewriter (look them up, kids) and pink poodle and horse head lamps to a 1973 fire truck, a road grader, a Bell 206B-3 JetRanger II helicopter, and a two-story art-deco marble office building in the nearby town of Vernon, Texas.
Not only does the property include a painting of Waggoner's most famous stallion, Poco Bueno, who sired over 400 foals, it also contains many descendants of Poco Bueno — as well as Poco Bueno himself, who was buried standing up beneath a 4-ton memorial granite slab.
The 120 employees of the ranch have been through the wringer over the years. Multiple threats to sell off the ranch at auction have failed to materialize, and they hope that a buyer will keep the ranch intact instead of splitting it up and selling the assets. That is going to take someone of incredible net worth, as well as someone who is willing to invest in multiple industries, from farming to cattle to quarter horses to oil.
If you want to get your bid in, you had better act quickly. Co-brokers Sam Middleton of Chas S. Middleton & Son in Lubbock and Bernard Uechtritz of Briggs Freeman Sotheby's International Realty in Dallas have fielded some serious inquiries since taking over as brokers — along with others of Texas-sized ambitions but "more hat than cattle," as the old saying goes.
How can you tell if you are getting a good deal for $725 million? It is hard to properly assess such a large real estate transaction. The nearest current listing is less than a tenth of the value ($64.5 million for a Montana ranch) and the largest known amount paid for a U.S. ranch is $175 million in Colorado in 2007. Business records on the oil and gas business and geological maps for future reference are available for review, once you prove you have enough funding to show that you are a serious buyer.
Based on pure acreage, the ranch is selling below the going rate for pastureland according to the U.S. Department of Agriculture. There are also plenty of energy development opportunities, including lots of space useful for wind and solar installations. Investors could make a sizeable return if they proceed wisely.
If you're "more cattle than hat" and are up for the opportunities that the Waggoner ranch provides — and you have $725 million to invest — give it a look.
More from MoneyTips.com:Agricultural Technology AdvancesReal Assets 101The $1 Million Hotel Room