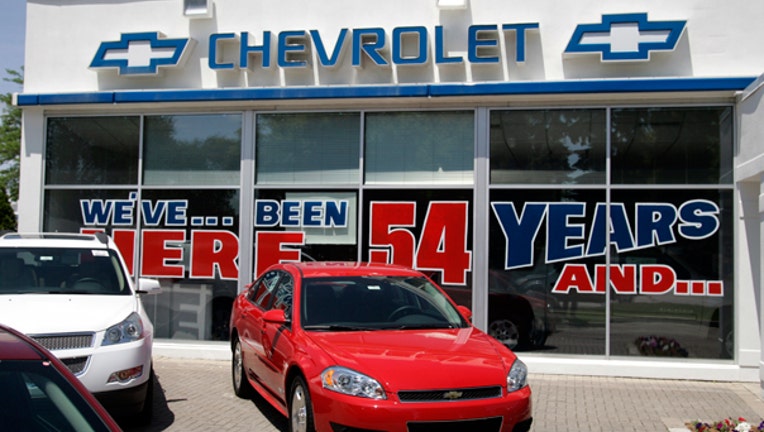 With U.S. auto sales rallying, all signs are pointing to a broader improvement in the economy as consumers open their wallets to pricey hot-ticket discretionary purchases like automobiles and business owners begin updating their aging fleets.
Detroit's "Big Three" automakers all unveiled March sales on Tuesday that were at least 5% above last year, marking the greatest monthly performance for Chrysler, Ford (NYSE:F) and General Motors (NYSE:GM) in more than five years.
It's a testament to an improving recovery in the U.S. as housing starts and orders grow -- triggering a flourishing construction market -- as well as still-low interest rates and a slowly improving unemployment rate (though it still sits at a stubborn 7.7%).
"With attractive financing and ample inventory to choose from, many people receiving tax refunds will use their returns toward a down payment on a new vehicle this month," said Alec Gutierrez, senior market analyst of automotive insights for Kelley Blue Book.
While incentives did help to boost truck sales in recent months, Gutierrez said a steady climb in housing starts will continue to support the truck market even if incentive spending declines.
March auto sales were in-line to slightly above Kelley Blue Book's expectations and remain on track to meet or exceed its full-year outlook of 15.3 million vehicles.
After a long trend downward, pickups and other trucks like Ford's F-Series and GM's GMC lineup led last month's improvement as the rebounding housing market encouraged construction companies to update fleets that in some cases were more than a decade old. The rebounding housing market indirectly led to a 31% improvement in GM crossovers, a 14% increase in Ford utility vehicle sales and record sales of Ram pickup trucks.
Kurt McNeil, vice president of GM's U.S. sales operations, said truck sales grew in "lockstep with the housing market." The strength of the crossover market, he said, signals confidence among American families regarding their financial health.
"It's venting of pent-up demand and a need to replenish because fleets are older," said Josh Feinman, global chief economist of DB Advisors. "Folks went into hunker down mode for a few years during the recession but as headwinds diminish we're seeing some pickup in these types of sensitive sectors."
Gus Faucher, PNC senior macroeconomist, pointed to a recent flurry of construction activity as contractors work on homes, fueling stronger demand for supplies and trucks.
"People are more convinced the recovery is going to persist, think their jobs are safe, so they are more likely to purchase vehicles," he said.
While trucks are rallying after years of slumped demand, the optimism is also a reflection of robust demand for fuel-efficient cars in the U.S. Domestic compact cars like the Ford Focus are beginning to compete with Japanese rivals like Toyota's (NYSE:TM) Corolla and Prius that have long dominated the market.
Ford's Fusion and Escape both posted their best-ever monthly and quarterly sales in March, with Ford selling 30,284 Fusion vehicles for the month and 80,558 for the quarter, crossing the 30,000 monthly and 80,000 quarterly vehicle sales thresholds for the first time ever.
"We're finally at a point where domestic automakers have had the opportunity and resources to update the most significant vehicles in their portfolios – and consumers responding very positively," Gutierrez said.
U.S. auto manufacturers over the last several years have been busy redesigning popular brands and investing in new technologies to drive innovation and fuel efficiency among their compact fleet. To much applause from environmentalists and health activists, GM became the first U.S. automaker in January to sell one-million fuel-efficient cars in a single year, following Japanese rivals that for a long time led the market through the Prius under other hybrids and compacts.
Gutierrez said Detroit's "Big Three" are finally starting to reap the benefits of those investments.