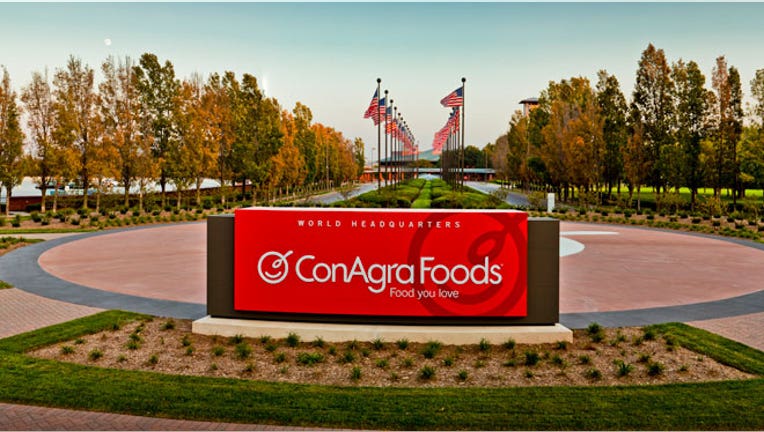 ConAgra Foods (NYSE:CAG) reported on Wednesday a 57% drop in its third-quarter profit, as costs from its acquisition of Ralcorp Holdings dragged down earnings.
Ralcorp, a private-label food maker, did help drive revenue higher during the period. ConAgra, a packaged-foods company that makes Hunt's ketchup and Orville Redenbacher's popcorn, has seen its revenue edge up in recent years amid higher pricing. It expects to see that growth continue with the $5 billion Ralcorp purchase that closed in January.
ConAgra announced last month it is also merging its flour-milling businesses with Cargill and CHS (NASDAQ:CHSCP), forming a joint venture called Ardent Mills.
For the quarter ended Feb. 24, ConAgra's profit was $120 million, or 29 cents a share, versus the $280.1 million, or 67 cents a share, in the year-earlier period. ConAgra said the latest period includes 16 cents a share in acquisition costs. Adjusted per-share earnings to exclude those costs and other items checked in at 55 cents, up from 53 cents.
Sales jumped 13% to $3.85 billion. ConAgra's consumer-foods unit reported 6.8% sales growth, while Ralcorp food group sales totaled $212.5 million.
Analysts forecasted adjusted earnings of 56 cents a share and total revenue of $3.87 billion.
ConAgra also backed its full-year earnings outlook. It reaffirmed that Ralcorp is expected to contribute earnings of 5 cents a share in fiscal 2013 and 25 cents a share the following year.
"Challenges remain for key areas of our business, but a combination of successful margin improvement initiatives and a more favorable input cost environment is enabling us to significantly increase our brand investment and deliver EPS growth," Gary Rodkin, ConAgra Foods' chief executive, said in a statement.
Shares of ConAgra were down roughly 2% at $34.82 a share in pre-market trading Wednesday.