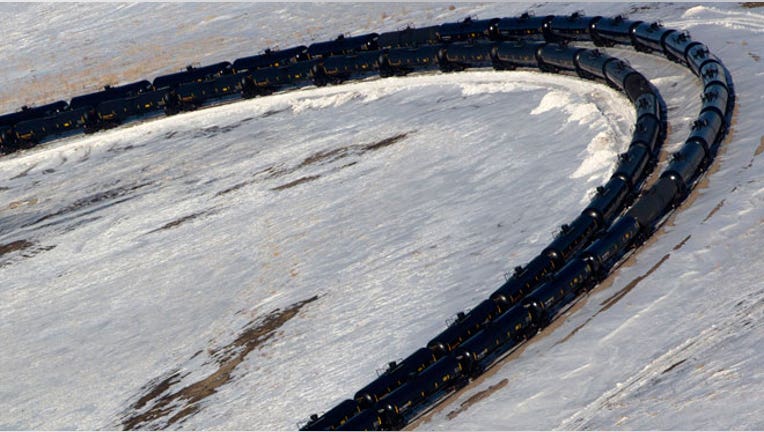 Rail shipments of U.S. crude oil and petroleum products continue to climb, as pipelines play catch-up to soaring domestic production.
Over the first seven months of the year, railroads have moved 9% more oil and petroleum products like gasoline compared to the same period in 2013, according to data from the Association of American Railroads.
The Energy Information Administration noted that this year's rise in crude-by-rail volumes reflects increasing U.S. production, which hit 8.5 million barrels per day in June. That's the highest level since 1986.
The production surge at shale formations like North Dakota's Bakken has put pressure on transportation and logistics companies that are responsible for getting oil to refineries. Pipeline capacity near shale plays remains limited, so producers in hard-to-reach areas often turn to railroads. In many cases, oil must first travel by truck to reach rail lines.
Railroads are the go-to option in many areas "because it's the only practical option," said Charles Clowdis, a transportation analyst at IHS. "There are so many sites now where there is no other alternative. Rail is the only accessible point."
Drillers in North Dakota, which trails only Texas in oil production, rely heavily on railroads to transport oil. According to the North Dakota Pipeline Authority, between 60% and 70% of the more than one million barrels per day produced in the state was shipped to refineries by rail throughout the first half of 2014.
Pipeline projects on the horizon, including the delayed Keystone XL pipeline, could help alleviate the bottleneck near some areas of production. But Clowdis expects crude-by-rail to remain at the forefront, noting how Keystone XL won't be operational until at least 2017. In April, the Obama administration again delayed a final decision on whether to approve the project.
"It's our opinion that crude by rail will continue to be a phenomenon for the foreseeable future," Clowdis explained.
IHS projects growth in U.S. oil production will begin to diminish slightly in 2017, later than previously expected.
Crude-by-rail came under a microscope last year after a runaway train carrying oil derailed and exploded in Lac-Mégantic, Canada, killing 47 people. The U.S. Department of Transportation recently proposed new rules for trains moving flammable liquids, potentially requiring railroads to phase out or upgrade tens of thousands of older tank cars.
"The industry is working hard to improve safety," Clowdis said. "This is a complicated business with heavy machinery moving over track."