Qantas Flights Resume After Labor Dispute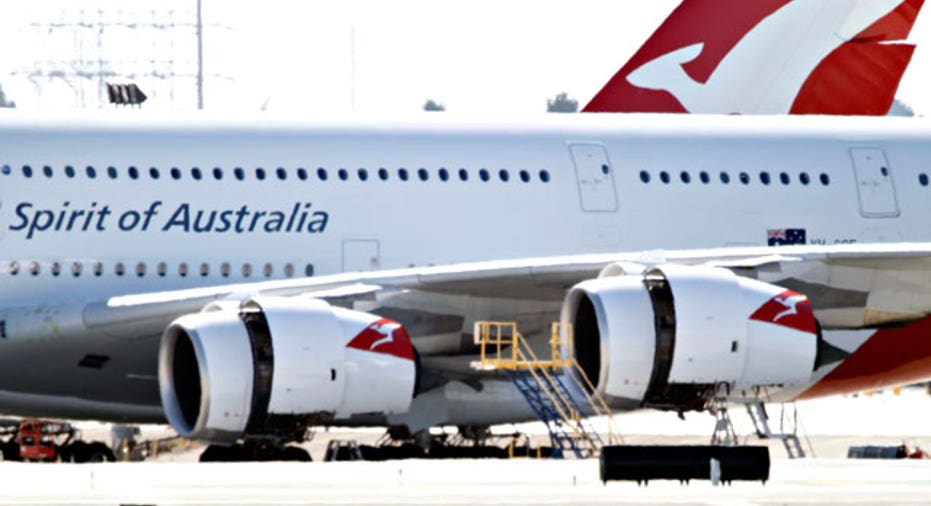 Australia's Qantas Airways returned to the air on Monday after grounding its entire global fleet over the weekend in a bold tactic to force the government to intervene in the nation's worst labor dispute in a decade.
Qantas took the drastic step to ground all flights on Saturday, disrupting 70,000 passengers and spurring the government and its labor-market regulator to seek a quick end to hostilities between the airline and unions.
At the government's instigation, Australia's labor tribunal ordered Qantas to resume flights and banned trade unions, which have waged a damaging campaign of industrial action, from staging more strikes while negotiations continued.
"That was the only way we could bring that to a head," a bleary-eyed Qantas CEO Alan Joyce told reporters after 36 hours of round-the-clock brinkmanship.
Later, after being given the all-clear from aviation regulators, Qantas resumed flights from Sydney with an Airbus A330 bound for Jakarta.
Around the country and overseas, airport departure lounges filled up with Qantas passengers keen to resume their journeys after a frustrating weekend of waiting.
German backpacker Stephanie Giertz, 28, said a Qantas flight cancellation meant she had missed the start of a tour to Australia's iconic Uluru, or Ayers Rock.
"I just hope to arrive in time for sunrise at Ayers Rock, this is my biggest dream," she said at Sydney airport. "I have felt lost... I have had enough."
Joyce, dubbed a "kamikaze" by one newspaper for effectively staging his own strike against the unions, came under fire from Canberra and also credit rating agencies for the grounding.
Moody's and Standard & Poor's signaled possible credit downgrades for the airline on Monday, citing the grounding and the risk of brand damage. Both agencies currently rate Qantas at the lower end of investment grade.
But the share market, in contrast, judged Qantas and Joyce the winners, driving the airline's shares up as much as 7.4 percent. The stock closed up 4.3 percent at A$1.61.
TRIBUNAL RULING
The tribunal ruling, handed down in the early hours of the morning, gives both sides 21 days to settle the dispute or submit to binding arbitration -- an expedited process likely to favor Qantas in its battle with unions to cut costs and base more operations in Asia, a labor-law expert said.
"I think that will give Qantas a victory," said Ron McCallum, professor of industrial law at Sydney University.
Qantas says it has lost about A$70 million ($75 million)since September from industrial action in its dispute with three trade unions over pay, working conditions and its Asian plan. Joyce had described the union campaign as "death by a thousand cuts" for the 90-year-old airline.
Despite Qantas' share price rebound, the stock has lost more than a third of its value this year.Investors worry about longer-term damage to the brand from the grounding, which disrupted travel plans for some leaders at the end of a summit of Commonwealth nations in the western city of Perth, as well as passengers in 22 airports worldwide.
In Australia, Qantas departure lounges were crammed with passengers hoping to board the first flights. Qantas is not expected to be back to full operation until Wednesday.
"I will never ever even think of flying Qantas in the future," said Robert Moore, on the airline's Facebook page.
About 2,000 passengers are stranded in London's Heathrow airport and other airports across Europe. There were chaotic scenes at Singapore's Changi airport, Australian broadcaster Seven Network said.
"I understand strikes happen, but to stop all flights without thinking about the passengers -- I don't agree with that," said Mary Keers, a 50-year-old Irishwoman waiting at Changi Airport to catch a flight to Perth.Alysha Townsend was left with an equally bad taste from the experience.
"No one from Qantas could be contacted. I no longer want to fly with them, the 26-year-old Australian said after being grounded in Singapore, the stopover on her flight from London to Perth.
The grounding also stirred media speculation of Qantas as a potential takeover target, with a Sydney Morning Herald columnist accusing Joyce of driving "Qantas' share price into the ground, making it a sitting duck for a takeover."
Qantas was the target of an aborted private-equity bid four years ago and has continued to draw takeover rumors from time to time, despite a 49 percent limit on foreign ownership.PM FUMINGThe government welcomed the tribunal's ruling, saying it had saved the tourism industry and the wider economy from serious harm, but it turned its anger on the Qantas CEO.
Prime Minister Julia Gillard said the grounding was an extreme step and criticized Joyce for giving the government only three hours notice before grounding the airline, which carries about a fifth of Australia's international passengers.
Assistant Treasurer Bill Shorten said Joyce had lit a fire beneath Qantas. "It really shouldn't have needed this bushfire, industrial bushfire, to take place," he said.
The Qantas dispute has dragged on for months but escalated recently when the airline announced plans to cut 1,000 jobs and order $9 billion worth of new aircraft as part of a makeover to salvage its loss-making international business.
Union representatives said they would work with Qantas to resume flights as soon as possible but some sought to cast Joyce as a reckless manager prepared to risk the airline.
"The board should immediately sack their out-of-control CEO," said Captain Richard Woodward, vice president of the Australian and International Pilots Association.
Qantas estimated the weekend grounding of the fleet cost it about A$20 million each day, but it said the previous campaign of rolling stoppages by unions had driven down bookings and threatened its survival.
The Qantas dispute is the latest in a tide of industrial unrest as unions press for a greater share of profits amid tight labor markets and high commodity prices.
Australian rival Virgin Australia said earlier it was adding 3,000 seats on its domestic network on Monday, in addition to 3,500 seats on Sunday. Virgin shares were up 5.6 percent on Monday and have outperformed Qantas this year.
Virgin Australia's airline partners, Abu Dhabi's Etihad Airways and Air New Zealand, said they were looking at options to increase capacity to and within Australia.
The weekend was one of Australia's busiest for travel, with tens of thousands traveling to the hugely popular Melbourne Cup horse race on Tuesday. ($1 = 0.933 Australian dollars)