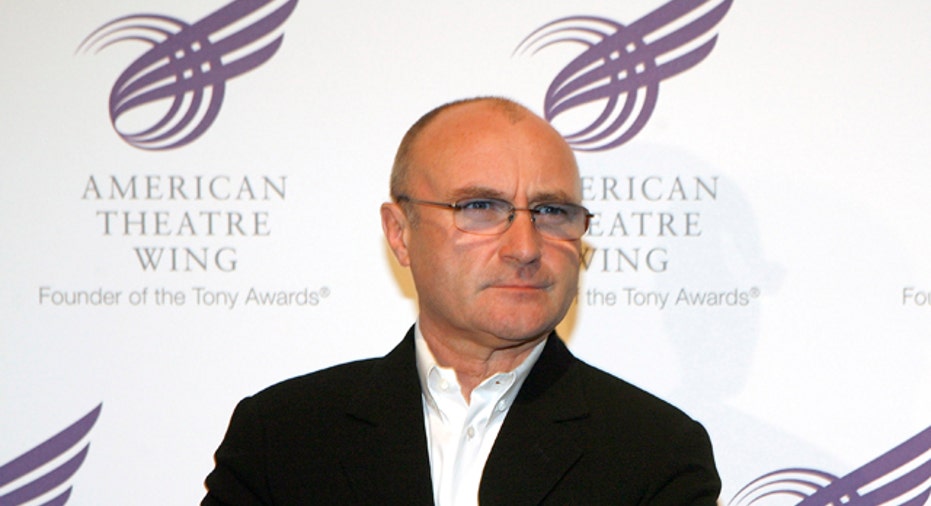 When it comes to the money game, Phil Collins did what any good drummer would do: He beat it.
As a kid, he starred as the Artful Dodger in the London production of "Oliver!" As a teen, he answered a classified ad for a drummer and joined the art-rock band Genesis. Five years later, when Genesis lead singer Peter Gabriel went solo, Collins stepped to stage center to replace him in what was then a money-losing band. Five years after that, he unleashed his songwriting skills on his multiplatinum solo debut, "Face Value," which included his breakout hit, "In the Air Tonight."
From then on, Collins was never far from the charts, producing a string of seven No. 1 hits that includes "One More Night," "Sussudio" and "Another Day in Paradise." Collins even successfully combined his two stage careers, starring in the film "Buster," writing "Against All Odds (Take a Look at Me Now)," his first No. 1 single, for the 1984 Jeff Bridges film, and receiving an Academy Award for Best Original Song for "You'll Be In My Heart" from the Disney film "Tarzan."
At age 61, Collins just unveiled another surprise: "The Alamo and Beyond: A Collector's Journey," a sumptuous coffee table book that reveals for the first time his lifelong, in-depth study of the pivotal 1836 battle for Texas independence.
Collins' studious book, which showcases his extensive collection of Alamo artifacts that includes Davy Crockett's rifle, Jim Bowie's knife and Sam Houston's snuff box, earned him yet another accolade: an honorary doctoral degree in history from McMurry University in Abilene, Texas
CreditCards.com: May we now refer to you as Dr. Collins?
Phil Collins: Doctor or admiral; I was also made an honorary admiral of the Texas fleet while I was there. You can call me anything you want.
CreditCards.com: Here in the U.S., a whole generation grew up singing the Davy Crockett theme song.
Collins: Yeah, and I thought it was my secret at 5 or 6 years old.
CreditCards.com: Did you have the requisite coonskin cap?
Collins: Well, my grandmother cut up a fur coat! She had an old fur coat -- old, obviously -- that she cut up and made into a hat. There's a picture of me wearing it in the book. England at that point was way behind the States in terms of the availability to toys. A Disney friend of mine here in the States tells how his father had bought him a 6-foot constructible Alamo. That was unheard of where I was.
CreditCards.com: Rock stars tend to collect vintage instruments.
Collins: Or Aston Martins or Ferraris. Yeah, I never really shared it with anybody. It was a very personal thing that I just slowly pecked away at. My collection's in my basement in Switzerland; I had cabinets built for it and it's all labeled, should someone ... but no one does. There are probably 20 people outside my family who've seen it, apart from what's there in the book. There's no one I know who is interested in this stuff.
CreditCards.com: Do you remember your first historical find?
Collins: That first Davy Crockett letter that I saw in a shop in Georgetown, I guess I could have bought it but my upbringing told me that it was too expensive. I don't know why. My mum always kind of taught me to save for the rainy day. And now, at 61, the rainy days are kind of fleeting. So that's become my passion. I still don't buy everything I'm offered; far from it. And I still, on the odd occasion, will pay more than I think is decent for something that I think I should have. I just bought (Mexican General) Santa Anna's sword for an extraordinary amount of money, but that seemed right; the provenance was good.
CreditCards.com: So you buy it now and kick yourself later.
Collins: Yeah, I'll kind of eat bread and cheese for the next couple of months. It's weird; I've got the money, but I still think like I haven't got the money. That's the way I was brought up. So if something comes along and it's too expensive, I just say well forget it, someone else can buy it.
CreditCards.com: It must be rewarding to finally share your collection with the world.
Collins: I do think there is something strange -- maybe I should keep looking behind me -- because the last album I did was "Going Back," which is the Motown covers album; it's like a rounding off of a career. And my fascination with the Alamo started around the same time. So both things have come full circle at the same time. I don't know what to do next, to be honest.
CreditCards.com: Unlike some rockers of the era, you didn't come from dire circumstances.
Collins: (Laughs) "I was born a poor black child," as Steve Martin used to say. No, I had a great childhood. My mum and dad let me do my thing. I'm the youngest of three. My brother is still a working cartoonist for magazines and newspapers, been doing that all his life, and we shared a room when we were young. My sister was an ice skater for Disney on Ice, an accomplished ice skater. And my father pleaded, "Give me one normal child!" because the three of us were really looking like we were going in a direction that wasn't as solid as his, which was working in the city of London at an insurance company. But we were all able to do our own things.
CreditCards.com: You fairly quickly hired on with a successful rock band in Genesis. Do you remember a moment when you felt the financial burden leave your shoulders?
Collins: Um, I never had that moment. Genesis lost money. Like probably a few other bands of that era, we were looking as if we were doing very, very well but spending an awful lot on the production. It took a lot of money to get the Genesis machine rolling; the physical shows were expensive to put on. And we had the one catastrophic year in the early '70s when our road manager, who was supposed to keep all the receipts, didn't keep anything, so we owed all this money back since we had no proof that we'd spent it. That's when Tony Smith, who has been our manager ever since, said, "Someone's got to take care of you guys because you're going to end up in prison or something."
CreditCards.com: You didn't spend like a rock star?
Collins: No. For me, I can fully put my hand on my heart and say I always thought the bubble was going to burst. This saving for a rainy day thing has always been hanging around me.
CreditCards.com: Even when your first solo album, "Face Value," went multiplatinum?
Collins: Yeah, but then ... it depends on the kind of person you are. I would have started worrying about my second album; what am I going to do now? Other people would have enjoyed the moment and I rarely enjoyed the moment, if I'm being totally honest. I've been married three times and there has always been something chomping at my heels, it seems. But I think that's my problem. I had every reason to be very, very happy and thinking that the best was yet to come, but I kind of was always a little wary that OK, well, you've had a lucky break for your first album. What are you going to do for your second album? It was a little bit cautious.
CreditCards.com: So it was never about the money.
Collins: It was never about the money, that's for sure. I never really thought about it. That isn't because I came from a background that had a lot of money; I just figured that all you've got to do is have enough to live. And that's all I ever wanted to do, make a living playing the drums.
CreditCards.com: How did you keep your runaway success from going to your head?
Collins: Certainly once my solo career started ... well, there was no getting away from Genesis. Tony (Banks) and Mike (Rutherford) would never let me forget that I only used three chords on those songs! And we do it to this day. We would never allow ourselves to get too full of ourselves, not in that band.
CreditCards.com: You dislocated a vertebra on the 2007 Genesis reunion tour. Can you drum now?
Collins: Not like I used to, so I don't do it. I've decided to just stop. It was a year ago last November at a Prince's Trust concert with Eric and some of us got together and he played "Crossroads" and I played drums, and as soon as I started I knew that I couldn't really be the same guy anymore with various nerve injuries. It took a toll with me. Some of it may be having played since I was 5. That's a lot of air miles.
CreditCards.com: What's been the highlight of your career?
Collins: The highlight for me was playing in Eric Clapton's band, playing drums behind Eric. Nothing to do with Genesis or my own solo career.
CreditCards.com: The London Times ranks you at 19th on its list of the 50 Richest People in Music, right behind Eric Clapton and tied with Rod Stewart with a net worth of roughly $184 million. How does that feel?
Collins: Wow. I should enjoy it more.
CreditCards.com: Last question: have you officially retired?
Collins: Oh, I have retired. I mean, my manager doesn't like hearing me say it but I've retired. I've stopped. I've got two young boys, 7 and 11, and I've earned the right to do nothing, you know what I mean? That's not to say I wouldn't write another book; my kids are desperate for me to start writing because they love listening to the songs, so one part of me says maybe. We'll see. We'll see.
CreditCards.com: Congratulations on your latest milestone, Dr. Collins.
Collins: Admiral! You can call me admiral!