Putting a New Spin on Sports and Fitness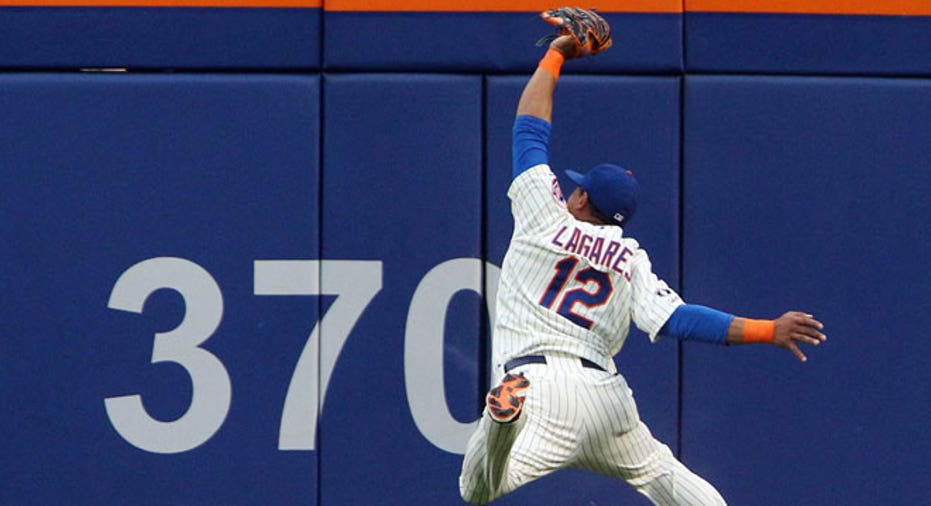 Many athletes follow a pretty standard routine. Hit the gym, grab a protein shake, repeat. Others take fitness to another level.
Take former Major League Baseball player Julio Franco, who was widely known for his strict nutritional habits. His daily breakfast consisted of 20 egg whites, and he trained throughout every year.
Franco is still playing baseball as a player-coach in Japan—at age 56. Last month, he told the Associated Press that he intends to stay on the field until he is 66 years old.
Laird Hamilton also proves that age can, in fact, be just a number. At 51 years old, the renowned big wave surfer said athletes should not limit themselves to one sport or one workout.
"You need consistent diversity in nutrition and your activity in sports," Hamilton told FOXBusiness.com. "That keeps me interested, inspired and challenged. If you're trying to stay at a high level, you have to be passionate about it."
Mike Barwis, founder of Michigan-based Barwis Methods, has gained notoriety for his rigorous workouts that push professional and amateur athletes to their limits.
Last year, Barwis was named a senior advisor for the New York Mets, overseeing the team's strength and conditioning programs. He also has been a consultant for the Miami Dolphins, and Barwis Methods was the subject of a Discovery Channel series, "American Muscle."
The Barwis Method
"We don't just lift weights," said the energetic Barwis, whose company has trained close to 600 athletes in 42 different sports. "We're probably the most inclusive program in the world, especially when it comes to science."
According to Barwis, his program is not a one-size-fits-all approach. Trainers at the company's four facilities draw up a plan of action for each athlete, assigning individual regimens for nutrition and physical training.
The ultimate objective is to enhance performance on the field.
"They have a tremendous God-given gift to play athletics. To me, the greatest reward I get is to help facilitate reaching a lifelong goal," Barwis said.
Training sessions at Barwis Methods can last from three to five hours a day, depending on an athlete's specific protocol. Trainers handle everything from workouts to meals. Breakfast is prepared before athletes arrive, including any nutritional supplements, and they are sent home with dinner.
"We're pretty much one-stop shop for strength and conditioning," said Barwis, who created his own line of nutritional products and training gear.
Covering All Bases
Hamilton and his wife, beach volleyball star Gabrielle Reece, both have a passion for healthy living. They were involved in launching TotalWave Fitness, equipment that mimics riding a surfboard, and TRUition, which makes nutritional products like vitamins and protein shakes.
Hamilton also revealed that he is working on an "incredible" new product in the digestible category.
"Everything we do, it's all in the interest of betterment. We want to bring something positive to their health," Hamilton said.
Both TotalWave and Hamilton's GolfBoard, a cross between a Segway and skateboard, were rolled out this year.
GolfBoard offers a more athletic way to travel 18 holes. It glides over hills and fairways, with room for a golf bag in the front.
Hamilton had the same goal in mind with TotalWave, which is more intuitive than powered machines like treadmills and ellipticals.
"It's not the type of fitness equipment where you can watch TV," Hamilton said. "There was one gym that was doing things [with TotalWave] that I didn't even think of. There are not a lot of pieces of equipment where you can be that creative."
As for his own nutritional habits, Hamilton likes to use a variety of products, cycling through different TRUition products from month to month.
"There isn't a single product in there that no one would benefit from," Hamilton said of TRUition. "I don't endorse anything that I don't believe in."
Underwater Training
Hamilton has become a fitness guru of sorts, working with professional athletes like Joakim Noah of the Chicago Bulls.
Hamilton published his first book, "Force of Nature: Mind, Body, Soul, and, Of Course, Surfing," in 2008. Hamilton also offers training and health tips on his website.
Noah has credited Hamilton's offbeat underwater training for improving his endurance on the basketball court.
The workout is a spin on a technique used in places like Hawaii and Polynesia, where people would carry stones as they walked along the bottom of the water. Hamilton uses weights in a pool.
"I basically took that concept and expanded it with all these other drills," Hamilton said. "When you start to use water as a medium to train, there's a bunch of different things that come out of it."
As Hamilton explained, underwater exercises require controlled breathing and put compression on the body. He also noted the mental benefits of exerting yourself in an environment where you can't breathe.
The water also reduces wear and tear, helping athletes like Noah whose bodies already take a toll on the court.
More than Sports
"There's only so much impact that our bodies can endure per lifetime," Hamilton said. "All of this stuff is about sustainable training you can do your entire life. What are we training for? We're training for life."
Barwis has a similar holistic philosophy. His performance training extends beyond the sports world, helping people with debilitating injuries.
Barwis, the former Director of Strength and Conditioning at the University of Michigan, was inspired by Brock Mealer, who was told he would never walk again after a car accident that killed his father and girlfriend. Mealer's brother, Elliott, played on the Wolverines football team.
Mealer sought help from Barwis. In six months, he was walking again.
One of his recent patients, Chris Norton, was left paralyzed by a football injury. Last month, Norton walked at his graduation from Luther College in Iowa.
Barwis said the program, which he calls neurological reengineering, has helped about 50 people recover from disabilities.
"I go to work every day and can impact people's lives," he added. "If you want to be great in health and performance, first you have to care about people."