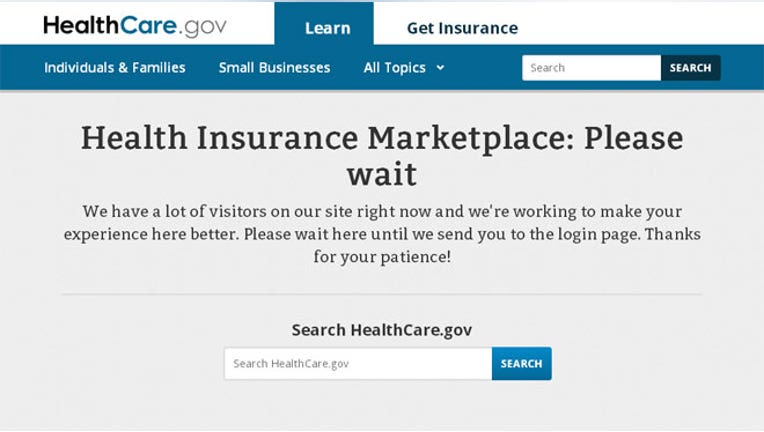 The rollout of the Affordable Care Act's insurance exchange website has been bumpy, but the glitches haven't hurt public interest in the marketplace.
A new poll from Reuters/Ipsos finds uninsured Americans have a more favorable view of the ACA since the marketplaces opened on Oct. 1 with 44% saying they like the new law, up from 37% in September. Fewer people oppose the program in the latest poll at 56%, compared with 63% in September.
More uninsured people are also expressing interest in buying insurance on the marketplace, with 42% of respondents expressing interest and saying they were likely to enroll in October, compared to 37% in September. Reuters says the results have a credibility interval of plus or minus 3.2 percentage points. The poll was conducted last month among 12,000 people with 1,100 of them reporting to be uninsured.
While this is good news for the White House, analysts are not positive this growing support will translate into actual enrollment upticks.
Larry Kocot, visiting scholar at the Brookings Institution, cautions that enrollment truly is a process and is not complete until a check is written on behalf of the enrollee to cover a monthly premium.
"It's hard to say if this will translate into enrollment," he says. "There are still many steps to the process before they actually get covered. The interface is getting better, but people still have to take the steps to enroll. It's hard to say if a poll translates into people signing up."
Morningstar analyst Vishnu Lekraj says interest is nothing more than interest at this point. "I don't see it being a general driver of enrollment here," he says.
Health and Human Services Secretary Kathleen Sebelius told lawmakers Wednesday, the administration will  release initial enrollment numbers next week, a little more than a month into the six-month open enrollment period.
This increased interest comes amid continued reports of millions of Americans nationwide receiving cancellation letters regarding their current health-care policies. Many plans no longer meet the standard minimum coverage the ACA mandates, sparking outrage among consumers who are clinging to President Obama's oft-repeated mantra of "if you like your current health-care plan, you can keep it."
But some consumers in California may be able to hold onto their current plans for a few extra months—even if it doesn't mean the law's requirements. Blue Shield of California announced Wednesday it would allow existing policyholders in non-grandfathered plans in the individual market to extend their coverage until March 31, 2014. The move will impact 115,000 policyholders within the state.
The move comes at the request of the California Department of Insurance (CDI), and Kocot and Lekraj say it's possible more states will follow suit. This will also impact enrollment stats, as consumers have added time to make their decisions.
"The pressure will increase for a lot of states to now extend coverage beyond the December 31 deadline," Kocot says. "But for those who had their policies terminated already, I don't know technically what they will have to do to reinstate their coverage. No matter how you look at it, this will be a lot of work."
Beneficiaries with cancelled policies would likely have to be contacted again and asked if they were interested in reinstating their coverage for the extra three months, which will be expensive for insurers, Kocot says.
And Lekraj says that while consumers will have an extra few months to find a plan they like, within the next year and a half or so, most plans that don't meet the ACA's minimum requirements and even grandfathered plans will be phased out.
"It will be more work for them to do this," he concedes.