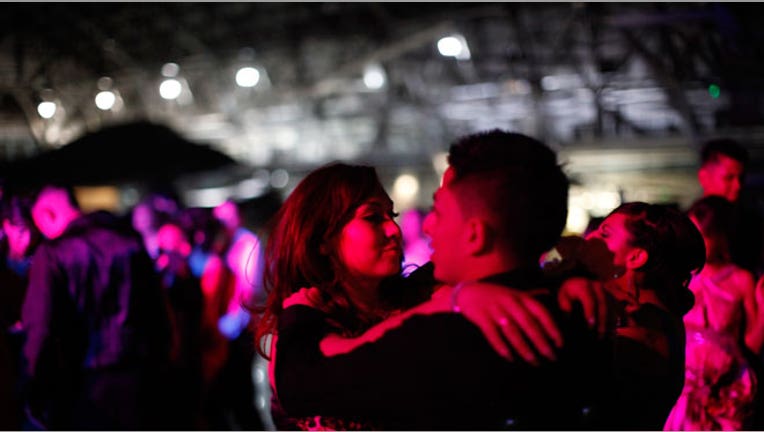 Teens across the country are gearing up for their junior and senior proms, and parents' wallets are taking a massive blow.
The cost of the dance, attire, and surrounding events is outpacing the growth of inflation. A new study from Visa (NYSE:V) finds the average American family will spend $1,139 this year on prom, up from $1,078 in 2012.
What's more, the survey of 3,000 people across the country found those families with lower income levels of $50,000 and under will spend more than the national average at $1,245. And single parents plan to spend $1,563, more than double what married couples plan to spend, at $770.
Spending on the big night differs across the country: Northeastern families will spend the most at $1,528, followed by those in the South spending $1,203. Western families will shell out $1,079, and Midwestern families will spend an average of $722.
Consumer spending expert Andrea Woroch says teens are hyper-focused on pop culture and celebrity, which make them feel the need to spend more to keep up with what they see their favorite celebrities wearing.
"Younger kids are so much more focused on brands, probably because of pop culture and celebrity magazines over the past five years or so," Woroch says. "It's all about who is wearing what."
She says parents should take prom season as an opportunity to teach kids about budgeting, and according to Visa's survey, many families are doing just that. Parents are planning to cover about 59% of these costs in 2013, with kids picking up the rest of the tab.
"It's a good time to teach them about money and how to set a budget," Woroch says. "Ask them what's most important to them, and maybe meet the child halfway to teach them about savings."
Here are some tips from Woroch for scaling back on these rising prom costs:
No. 1: Check consignment stores.  "In the past few years, specialty stores that have focused more on brand names are popping up," she says. "Some clothes may still even have the tags on them."
No.2: Look for flash sales and coupons. These blink-and-you-miss-it sales are popping up across the internet and are a great way to cut back on costs, Woroch suggests.
Sites like BlueFly.com also offer coupons for major retailers that can come in handy when it comes time to buy a dress or tux.
No. 3: Consider renting. Guys can rent their tuxes, so why can't girls rent their dream dress? Sites like Rent the Runway allow users to rent designer dresses for a fraction of the cost.
"Most of these dresses, you only wear once or twice because they are super trendy anyway," she says. "If the dress costs you $300, you can rent for much less."
Borrowing jewelry from friends and family can also significantly attire costs.
No. 4: Skip photos. With so many smartphone apps and high quality cameras on phones, getting formal portraits at prom may not be necessary any more, Woroch says.
"Skip the formal photos. Take pictures together before you head out—the formal pictures never come out good anyway. Then pool your pictures together [with friends] and make an album on Snapfish.com, or a site like that."good, take pics with smart phones pool your pictu