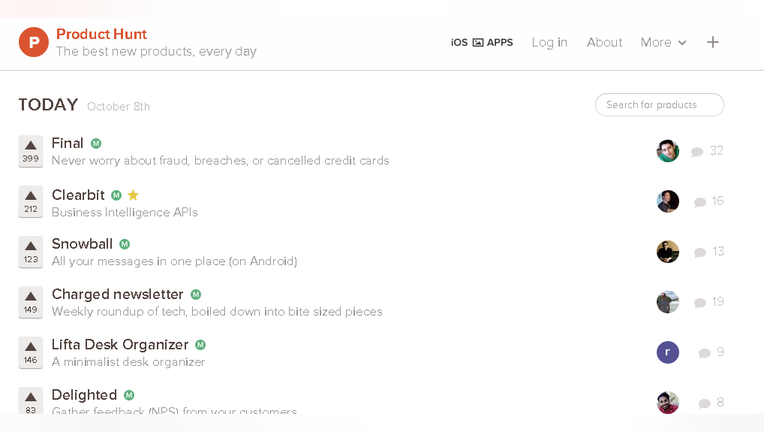 Product Hunt, an online platform devoted to finding the latest and greatest goods and services, has raised a $6.1 million Series A round of funding led by Andreessen Horowitz.
The funding will help build out social engagement features on the site, founder and CEO Ryan Hoover said. Already, users can follow other people on the site and receive notifications when they post about new items.
Hoover said Product Hunt is currently focused on the startup scene. (Hoover started Product Hunt as an email list he shared with friends.)
"Entrepreneurs, founders and reporters use it, consumers who want to find new things, investors are using it," Hoover explained.
On Wednesday, for instance, Google Ventures partner Kevin Rose posted about an Android app called Snowball, while The Next Web editor Owen Williams posted about his own weekly tech newsletter. Hoover said the discussions that happen around posted items differentiate Product Hunt from other curation sites like Pinterest, or online forums like Reddit.
"More than half of the makers are answering questions [on Product Hunt]," Hoover said.
In early 2015, Hoover said Product Hunt will expand its focus beyond the tech world to include video games, music, fashion and other mainstream categories. More immediately, Hoover said the funding will be used to build out the engineering team.
Hoover said he's not focused on creating a monetization strategy just yet. "Right now, we need to reach scale and make this have a significant impact, and build the community," Hoover added.
In addition to Andreessen Horowitz, the Series A included participation from Reddit co-founder Alexis Ohanian, A-Grade Investments, Greylock Discovery Fund, Slow Ventures and SV Angel, among others.