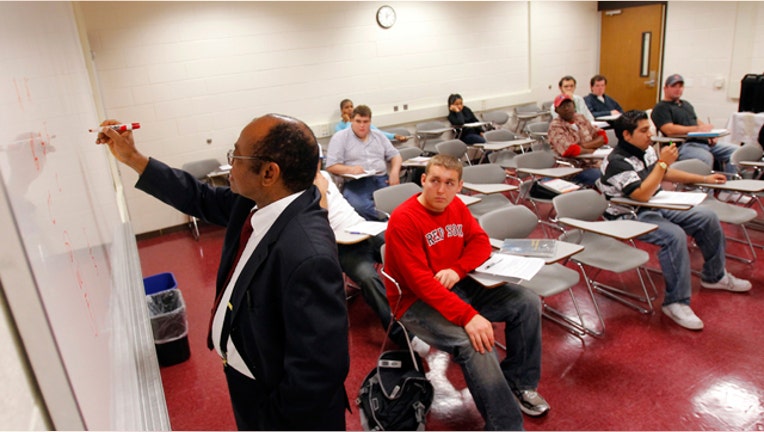 Growing up is tough enough without the worries of your financial future, so Money101  is here for you. E-mail us your questions and let us take off some of the pressure.
Everyone knows about the mounting college student loan crisis, but some parents are racking up debt to pay for their kids' education before their children can drive--or see a PG-13 movie.
The cost of one year at a K-12 private school can cost as much if not more than a year of college tuition, and to cope with the rising costs, some parents are racking up massive debt years before college applications start to arrive.
According to Your Tuition Solution, one of the largest lenders for private K-12 education, demand for the upcoming school year is already on the rise. In March, the total dollar amount of loans families requested rose 10% compared to a year ago and at that pace, the company expects its total funding to rise to $20 million for 2012-13.
Parents opt to send their children to private school for a variety of reasons: some feel that the public school options in their area are not a good fit for their child, or they want may their child to have more individualized attention, says Richard Marotta, headmaster at Garden School, a private institution in Jackson Heights, N.Y.
"The accessibility factor for discussions between parents and teachers and kids and teachers is very high and that accessibility is something they are willing to pay for," he says.
To avoid serious debt and potentially compromising retirement funds, education experts stress that parents plan and save as early as possible if they are considering a private school education for their children.
"Parents need to budget for elementary, secondary and post-secondary education expenses when their children are very young," says Drew Alexander, head of school at Léman Manhattan Preparatory School, part of the Meritas International Family of Schools. "While a private education has many benefits, parents must be mindful of their budget."
For parents to better understand the financial commitment of private school, here are five factors that education experts recommend they strongly consider before enrolling their children.
Plan for long-term funding. Financial planning is essential in keeping up with annual tuition payments when parents are investing in their child's education for 13 to 14 years before they reach college.
"It's important for parents to consider how they can do the long-term funding so that they don't have to interrupt that private school education," says Marotta. "Most private independent schools think that the longer we have the kid, the better—that child gets to take on the personality of the school and learning personalities."
Tuition isn't the only cost. As if the tuition isn't costly enough, some private school boards assume that parents will be contributing additional money toward fundraising efforts and new school facilities, says Matthew Greene, educational director at Howard Greene and Associates.
"Families should be aware that unless they are a family with significant financial need, they will be asked to solicit funds and to give funds to support the school," he says. "It's not a requirement, but there's often a significant expectation that parents will also be contributing in other ways."
There are also additional potential costs for uniforms, lab fees and field trips.
Many schools offer financial aid opportunities. Depending on the school's level of resources, there is generally a fair amount of both merit and need-based financial assistance for families who qualify, according to Greene.
"Quite often you'll see somewhere between 20% and 30% of students at a private school who might receive financial aid--there is financial aid available that's different than at the college level," he says.
Other educational benefits. According to some experts, private schools offer more in-depth college counseling than public schools.
"College counseling in private schools is very intense and very savvy," says Marotta. "The counseling is intuitive and professional in independent [private] schools and sometimes that can have a big pay off."
But attending a private school doesn't guarantee admission to Ivy League schools or top-ranked schools.
"Families should not enroll in private school with some kind of assumption that the school will magically get their child into school X, Y or Z and then at the end of the day if they're not happy, to look back and say we wasted our time and money because my child didn't get into a selective college," Greene says.
Children's learning needs. Although parents must ultimately consider what type of institution will work for their family on a financial level, Greene recommends that the choice be made based on what educational environment is the best fit for the child.
"Parents need to think about every stage of their child's education and that the needs of the child may change over time. We really encourage families to look at each stage of education as a good fit for the student, to be moving them forward, to be enriching and be worthwhile."