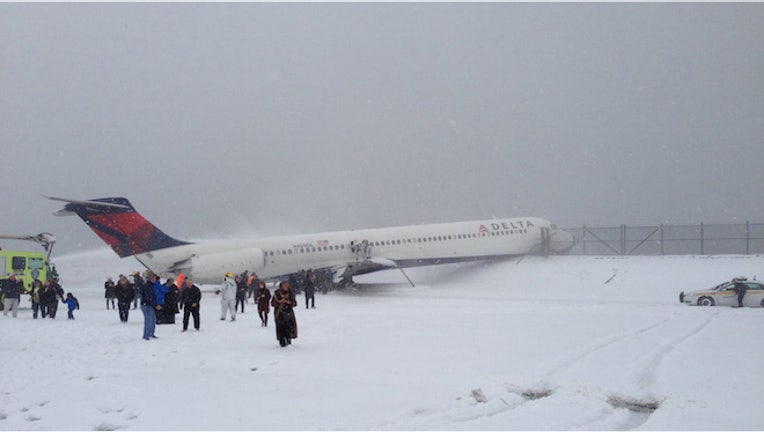 A plane from Atlanta skidded off a runway at LaGuardia Airport while landing Thursday, crashing through a chain-link fence and sending passengers saddled with bags and bundled up in heavy coats and scarves sliding down an inflated chute to safety on the snowy pavement
The Delta (NYSE:DAL) flight, carrying 125 passengers and five crew members, veered off the runway at around 11:10 a.m., authorities said. Emergency responders are still assessing people, but any injuries appear to be minor, the Fire Department of New York said.
Images show the plane resting in several inches of snow. One video appeared to show the right wing sheared off, but the wing appeared intact in other images.
Passengers trudged through the snow in an orderly line after climbing off the plane.
Atlanta-based Delta Air Lines said the passengers were bused to a terminal. It said the airline will work with authorities to figure out what caused the crash.
Joe Pentangelo, a spokesman with the Port Authority of New York and New Jersey, said the plane is apparently leaking fuel.
Another Port Authority spokesman, Steve Coleman, said both the airport's runways are closed until further notice, which is standard procedure after such incidents. He said everyone on the plane has now gotten off.
The National Transportation Safety Board is headed to LaGuardia.
LaGuardia has had its share of planes mishaps. In July 2013, the front landing gear of a Southwest Airlines flight arriving at the airport collapsed right after the plane touched down on the runway, sending the aircraft skidding before it came to a halt. Ten passengers had minor injuries. Federal investigators found that the jet touched down on its front nose wheel before the sturdier main landing gear in back touched down.
The last deadly crash at LaGuardia happened March 23, 1992, when a US Airways jet carrying 51 people crashed while trying to take off in a snowstorm. The plane skidded part way into the frigid waters of Flushing Bay and 27 people died.