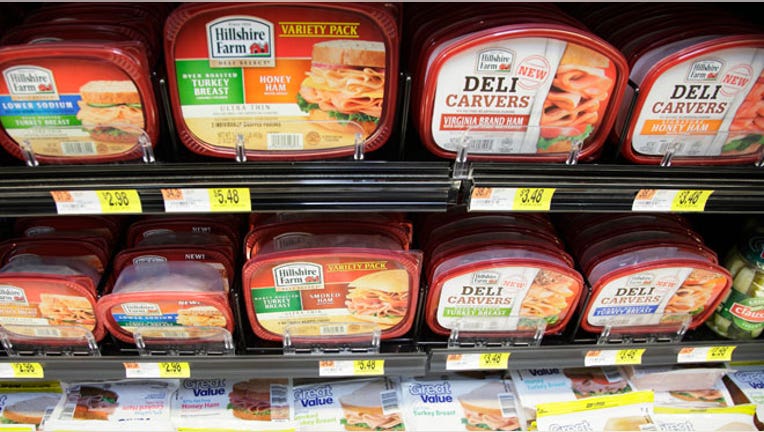 Chicken producer Pilgrim's Pride (NYSE:PPC) offered to acquire Hillshire Brands (NYSE:HSH) for $6.4 billion, potentially throwing a wrench into Hillshire's plans to buy Pinnacle Foods (NYSE:PF).
Pilgrim's Pride is bidding $45 a share in cash, which reflects a 22% premium over Hillshire's closing price on Friday. Excluding the assumption of debt, the deal is valued at roughly $5.5 billion.
Shares of Pilgrim's Pride rallied 5.4% to $26.46 on Tuesday, while Hillshire climbed 21.2% to $44.87. Pinnacle was down 5.9% at $31.30.
Earlier this month, Hillshire unveiled a $6.6 billion deal for Pinnacle in an effort to broaden its grocery portfolio. Hillshire's lineup includes Sara Lee bakery products, Ball Park hot dogs, Jimmy Dean sausage and the company's namesake lunch meats. Pinnacle makes Vlasic pickles and Wish-Bone salad dressing, among other brands.
Pilgrim's Pride, the second-largest chicken processor behind Tyson Foods (NYSE:TSN), said its proposal gives Hillshire a superior alternative to acquiring Pinnacle. The takeover, which is contingent on the termination of Hillshire's Pinnacle deal, would be completed in the third quarter, according to Pilgrim's. The agreement between Hillshire and Pinnacle has a break-up fee of $163 million.
In a letter to Hillshire chief executive Sean Connolly, Pilgrim's CEO Bill Lovette said the two companies met back in February. "It has long been [Pilgrim's] desire" to acquire Hillshire, he added.
"We are coming forward now because the opportunity for your shareholders to obtain the compelling value represented by our proposal will no longer exist if the proposed acquisition of Pinnacle is consummated," Lovette wrote.
Hillshire issued a statement saying it continues to believe in the "strategic merits and value creation potential" of the proposed transaction with Pinnacle. The company also said it will thoroughly review the offer from Pilgrim's.
Pinnacle didn't respond to a request for comment.
Hillshire, which changed its name from Sara Lee after spinning off its coffee business in 2012, expected its takeover of Pinnacle to close by September.
Pilgrim's said its majority owner, Brazilian meat processor JBS, has pledged its support for the deal. Greeley, Colorado-based Pilgrim's would finance the deal with cash on hand plus financing.
Pilgrim's added it would maintain Hillshire's Chicago headquarters and use the location as a major center of its North American operations. A combination would create a company with annual revenue of about $12.4 billion.