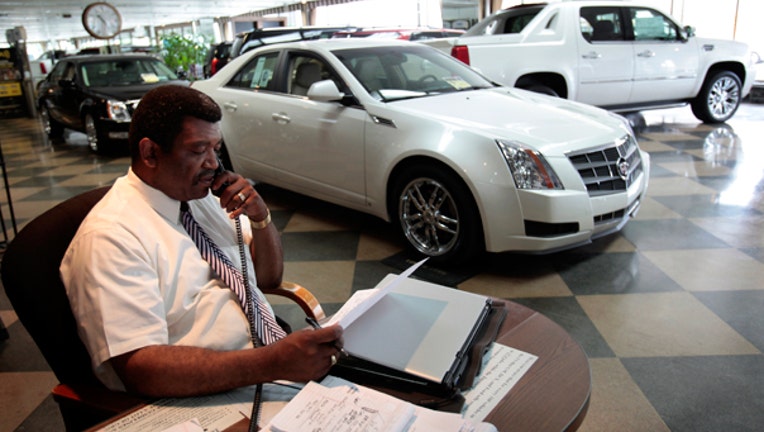 The Big Three U.S. automakers, Ford Motor (NYSE:F), General Motors (NYSE:GM) and Chrysler Group, all posted stronger April sales as demand for pickup trucks gained steam.
The industry has seen demand for cars rebound in the U.S., fueling recent earnings while the European car market continues to lag behind. Ford recently reported a 15% gain in first-quarter profit on record performance in North America. The region also helped GM record a larger fourth-quarter profit, while Chrysler's first-quarter earnings narrowed as it gears up for several new vehicle launches.
Trucks are especially garnering more demand, due in part to the recent turnaround in housing construction. New housing starts climbed last month to their higher level since 2008.
Sales of Ford's F-series pickup trucks jumped 24% to 59,030. The company said Wednesday during a conference call with reporters that pickup truck sales are up 20% in the first four months of the year, outpacing other vehicle segments three-fold.
Overall, new-vehicle sales jumped 18% in April, which had  25 selling days, compared to 24 selling days in the year-earlier month., beating an estimate from car shopping website Edmunds.com for 16% growth. Ford sold 212,584 vehicles, up from 180,350 a year ago but down 10% from March's total of 236,160.
Ford's namesake brand recorded an 18% sales improvement, while sales at its luxury brand, Lincoln, increased 21%. Car sales across all brands climbed 21% amid sales growth from Ford's Fusion and Escape models of 24% and 52%, respectively. Sales of trucks and utility vehicles both rose 16%.
General Motors also said demand for pickup trucks in April was stronger year-over-year, as sales of its Chevrolet Silverado and GMC Sierra were up 23% to 53,603.
GM's overall sales grew 11% to 237,646, driven by strong performance at all four brands. The results, which met Edmunds's forecast, were up from 213,387 a year earlier but 3.4% below March sales of 245,950.
Chevrolet sales were up 11%, and GMC sales grew 6.7%. Higher-end brands Buick and Cadillac posted gains of 11% and 34%, respectively.
Kurt McNeil, vice president of GM's U.S. sales operations, said strong car-buying conditions will continue to "release pent-up demand."
"We're very optimistic because GM's market share is growing, the economy continues to move forward and important car and truck launches are just getting underway," McNeil said in a statement.
Chrysler's U.S. auto sales increased 11% on a 49% surge in Ram pickup sales. Overall sales totaled 156,698 vehicles, down 8.7% month-to-month. The car maker's overall April sales met expectations from Edmunds.
Dodge sold 31,409 Ram pickups last month, boosting the brand's sales by 18%. Chrysler's namesake brand posted a 13% decline, while Jeep saw a 1.9% increase.
Meanwhile, Japanese automaker Toyota (NYSE:TM) said sales slipped 1.1% to 176,160, missing an expected increase of 3.3%. Last year, Toyota reclaimed the No. 1 spot among global automakers, and in February, the company reported earnings growth of 23% and boosted its full-year outlook on stronger demand for its sedans and sport utility vehicles in the U.S.
Honda Motor (NYSE:HMC) fell short of expectations but recorded a 7.4% gain to 130,999 vehicles on strong sales of its CR-V. Edmunds forecasted sales growth of 8.6%.
Volkswagen's namesake brand reported U.S. vehicle sales of 33,644 in April, down 10%. Nissan Motor recorded sales that were 23% higher at 87,847.
Shares of Ford were trading 9 cents lower at $13.52 in afternoon trading, while GM's stock was down 29 cents at $30.55.
Toyota shares fell 1.8% to $114.20. Shares of Honda were down 1.6% at $39.35.