Picasso Helps Entrepreneur Pay the Bills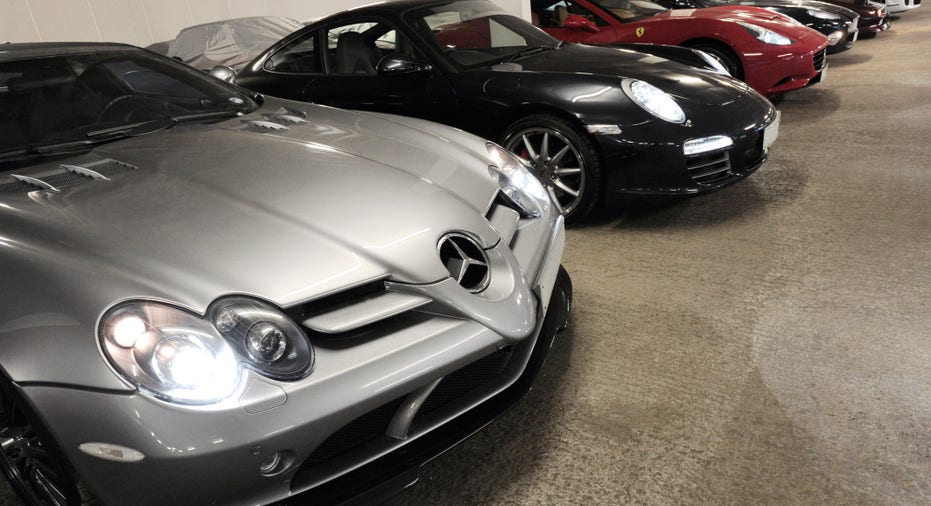 A successful celebrity tailor running his own business, costuming Tom Hanks on Broadway, collecting antique cars and living on a yacht docked at Manhattan's Chelsea Piers hardly seems like the typical pawn shop customer.
But Michele Savoia, better known as Savoia the Tailor, says he turned to pawn site borro during a battle with a New York City landlord that resulted in him losing his combined living space and storefront – and stuck him with a large legal bill.
After losing his Lower East Side abode, boating aficionado Savoia decided to fulfill an old fantasy of buying a yacht to live on full-time. The only problem? He didn't have quite enough cash on hand for all of his obligations.
"I had two new shows coming up," says Savoia, "so I knew money was coming in. I wasn't destitute." That said, fixing up the boat – on top of other responsibilities – made money a little tight.
So, he went to high-end pawn shop borro's New York City location, handed over a custom-designed, 1958 motorcycle – and walked away with $5,000 within three hours.
Entrepreneur Interest Rises in Pawn Shops
Borro CEO Paul Aitken says today 60% of his company's loans are made to entrepreneurs and small- to medium-sized businesses.
Aitken says the company, which provides "loans secured against personal assets like jewelry, watches, fine art and antiques, luxury cars, and sporting and movie memorabilia," makes short-term loans for periods of four to five months, generally speaking, for an average of $12,000.
Borro and competitors UltraPawn and PawnGo say they're targeting business owners, often with excellent credit, who need cash – and need it fast. Due to tighter lending restrictions after the recession, they say business owners just aren't able to turn to banks as easily as they might have in prior years.
"Probably the number one thing we bring to the small business owner and entrepreneur is speed, and the ease of getting through the loan process," says PawnGo CEO Todd Hill.
"The majority of the time, they need [the money] pretty quick. An opportunity has popped up, or a receivable didn't come in like it was supposed to … Banks are just not able to react that quickly, and aren't able to help that entrepreneur get that cash in 24 hours," he continues.
Hill says of the 10,000 loans PawnGo has made since 2011, 75% have gone to small businesses.
The Entrepreneurs Turning to Pawn
Savoia says he preferred borro to more traditional lending routes for its speed, and liked the fact that there were few strings attached. "You never borrow from friends or family," he says, "and taking out a loan took too much time and paperwork."
Marc Kaye, an entrepreneur who runs a health-care consulting firm, says he also turned to borro to get him through a rough patch, which included three college tuition payments (two for Ivy League schools), a mortgage payment and moving his business from New York to Florida.
"I just didn't have the resources at the time," says Kaye, whose friend had used the service earlier. "I've been collecting art for a long time. I settled on a Picasso, and pulled it off the wall," he says, after making an appointment for an appraisal.
Kaye says he was pleased with the thorough nature of the appointment, which included measuring the margins of the painting in order to ensure authenticity. "It was worth $80 to $85,000 at the time," says Kaye. "I asked for $50,000, but they were more comfortable with $40,000."
Kaye says the money was wired to his account within 24 hours – and he was able to repay it within the six-month window.
"The Picasso is back on my wall. I had every intention of getting it back," says Kaye, who says the issue he experienced with cash flow is common for a commission-based business.
Savoia also intends to get back his motorcycle. "I've been paying interest on it, because I've been so busy with the boat, but I'll get it back within the next month or so," he says.
Aitken says 92% of borrowing entrepreneurs get their hard asset back, while Souri's UltraPawn sees a 90% redemption rate.
The Pros and Cons of Pawn
Rohit Arora, the CEO and co-founder of small business financing site Biz2Credit, decided to integrate borro's services into the company's platform because of the credit crunch facing many entrepreneurs.
"There are a lot of fly-by-night [pawn] operators," says Arora, but with VC-backed borro, he says there's a much higher degree of responsibility.
He says the benefit of turning to pawn loans over traditional bank loans is that it doesn't affect entrepreneurs' credit scores. "If you're trying to improve your personal credit, [pawn shops] don't pull your credit report, so it doesn't get damaged," he says.
Arora adds that speed is the other major plus for pawn shops.
"The big downside is the rates are high – you have to keep that in mind. It's anywhere from 2 to 4% a month," he says.
Arora says business owners also take a big discount on the value of the asset they're pledging, as seen in the case of Kaye's Picasso. Had he not been able to reclaim the art, selling it at auction – or even on a site like eBay – might have been smarter for him.
But he has no complaints.
"It fills a niche in this economy that people need," says Kaye.