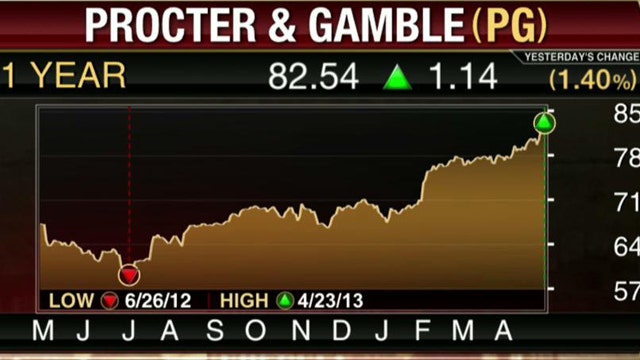 Procter & Gamble (NYSE:PG) posted a 6.4% increase in its fiscal third-quarter profit, but the company's earnings guidance missed Wall Street's view.
Shares fell 4.8% to $78.00 on weaker-than-expected sales growth, while the consumer goods maker also issued a downbeat fourth-quarter outlook. The stock hit an all-time high on Tuesday.
P&G, which makes household and consumer goods like Tide detergent, reported a profit of $2.57 billion, or 88 cents a share. In the year-earlier period that included a $22 million writedown, the company's profit was $2.41 billion, or 82 cents a share.
Excluding one-time items, core earnings in the third quarter rose to 99 cents a share from 94 cents a share
Net sales increased 2% to $20.6 billion.
P&G's fabric-care and home-care segment, the largest top-line contributor, posted flat net sales compared to the prior year. Sales for both its grooming and beauty-care segments fell 2%. Its baby-care and family-care division saw sales rise 3%, while sales of health-care products climbed 8%.
P&G plans to cut costs and eliminate jobs over the next couple of years to help fund product launches. The company's executives have said the moves will offset volatility in the broader economy.
Heavy investments in marketing and building new plants helped drive P&G's fourth-quarter guidance below Wall Street projections. P&G sees per-share earnings of 69 cents to 77 cents in the current period, compared to consensus estimates of 81 cents.