Pfizer Tops 4Q Views on New Treatments, Emerging Markets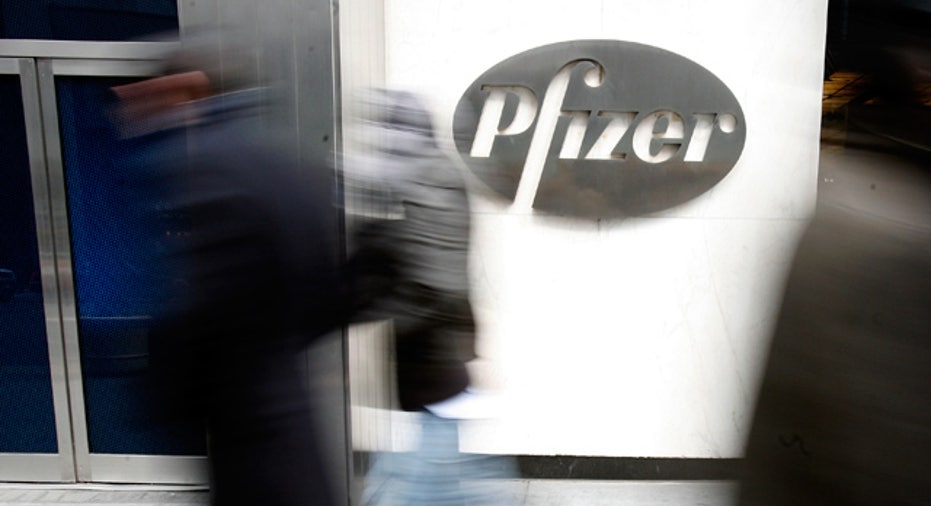 Pfizer (NYSE:PFE) reported stronger-than-expected fourth-quarter earnings and sales on Tuesday as an increased market share in emerging markets and new treatments helped to offset further erosion of Lipitor in the U.S. and abroad.
The drug giant reported net income of $2.57 billion, or 40 cents a share, compared with a year-earlier profit of $6.3 billion, or 86 cents. The sharp year-over-year slide is partially a reflection of a one-time gain in 2012 related to the selling of its nutrition business to Nestle.
The results were also impacted by a 10% sales decline to $3.4 billion in its primary care group, Pfizer's largest group by revenue, as well as a 7% decrease in its second-largest unit, specialty care. Generic competition for the cholesterol drug Lipitor as well as the October expiration of an agreement to develop the arthritis treatment Enbrel in the U.S. were partially to blame.
Emerging markets helped to offset those declines, improving 4% to $2.75 billion on strong demand for Pfizer's nerve pain drug Lyrica, kidney cancer treatment Inlyta Enbrel and lung cancer drug Xalkori outside of North America.
"We achieved or exceeded all elements of our 2013 financial performance despite an operating environment that remains challenging," Pfizer finance head Frank D'Amelio said.
Excluding costs related to the spin-off of its Zoetis animal-health business and other one-time expenses, Pfizer said it earned 56 cents, topping average analyst estimates of 52 cents in a Thomson Reuters poll.
Revenue was $13.6 billion, down 2% from $13.9 billion a year ago but beating the Street's view of $13.35 billion.
In a statement, Pfizer CEO Ian Read said the company now sees "attractive opportunities globally."
"We enter 2014 with confidence in the competitive positioning of our commercial businesses, the prospects of our recently launched products and the strength of our research pipeline," he said.
Pfizer predicts fiscal 2014 adjusted revenue in the range of $49.2 billion to $51.2 billion and non-GAAP earnings between $2.20 and $2.30 a share. The consensus is calling for EPS of $2.28 on sales of $49.74 billion.
Shares of Pfizer climbed more than 2% to $30.30 in early trade.