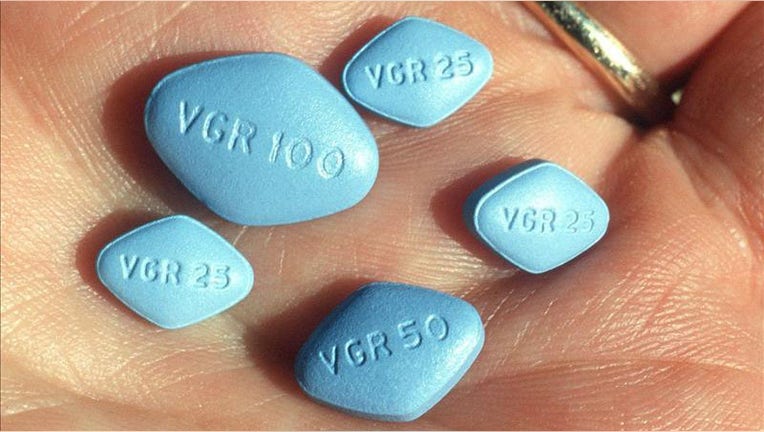 In an industry first, Pfizer has decided to sell its popular Viagra directly to consumers online, making it easier for bashful men to get their hands on the erectile dysfunction drug.
Viagra home delivery was launched Monday and allows those customers with a legitimate prescription to purchase directly to their homes.  In 2011, Pfizer Global Security did an analysis of 22 Websites in the top search results for "buy Viagra," and found that 80% of these pills were counterfeit. What's more, about four in five men report its difficult to determine the legitimacy of an online pharmacy, but nearly one in three would consider purchasing the medicine based on an online search.
"Through our ongoing analyses, we've seen how fake pharmacy websites can lure consumers into buying counterfeit medicines with what seems to be an easy purchasing experience, but it may be putting their health at risk," said Carmen Catizone, executive director of National Association of Boards of Pharmacy, in a release. "We're pleased to see companies collaborating to develop and support solutions that will help patients obtain legitimate prescription medications online."
Former White House Drug Policy Counsel Michael Barnes, managing partner at DCBA Law & Policy, says Pfizer is likely the first company to take the pharmacist out of the equation for purchasing drugs. In a changing health-care environment, he says direct selling is a way for the drug company to hang onto more of its profits.
"Assuming things go well for Pfizer, others may follow suit. What they are doing is consistent with internet pharmacies. Pfizer says it sells the pill to CVS for $22, and its selling to consumers for $25, so it's consistent with the breakdown elsewhere."
Viagra has the name-brand power that allows Pfizer to sell it directly to consumers, Barnes says, as well as allows it to stop counterfeit purchases.
Consumers not willing to get and fill a prescription for the blue pill often turn to online pharmacies that makes them vulnerable to counterfeit drugs.
"Much of [Pfizer's] campaigning is built around combating counterfeiting, which is much stronger than fairing embarrassment," he says.
And with a changing health-care landscape, companies at all levels are likely trying to keep as much of their profits as possible, Barnes says. A Pfizer spokesperson denied any ties to the health-care reform as reason for the prescription option.
"I think the ACA is causing everyone in the health-care industry to find ways to garner profits," he says. "I think we will see efficiencies and opportunities. Companies are exploiting opportunities to earn more profit as a result of the ACA. You will see improved efficiency because of dealing with higher costs elsewhere."