Pfizer: Merck Deal Makes it 'Competitive' in Immuno-Oncology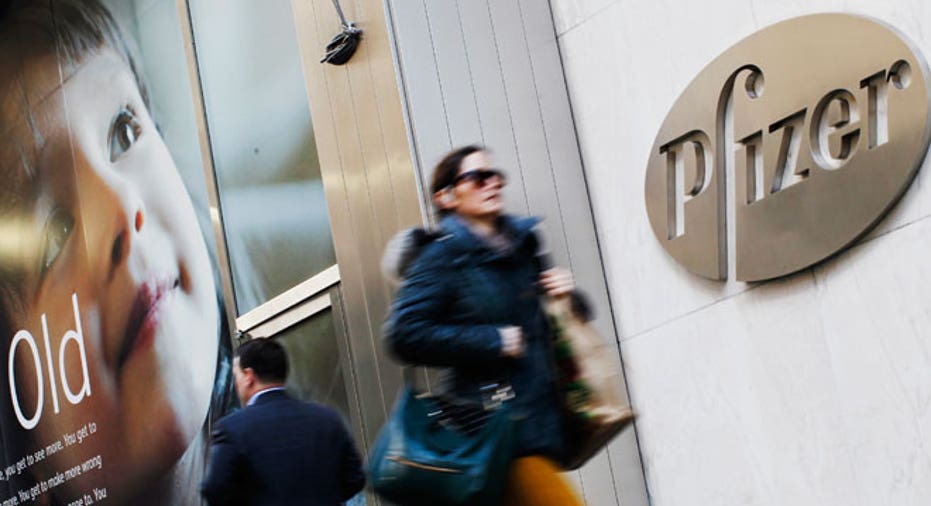 Pfizer's (NYSE:PFE) deal to buy rights to a promising drug from Germany's Merck KGaA will enable it to compete strongly in the fast-growing field of cancer immunotherapy, its research head said.
Some analysts have criticized Pfizer for being late to the hot new area of cancer research but Mikael Dolsten said on Monday his firm had now put together a strong portfolio of experimental immuno-oncology treatments.
The deal for Merck's MSB0010718C -- part of a class of drugs known as anti-PD-L1 therapies that block a tumor's ability to evade the immune system -- means Pfizer will compete with other "first wave" developers of PD-L1 or related PD-1 drugs, Dolsten said.
"It gives a tremendous acceleration for Pfizer," Dolsten said in a telephone interview. "I would see this partnership making us highly competitive within the first wave of immuno-oncology."
In addition to sharing rights to Merck's drug, for which Pfizer is paying $850 million upfront and up to $2 billion based on future success, Pfizer also has other drugs designed to "check" different parts of the immune system.
"It's part of a long-term commitment to immuno-oncology, so you will see Pfizer introduce every year for quite some time new immuno-onoclogy drugs, either new checkpoint antibodies, vaccines or bi-functional antibodies," Dolsten said.
Citing British takeover rules, he declined to comment on what the tie-up with Merck meant for Pfizer's interest in similar cancer medicine from AstraZeneca <AZN.L>, which rejected a $118 billion bid from the U.S. group in May.
As well as being somewhat later in the development process than rival drugs -- particularly from U.S.-based Merck & Co (NYSE:MRK) and Bristol-Myers Squibb (NYSE:BMY) -- Merck KGaA's has also been linked with lymphopenia, or abnormally low levels of white blood cells called lymphocytes in some patients.
However, Dolsten said he did not believe this was a clinically significant concern. "We don't see that as an issue," he said.
(Editing by Robin Pomeroy)